EF Pro Cycling Team Wins Giro D'Italia Stage Victory Despite Palace x Rapha Jersey Fine
"We proved that rain, UCI fines, and fans being scandalized by our new kit were all just… water off a duck's back."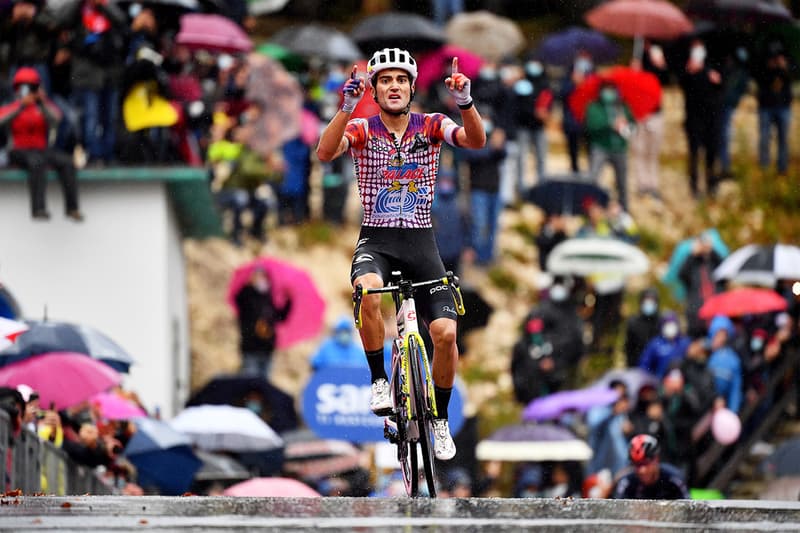 Following a turbulent weekend at the Giro d'Italia, EF Pro Cycling ultimately prevailed, winning a grand tour stage victory, despite being fined just a few days prior due to a non-compliant kit from Palace and Rapha.
First debuted over the weekend, the collaborative effort between the skate and cycling brands was ruled non-compliant to the governing rules by the UCI, stating that EF Pro Cycling had failed to register the jersey in time. The decision led to a hefty fine of CHF 4,500 against all eight of the team's rider as well as its sports director, which roughly equates to $4,900 USD in total.
Despite the setback, the American team came out strong. "We proved that rain, UCI fines, and fans being scandalized by our new kit were all just… water off a duck's back," said the team's CEO Jonathan Vaughters. "Obviously everyone has been talking about the Palace and Rapha kit, which has been so cool to see. Even cooler? Winning in it, and showing that we're here to race the Giro, too."
The Giro d'Italia is currently underway until October 25.
Elsewhere in sports, Formula 1 driver Daniel Ricciardo has won his first podium finish at Renault.