Bowery Blue Makes Vintage Denim New Again
Takayuki Echigoya takes us into his Brooklyn studio, where he sews jeans by hand and collects vintage sewing machines.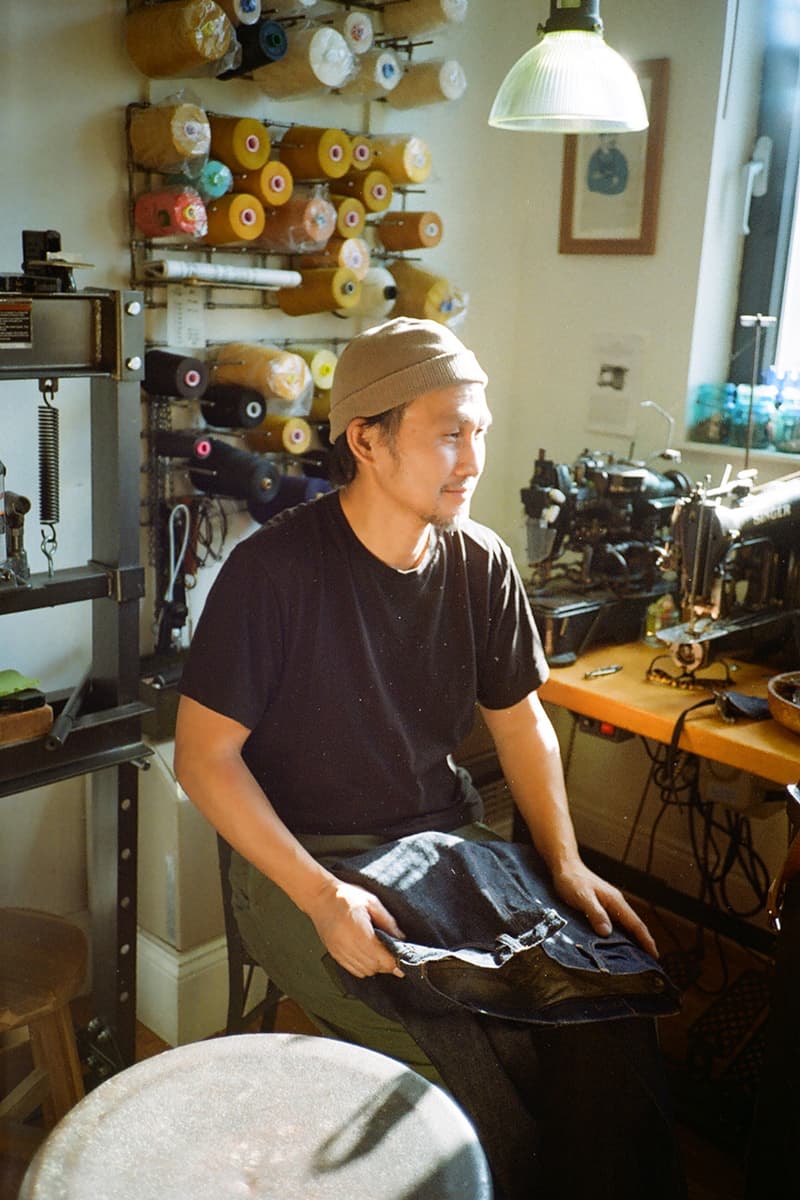 Bowery Blue Makes Vintage Denim New Again
Takayuki Echigoya takes us into his Brooklyn studio, where he sews jeans by hand and collects vintage sewing machines.
Takayuki Echigoya could easily charge an entrance fee to visit his workshop. Upon entering the space, which doubles as his apartment, visitors are greeted with rows of vintage Singer sewing machines, Levi's patterns, antique work tables, a massive roll of Japanese denim and other denim memorabilia cleverly placed to replicate the atmosphere of an early 20th-century factory. It's a Levi's and Singer museum, expertly curated to live inside a compact Brooklyn loft — only there's no admission fee, no tourists and no gift shop.
Echigoya is known for his detailed research and design process while handcrafting jeans inspired by vintage Levi's, using Japanese denim and cotton threads. His brand, Bowery Blue Makers, is a one-man operation with a loyal customer base who come to Echigoya for quality, custom jeans they can't get anywhere else. Echigoya's research includes disassembling and analyzing patterns for Levi's jeans (known as Waist Overalls until the 1950s) from the late 1800s and early 1900s, reading up on denim history and carefully studying various sewing processes used throughout the Levi's timeline. "I want to know all of the details, even what's inside of the buttons and rivets," he says. Once Echigoya conducts his thorough research, he creates his own original patterns that evoke specific details and silhouettes of Levi's Waist Overalls, without replicating them entirely.
Bowery Blue Makers currently offers four styles — three pairs of jeans and a denim jacket—along with various customization options, such as stitch color and pocket lining. Echigoya crafts each pair by hand using his extensive collection of vintage lockstitch Singer machines. He has the ability to complete an average of one pair per day, which is impressive given the amount of detail found in each pair. Echigoya accepts orders just one day per month so that he is able to fulfill all orders on time. His customers range from avid collectors who purchase multiple pairs to more casual denim lovers, including New York Yankees pitcher Masahiro Tanaka.
Echigoya uses the highest quality Japanese denim, woven by Tomoki Kiyama, owner of Kiyama denim mill in Okayama and fabric veteran of over 60 years. His mill has a total of eight machines that produce only eight rolls of denim per day. Due to the time-consuming weaving process involved, Mr. Kiyama's denim is in extremely limited supply. When Kiyama Mills was affected by a typhoon in 2018, Echigoya stepped in and ran a successful fundraiser to help it reopen.
"I think I like the history of sewing machines and denim more than jeans."
Echigoya founded Bowery Blue Makers 10 years ago, but starting the company wasn't his first stint in New York. The artist originally moved to the Big Apple in 1995, working as a buyer for a company that exported American streetwear and sneakers to Japan. In fact, Echigoya has worked directly with many of the streetwear greats, including James Jebbia. Echigoya's colorful memories from his initial time in New York range from successfully exporting around 200 pairs of 1991 Air Jordan 6 Carmines at once to Japan (getting them through customs was no small feat) to collaborating with Futura. "Futura designed our collaboration T-shirts — his office was near my shop in LES. We also worked with people like Stash, Margaret Kilgallen, Neck Face, Harry Jumonji, Thomas Campbell, Tommy Guerrero."
After realizing that his true interest was vintage clothing rather than fast fashion and streetwear, Echigoya moved back to his native Japan to pursue a new career in denim — completely from scratch. "I gave up everything in New York and went to Okayama," he says. "I spent two years working in a denim factory. They didn't pay me because I had no skill at the time." He laughs while remembering his coworkers. "The older ladies would pick on me. I tried so many things — including bringing them sweets — to get them to be nicer, but that didn't even work."
Today, Okayama is arguably the denim capital of the world, which begs the question: why would Echigoya move to New York to start Bowery Blue Makers? Surprisingly, the answer doesn't directly relate to denim at all. "Singer is originally from New York, and they were located in SoHo along with 10 to 20 other sewing machine companies in the late 1880s," he says. "My company is named Bowery Blue Makers after the street in SoHo where Singer had one of their first factories."
Since the output of his work is jeans, people often assume that denim is Echigoya's main passion. However, he admits otherwise. "I think I like the history of sewing machines and denim more than jeans. I've always been interested in everything vintage, from clothes to cars, and vintage sewing machines combine both of those interests. I'm fascinated by how the sewing process has changed over the years. Sewing machines have improved, so sewing speed and accuracy have also improved."
He continues to explain that as sewing machines advance, the human touch that was once prevalent in denim is diminishing. "My customers are actually happy when I tell them it took me 10 hours to make them a pair of jeans. They want something unique and handmade with care. I even try to avoid making perfect lines when I sew so that my customer knows a human made their jeans." But in order to add this human touch back into jeans making, Echigoya needs the proper tools.
As Echigoya walks over to his prized possession — a recently acquired 1882 Singer No.2 Sewing Machine — his eyes light up like a kid in a candy store. Acquiring this specific machine took Echigoya 10 years because, at first, he didn't know which machine he was searching for.
"I even try to avoid making perfect lines when I sew so that my customer knows a human made their jeans."
"I had been trying to figure out what sewing machine Levi's used in the very beginning for the past 10 years, and I finally found an original advertisement with a photo of the machine in a book I was reading," he says. "When Levi's first started in 1873, they put out ads seeking women to bring in their own Singer sewing machines to their first factory in San Francisco in order to work. The model in the ad was the Singer No.2 sewing machine, so not the first-ever Singer sewing machine but the second."
Unlike today's standard electric sewing machines, The Singer No.2 is powered only by a manual foot pedal. Echigoya appreciates that the extra labor needed to make a pair of jeans on this machine naturally revives the human emotion in his work — and is better for the environment.
Now, after all this time, he is able to start making patterns inspired by 1880s Levi's Waist Overalls on the same machine used to make the originals. His customers have already begun placing orders with mutual excitement. "It makes me happy that my customers are as excited as I am that I found this machine."
Echigoya feels triumphant after his latest find, but he will never tire from the thrill of the hunt. "There's always something," he jokes. "Now I'm looking for the original buttonhole machines for the jeans I'm starting to make on the Singer Number 2 machine." His goal is to make Waist Overalls using tools and materials that are as close to the first pair of Levi's as possible, down to the denim-making process. "The denim weaving process was different in the 1800s, so I'm even working with a factory in Japan to make the denim I source as authentic as possible."