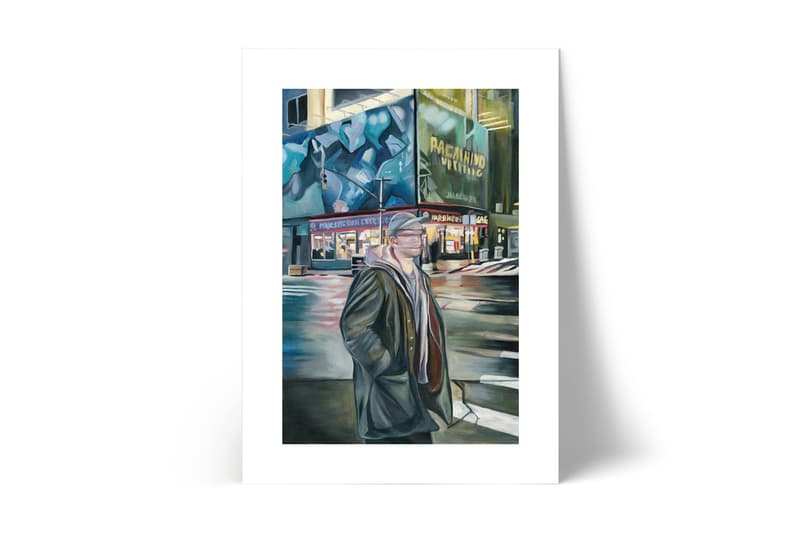 Andrea Wilkin Unveils 'NY' Print to Benefit Mental Health Charity in Montreal
A portion of the proceeds will go directly to Expression Lasalle that offers free art therapy.
---
Andrea Wilkin is an emerging visual artist based in Montreal who creates vivid, figurative paintings using oil on canvas. The subjects across Wilkin's works predominately spotlight friends clad in streetwear garments whom are positioned in natural scenes that reference real locations in her native French-Canadian city.
The artist is set to launch a one of one fine art print sale inspired by a painting titled NY. Nearly the scale as the original composition, the limited edition piece measures 33 by 24 inches and depicts a coat-clad male subject in the streets of New York City during nighttime. The work was inspired by a film photograph taken by Wilkin herself. The painting has been exhibited twice at Wilkin'f first solo show, and subsequently, a group show in Montreal.
A percentage of the profits will benefit a local mental health organization in Montreal called Expression Lasalle that offers free art therapy to those from ages 18 to 65 years old. Expect Wilkin's NY print to launch on The Letter bet's website on October 2. Pricing details have yet to be announced.
Elsewhere in art, rising NY-based artist Gianni Lee has unveiled his first-ever rug collaboration with Rug & Kilim.