Thom Browne FW20 Invites an Animal Menagerie for a Human Feast
The tables are turned.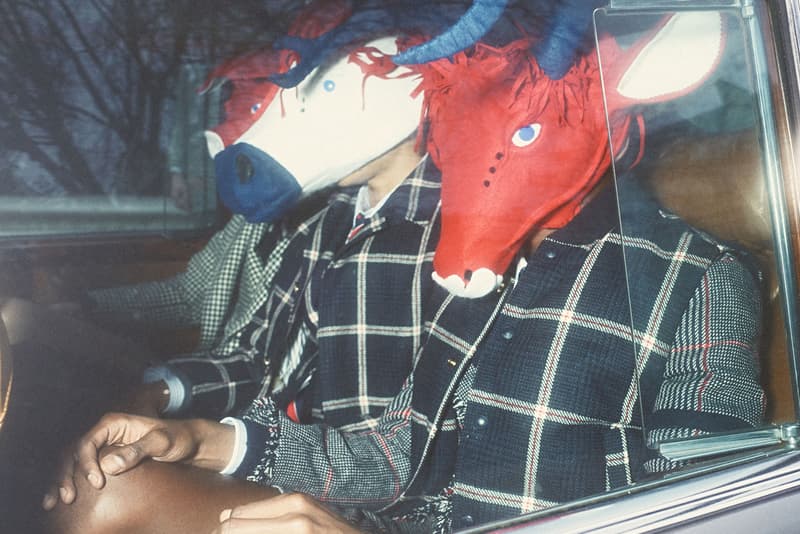 1 of 14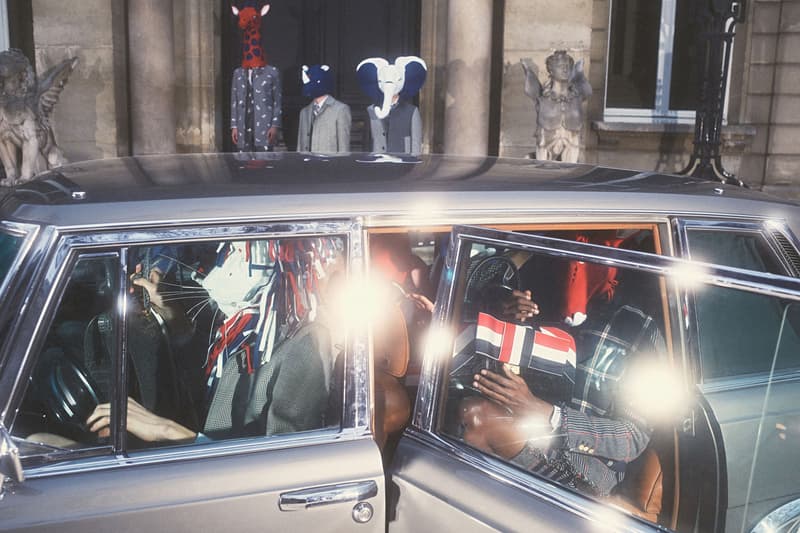 2 of 14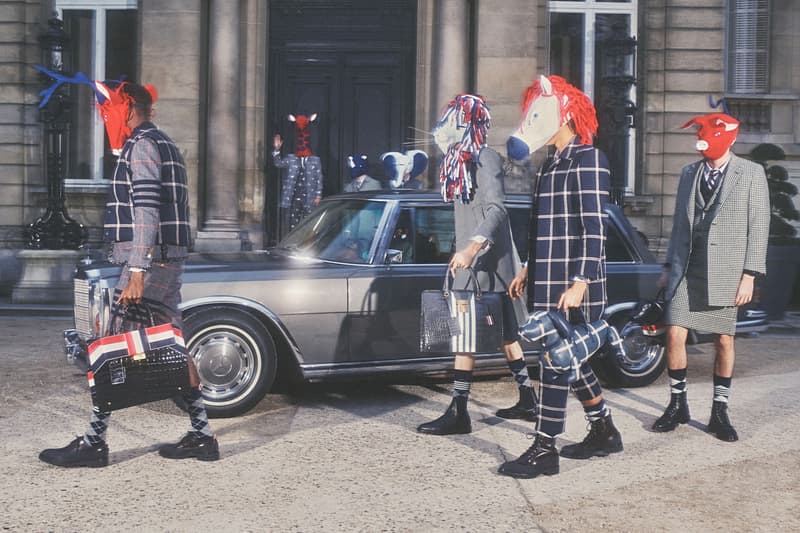 3 of 14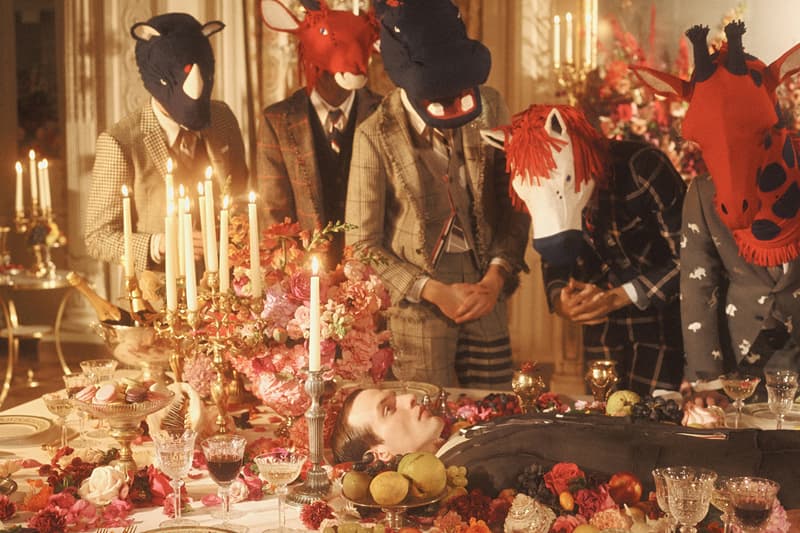 4 of 14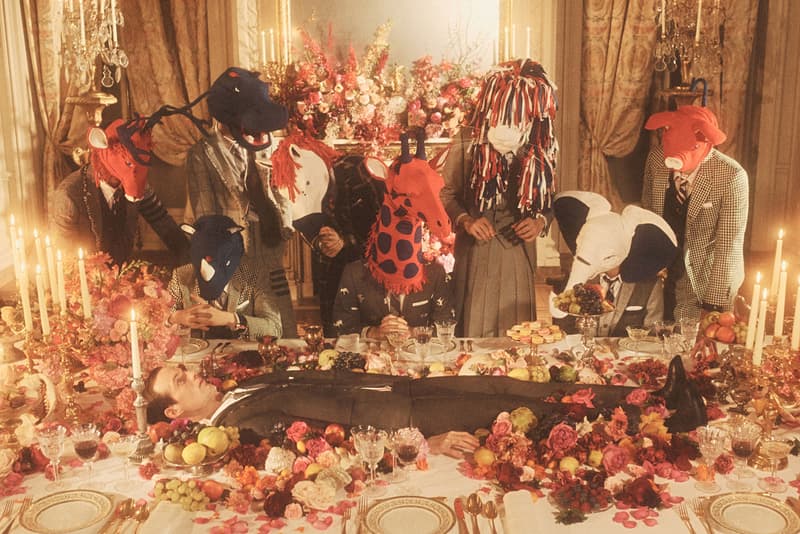 5 of 14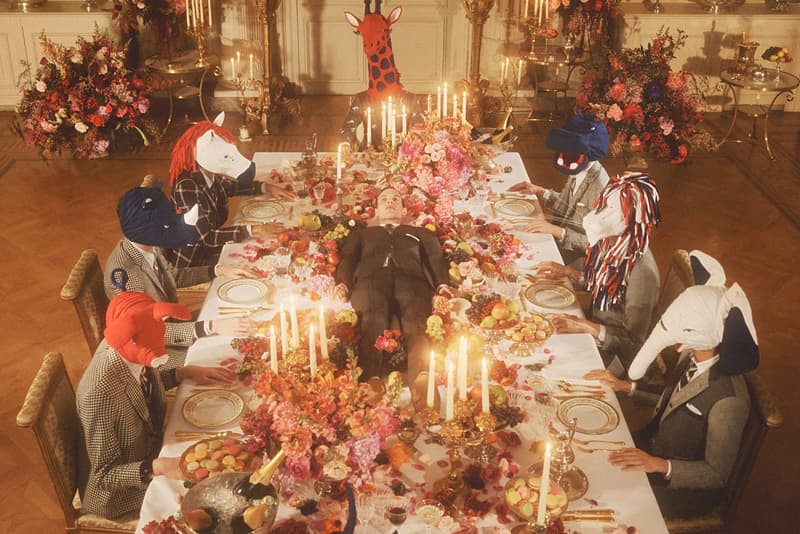 6 of 14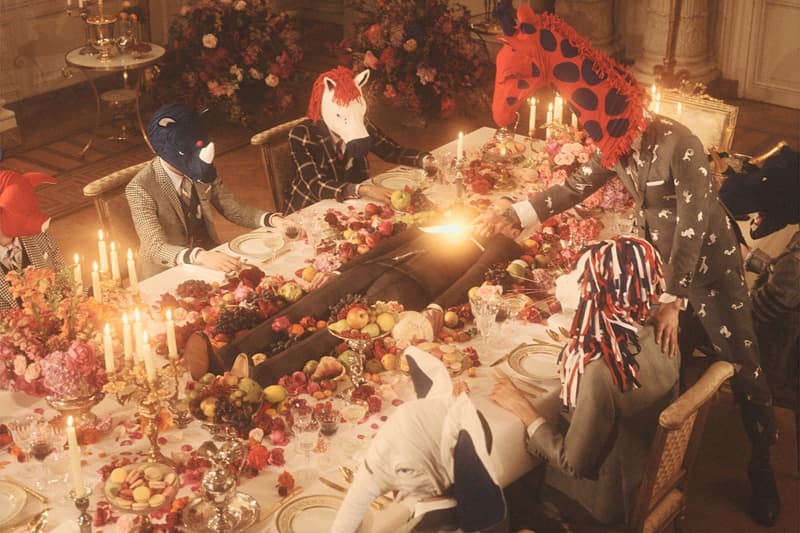 7 of 14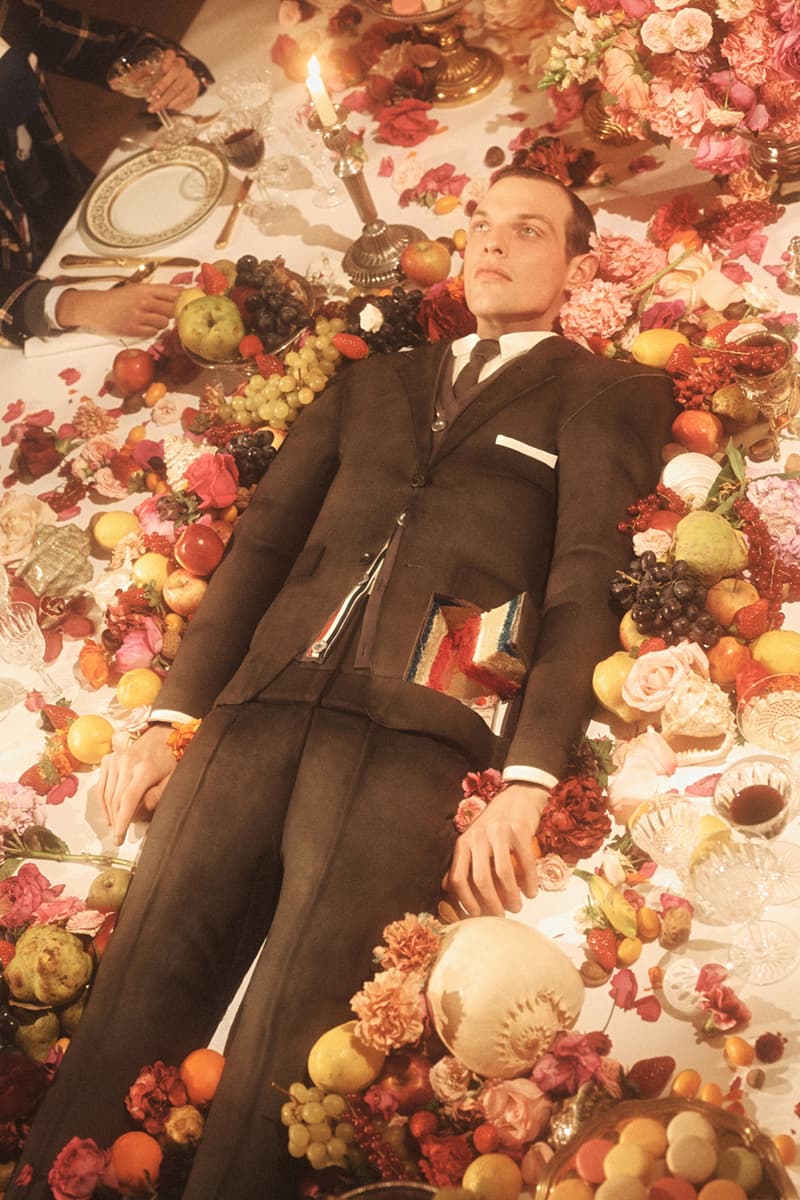 8 of 14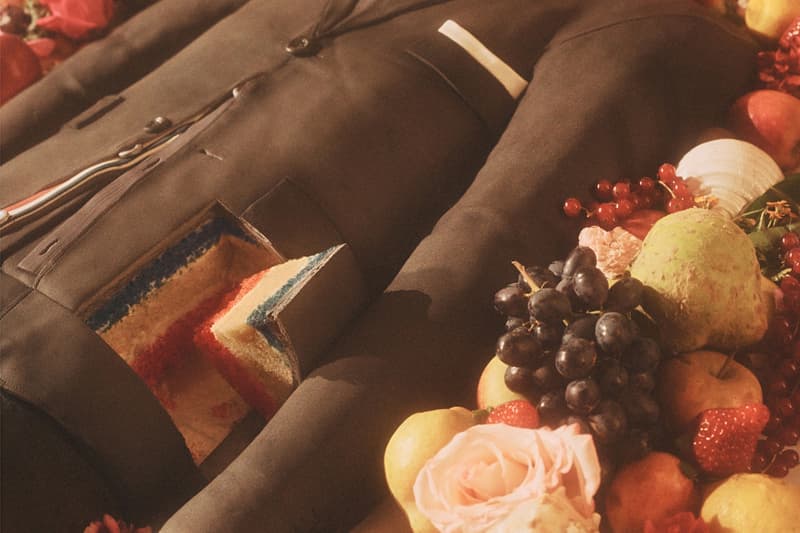 9 of 14
10 of 14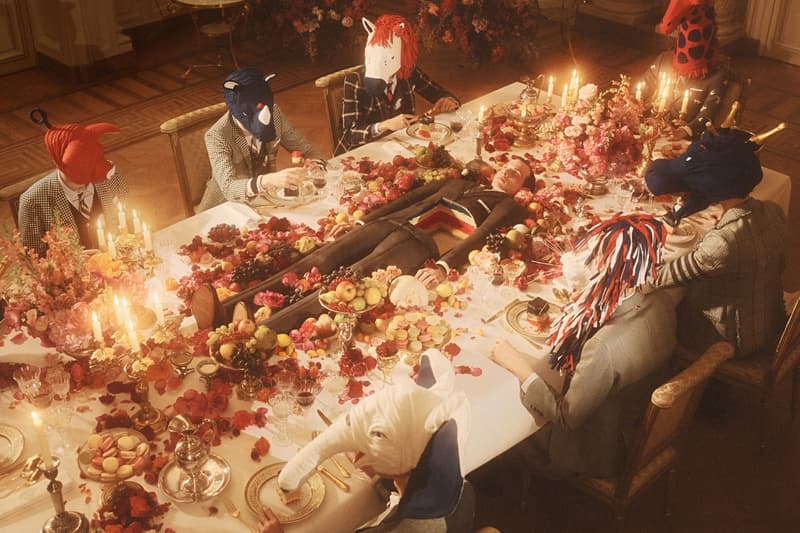 11 of 14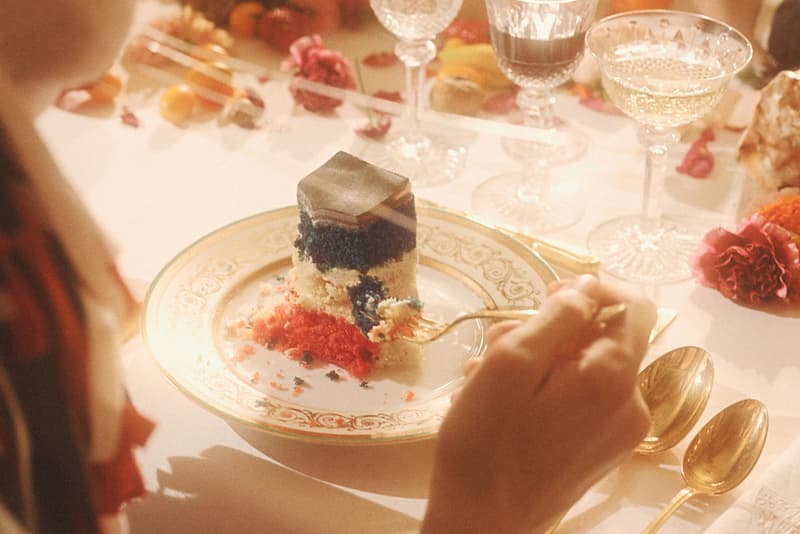 12 of 14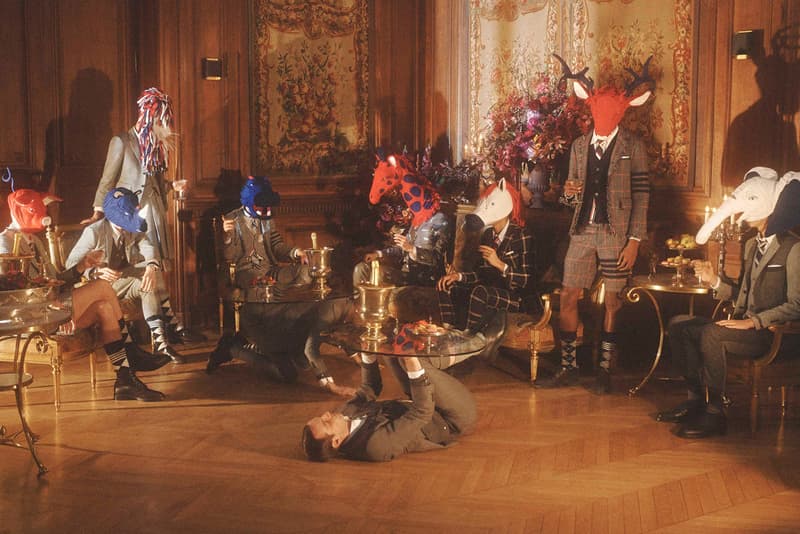 13 of 14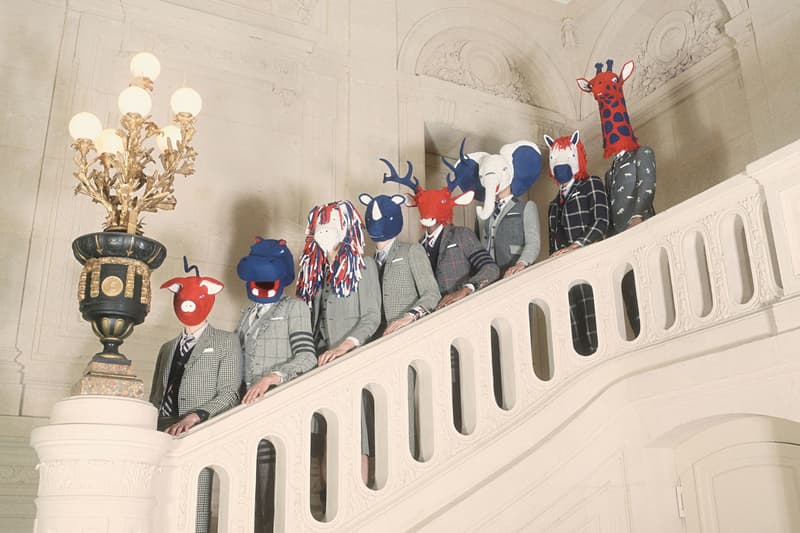 14 of 14
Thom Browne's runway presentations are famously whimsical, but the Fall/Winter 2020 collection offers a slightly sinister edge. A whimsical animal menagerie is created with the aid of some truly adventurous headgear, setting the stage for a role-reversing feast.
Shot in warm hues, like a fairy tale, the lookbook sees guests arriving to a party at Mr. Giraffe's house, with everyone decked out in full Thom Browne. Animal-printed wool twill, Harris tweed and Browne's seasonal check pattern enliven the precise cuts, with the New York designer's heavyweight derbies and signature triple stripe accenting each look. Cashmere sweaters, patterned ties and tall socks reaffirm the refined spirit. Once the attendees arrive inside, they sit down to a feast topped off by human-shaped cake, filled with red, white and blue sponge, in homage to Browne's iconic tricolor tabs.
Behold Thom Browne's FW20 lookbook above and read the accompanying poem below.
Elsewhere at Paris Fashion Week, we viewed Fall/Winter 2020 offerings from Dries Van Noten, COMME des GARÇONS HOMME PLUS and Dior.
this is a tale of eight friends
who share the same taste …
a statuesque host, his guests,
a cake …
at sundown the group arrives by limousine,
they stretch their hind legs and shake out their manes,
mr. giraffe leads them inside,
where things may, or may not, be quite what they seem …
"welcome," he says "the champagne is on ice"
and they all raise a glass "to one wild night" …
each guest sets the scene in their classic tailoring,
in twills and tweeds, prince of wales, an animal motif …
there are flowers and candles, fruits and sweets,
on two sturdy tables wearing grey jackets and trousers…
mr giraffe opens the dining room doors with a flourish,
his twill suit is living as much as the room is …
"we begin with dessert," he tells his companions …
they all marvel at the cake …
thom browne surely does look yummy …
piece after piece they clean their plates,
a confection in layers of red, white and blue …
when they finish at last, they rise, toast again,
and head slowly outside …
now nearing dawn, the host swings his neck in farewell,
"may we do this again, same time next year"