Salvador Dalí's Heavenly Diptych to Fetch Up to $13 Million USD at Bonhams London Auction
Depicting the artist and his wife with their "heads full of clouds."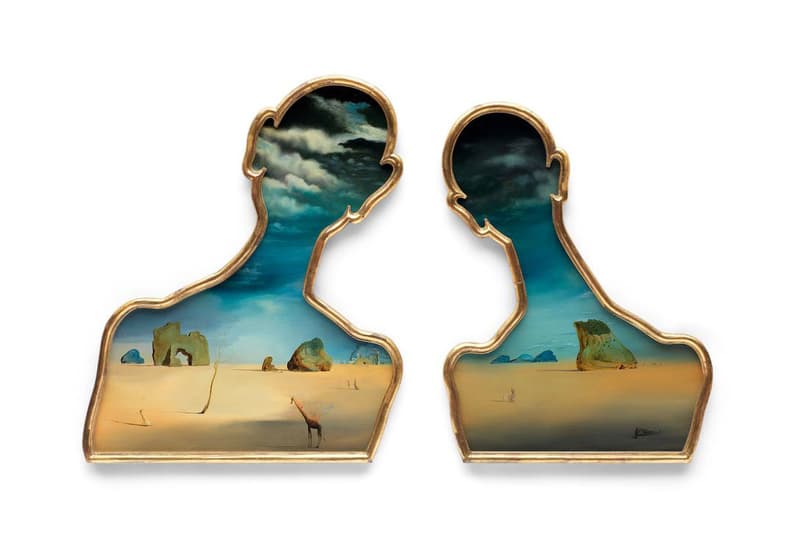 Salvador Dalí's striking 1937 diptych, entitled Couple aux têtes pleines de nuages, will lead Bonhams' Impressionist and Modern Art sale in London this March. The oil-on-wood panel painting, framed by the outlines of the artist and his wife Gala, depicts the couple, as the title suggests, with their "heads full of clouds." The painting is expected to fetch up to £10 million (approx. $13 million USD) at auction.
The panels feature a desert landscape filled with the artist's reoccurring surrealist motifs — scattered rocks, a disfigured tree, a giraffe on fire and indistinct human figures. Created at the height of his Surrealist period, the diptych showcases Dalí's interest in exploring Freudian psychologies and the unconscious mind. Like many of his significant works, the painting is signed Gala Salvador Dalí to honor his wife.
For more than half a century, the work was part of the collection of the Italian Modernist composer Giacinto Scelsi. He was an associate of the Surrealist circle in the '20s and spent time with Dalí and Gala during their travels in Italy. The painting hung in the composer's living room until his death in 1988.
Couple aux têtes pleines de nuages is available to view at Bonhams' main saleroom from now until February 23. The Impressionist and Modern Art sale will take place on March 26.
For more auctions, Christie's 100 sale will include the works of Yayoi Kusama, Jeff Koons and more.
Bonhams
101 New Bond Street
London W1S 1SR
United Kingdom