Skyzoo & Pete Rock Share Prophetic Cut "Eastern Conference All-Stars"
Featuring verses from Benny the Butcher, Westside Gun, Conway, and Elzhi.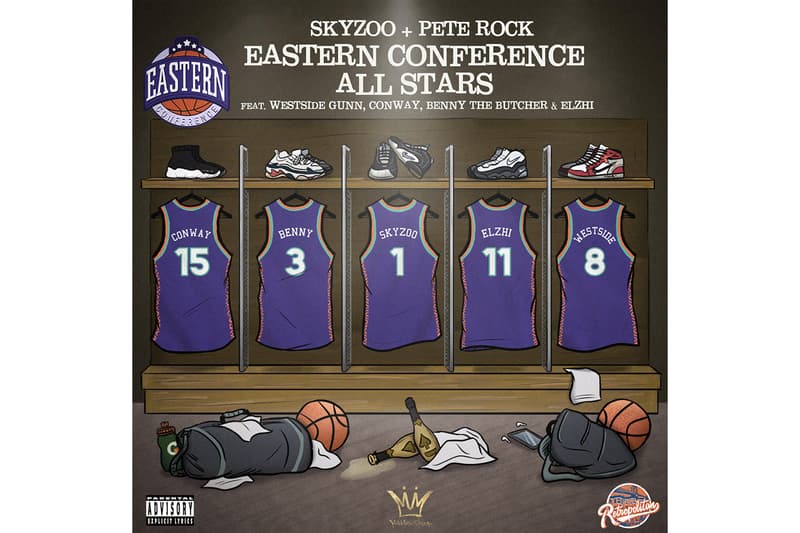 Skyzoo and Pete Rock have tapped some off the East Coast's hottest hip-hop talent for their latest single, "Eastern Conference All-Stars." Released as the second single from their forthcoming collaborative album, Retropolitan, the latest cut sees the duo honing in on New York's hip-hop sound from the 1990s, tapping Westside Gunn, Conway the Machine, Benny the Butcher, and Elzhi for some prophetic verses.
Pete Rock's sample-based production on the track showcases why the producer has become such an icon, rekindling samples from Nas and more. Running in at nearly six-minutes, the cut sees the five rappers doing what they do best — showcasing their lyrical prowess and consciously-tinged bars. Skyzoo hits off the track's intro verse with hard-hitting bars like "I put '95 on my back like I'm DeAndre Bembry/It's like I'm Illmatic sitting on loop/Meets Mortal Kombat finishing moves."
More notable wordplay includes Benny slinging "I got rich with a Pyrex, turn the forks around it/Then retired and got richer just by talking 'bout it" and Conway the Machine stating "Silencer on the barrel got a muffle the Sig/Popped a n*gga in his side, broke a couple of ribs." Elzhi hits back with "Pick a line I write, that's not as wicked as a sick piranha bite/A brick of China white, lit wick on a stick of dynamite," with Westside Gun finishing off the track with bars like "Sold a dummy brick, 'hurry up, n*gga count it!'."
You can stream the track below. Skyzoo and Pete Rock's Retropolitan arrives on September 20 via Mello Music Group — you can download the track for free and pre-order the full project here.
For more related news, Conway the Machine recently announced his latest Look What I Became… LP.