Pornhub Taps Legendary Album Artist Peter Saville to Design 2nd Annual Award Trophy
The renowned artist behind album covers for Joy Division, New Order and more.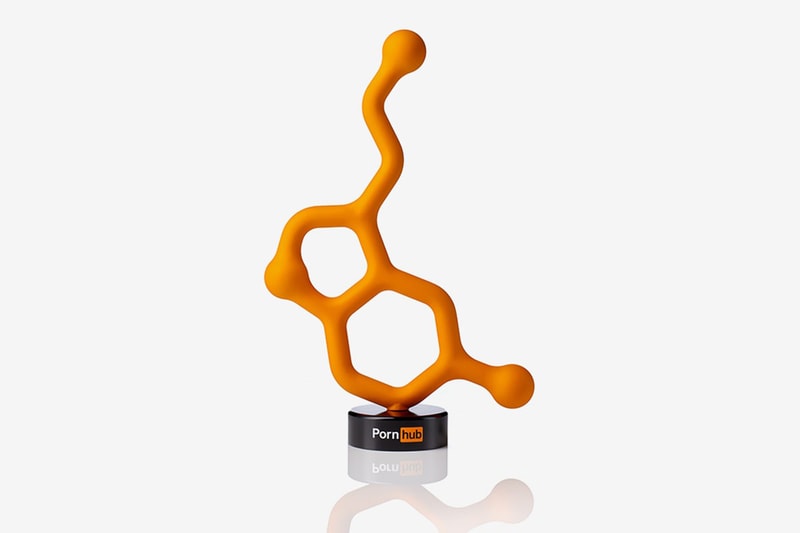 The second ever Pornhub Awards are on their way, and to help elevate the ceremony Pornhub has tapped legendary album artist Peter Saville to design the award trophies.
Saville is the founder of Factory Records and is the renowned artist behind album covers for Joy Division (including their 1979 debut Unknown Pleasures), New Order, David Byrne, Brian Eno and Peter Gabriel. Following in the footsteps of Kanye West — the multi-hyphenate artist designed the statues for the inaugural Pornhub Awards last year — Saville channeled sex chemistry for the inspiration of this year's award design. The resulting work references the biological and chemical aspects of sex and attraction.
On the design Saville shared:
"Principally I was interested to create a form that references the molecular structure of the main sex hormones, including estrogen and testosterone, but also some of the chemicals that come into play such as serotonin and dopamine. My intention was to maintain a degree of ambiguity in the final form the award took, with respect to the sexual spectrum so impressively encompassed by the award category line-up."
The night's lucky winners will be able to take home the Saville-designed award. Categories include "Most Popular Male" and "Female Performers," "Top Fetish Performer," "Most Popular Verified Amateur," and "Top Female Solo Performer."
The 2019 Pornhub Awards will be taking place at the Orpheum Theater in Los Angeles on October 11 and will be hosted by adult entertainment actress and director Asa Akira with a musical headlining act from Bad Bunny.