Best New Tracks: Danny Brown, Conway, EarthGang, Ras Kass & More
Another great week.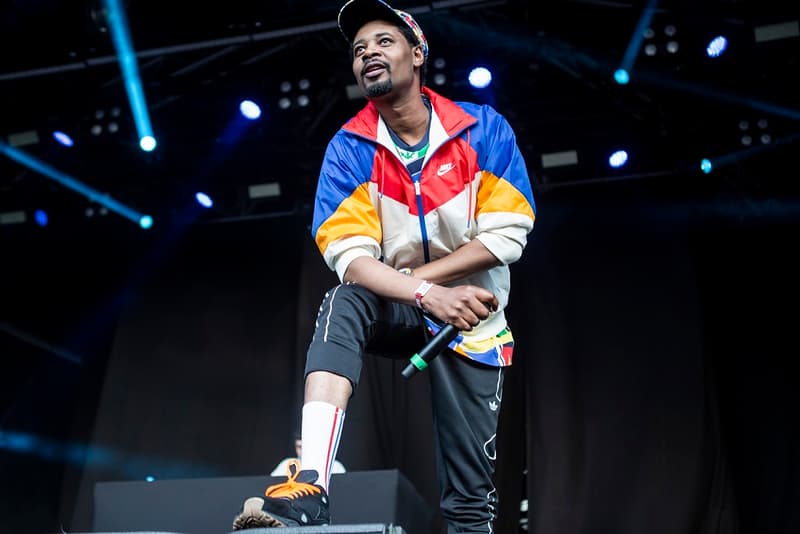 Previously, our Best New Tracks series shined the spotlight on new releases from Pusha-T, Lil Blood, Mozzy, The Alchemist, D-Lo, Bris and others. Now, we're rounding up the latest offerings from Danny Brown, EarthGang, Drakeo the Ruler, Conway the Machine, Shoreline Mafia, Scarfo Da Plug, Rexx Life Raj and Kenny Beats, Ras Kass, Childish Major, Lil Pete, Sporting Life and MemoTheMafioso.
Lil Pete – HARDAWAY
After several months of promotion and anticipation, Lil Pete releases his debut studio album, HARDAWAY. The fast-rising Bay Area artist's first official LP is comprised of 16 new songs, including collaborations with Yung Pinch, Babyface Ray, DeJ Loaf, Project Youngin, Lil Yee, Money Man and Mamba Cinco.
"HARDAWAY symbolizes me going through everything in life the hard way, nothing was easy but I came out strong," Lil Pete explained to The FADER in a statement sent through email. "This is my debut album where I'm sharing part of my life with you. I been workin on this project for two years now so this is special for me."
"I worked really hard on HARDAWAY," Lil Pete previously told us. "I Made A Promise and 4EverFocused were tapes. I spent so much time on this album. I feel like I gotta go hard and make a way."
Drakeo the Ruler – "Black Holocaust"
Back in April, Drakeo the Ruler reconnected with 03 Greedo and fellow Stinc Team rapper Bambino for the music video in support of their collaborative single "Let's Go." Now, the Los Angeles legend-in-the-making is back with a brand new track, "Black Holocaust." Produced by constant, close Drakeo collaborator JoogFTR, "Black Holocaust" is a joint record from Drakeo the Ruler and Midwest rapper Rio Da Yung OG.
"I'm not with all the sneak dissing / Chopper rippin' off lames and all type of teeth missing / Grim reaper, street sweeper, boy, I'm knee deep in / Green and red fiends like I got these for Christmas," Drakeo spits during the first verse of "Black Holocaust." This n***a talkin' crazy askin' me where his bitch is / Talkin' all crazy, you know round here, we stitch lip / Stink team baby and I earned all my whiskers."
EarthGang- Mirrorland
For their latest full-length release, Dreamville duo EarthGang gather 14 new tracks for Mirrorland. Notably, Mirrorland serves as EarthGang's first full-length studio album for Dreamville Records and also includes contributions from Young Thug, T-Pain, Kehlani, Arin Ray and Malik.
"We thought about how, if we're going to make a project sonically to rival The Wiz, we got to create another world for people to imagine and go to," EarthGang's Olu explained to Pitchfork earlier this summer, breaking down Mirrorland's main inspirations. "You know when Dorothy got swept away and she met the Munchkins? That was such a beautiful thing. You could see Quincy Jones on the piano, just playing away. That's what 'La La Challenge' is about. Right now, that's the intro to the whole record. It's really colorful. It's really dangerous. It's really trippy. It's literally Freaknik Atlanta in the summertime—folks riding around in cars with big rims with paint on their faces."
Childish Major – Dirt Road Diamond
Two years after the debut of his previous studio project Woo$ah, Childish Major finally delivers the full-length follow-up to his 2017 EP, Dirt Road Diamond. Childish Major's Dirt Road Diamond LP is made up of 11 new tracks, including collaborations with Ludacris, EarthGang rapper Olu, Buddy, Tish Hyman, Jake One, Ron Gilmore and more.
Conway the Machine – "Tito's Back"
Two months after sharing the Eminem-assisted lead single in support of his God Don't Make Mistakes LP, "Bang," Conway the Machine is introducing another new project. Known as Look What I Became…, the Griselda lyricist's forthcoming release will officially arrive next Friday, September 13, and is billed as God Don't Make Mistakes' "prelude project." To introduce that offfering, Conway is reuniting with Westside Gunn and Benny the Butcher for a Daringer-produced single titled "Tito's Back."
"Look What I Became… is an appetizer before God Don't Make Mistakes. I'm just staying on fire and keeping the streets feed and satisfied. I'm painting pictures," Conway shares via an official statement. "I came from the bottom, from nothing, and now I'm on a major label and making music with Eminem. This project is a blueprint of that."
"'Tito's Back' is one of my favorites on the album," Conway adds. "It's always dope to have the original four members (including Daringer) of Griselda all in the same room making fire. Look What I Became… is an incredible project and body of work and one of my favorite's I've recorded thus far. I trust Westside's vision and process to bring everything together how I want to be presented. A nugget ain't a nugget until it's dipped in sauce. His flavor puts it over the top."
MemoTheMafioso – "DoughBoy"
More new heat from the West Coast's current rap-renaissance courtesy of San Diego's next major star, MemoTheMafioso. Serving up a preview of his first major studio project, MemoTheMafioso unveils his forthcoming EP's lead single, "DoughBoy." Notably, the "DoughBoy" — produced by Tri$ten/@prodtristen — visual was brought to life by up-and-coming young director @ArchieErskine. Expect MemoTheMafioso's Pennies To Riches EP to hit streaming services and similar platforms later this year.
Danny Brown- "Dirty Laundry"
Danny Brown is detailing his fifth full-length studio album, uknowhatimsayin¿, and adding a new single to the LP's rollout. Our latest preview of Danny Brown's Atrocity Exhibition follow-up comes in the form of "Dirty Laundry," which is being debuted via its Simon Cahn-directed visual component. "Dirty Laundry" is one of the 11 new records that makes up uknowhatimsayin¿'s tracklist; besides this cut, Danny Brown's upcoming album also features collaborations with Run the Jewels, Blood Orange, JPEGMAFIA and Obongjayar
"This is my version of a stand-up comedy album," Danny Brown shares via an official statement, breaking down his forthcoming LP. "Most of my close friends now aren't rappers—they're comedians and actors. So I wanted to create something that mixed humor with music. Something that was funny but not parody."
"There was no room for error," Brown adds, sharing some insight into uknowhatimsayin¿'s recording and creative process. "Q-Tip wanted me to go back to that 'Greatest Rapper Ever' era. I almost had to relearn how to rap again—an ego death type thing. He gave me this whole new outlook on music. I can't go back to how I was before."
Rexx Life Raj & Kenny Beats – "Moonwalk"
A little over a month after the arrival of his En Route EP, Rexx Life Raj teams up with Kenny Beats for a new single titled "Moonwalk." Notably, "Moonwalk" comes to us courtesy of its Stripmall Productions- and Adrian Per-helmed music video.
"My whole thing with music when I put it out, is I want it to have staying power," Rexx Life Raj previously shared with us. "I want my shit to be around for a minute, so I'll be really invested in my records, because so many songs are here and gone hella fast. If you follow the trends of what's hot … in the next year or two, that's not what's hot anymore, so you're music's not going to be hot anymore. I'm just creating in a space where I f*ck with this beat because I like this beat and not only because others f*ck with it … I rap like this because I like to rap like this, not because other people rap like this or that."
Scarfo Da Plug- TRAP-NOLA
Following the 2018 release of his Plug Files project, Scarfo Da Plug is serving up a new studio album, TRAP-NOLA. Scarfo's latest LP contains 12 new tracks, including collaborations with Baby 9eno, Kfamouz, T.Hood, JG Riff and iLuvMuny.
"TRAP-NOLA is a romance story of how I fell in love with the streets," Scarfo Da Plug tells us. "That's where I jumped off the porch and after everything I been through, close friends dying, going to prison, to not even fully out of prison yet in a transitional center working my move, to have freedom to record and shoot videos and do what I gotta do to get this bag. I'm 1000% independent. I'm TrapNola Made."
Shoreline Mafia- Party Pack Vol. 2
Shoreline Mafia are unveiling their latest studio album, Party Pack Vol. 2 Specifically, the LA crew's new project delivers nine tracks to listeners, including collaborations with Curren$y, Drakeo the Ruler, 03 Greedo, BandGang Paid Will, Warhol.SS, Mac P Dawg, Ron-Ron and more.
Sporting Life- "Crux"
On September 27, NYC producer Sporting Life (of Ratking fame) is planning on releasing a new EP titled Black Diamond. Made up of four new tracks, Sporting Life's Black Diamond EP will also feature records created alongside Nick Hakim, Taso, Deem Spencer, MIKE and Wiki. To support and promote the aforementioned project, the former Ratking beatsmith is sharing its MIKE and Wiki collaboration, "Crux."
"It's an EP of double meaning," Sporting Life shares via an official statement, breaking down his forthcoming Black Diamond EP. "The EP is inspired by climbing- both the sport and in life as a metaphor of the journey to reach your goals, to hit the summit."
Ras Kass- Soul On Ice 2
23 years after releasing his legendary studio album Soul On Ice, Ras Kass is sharing its sequel, Soul On Ice 2. Soul On Ice 2 features 17 new songs, including tracks with Snoop Dogg, Styles P, Immortal Technique, Lil Fame, CeeLo Green and more.
"It's basically my Silver Anniversary; 25 years," Ras Kass told Parle earlier this year, opening up about what he set to accomplish with Soul On Ice 2. "For me, it was about taking inventory; what have I learned? How have I succeeded and looking at my failures. Analyzing myself to see if I've fundamentally changed, and comparing/contrasting my opinion about society – race, socio-economics, politics etcetera – and asking if the world has changed much in those 25 years. It really hasn't. In many ways it's regressed."
"I think sonically this album is daring in all the right ways," Ras Kass adds. "I show my diversity in a way I've never quite been able to on any previous album."