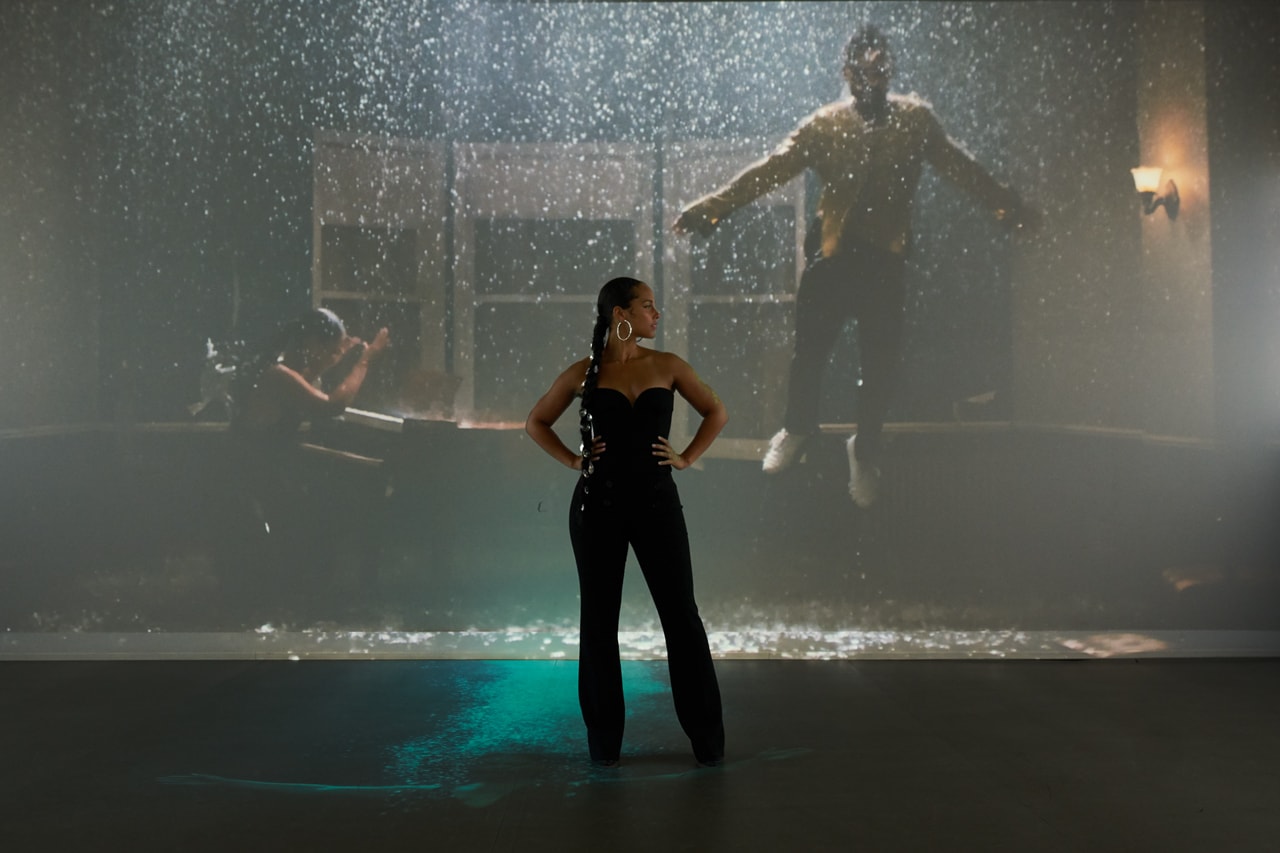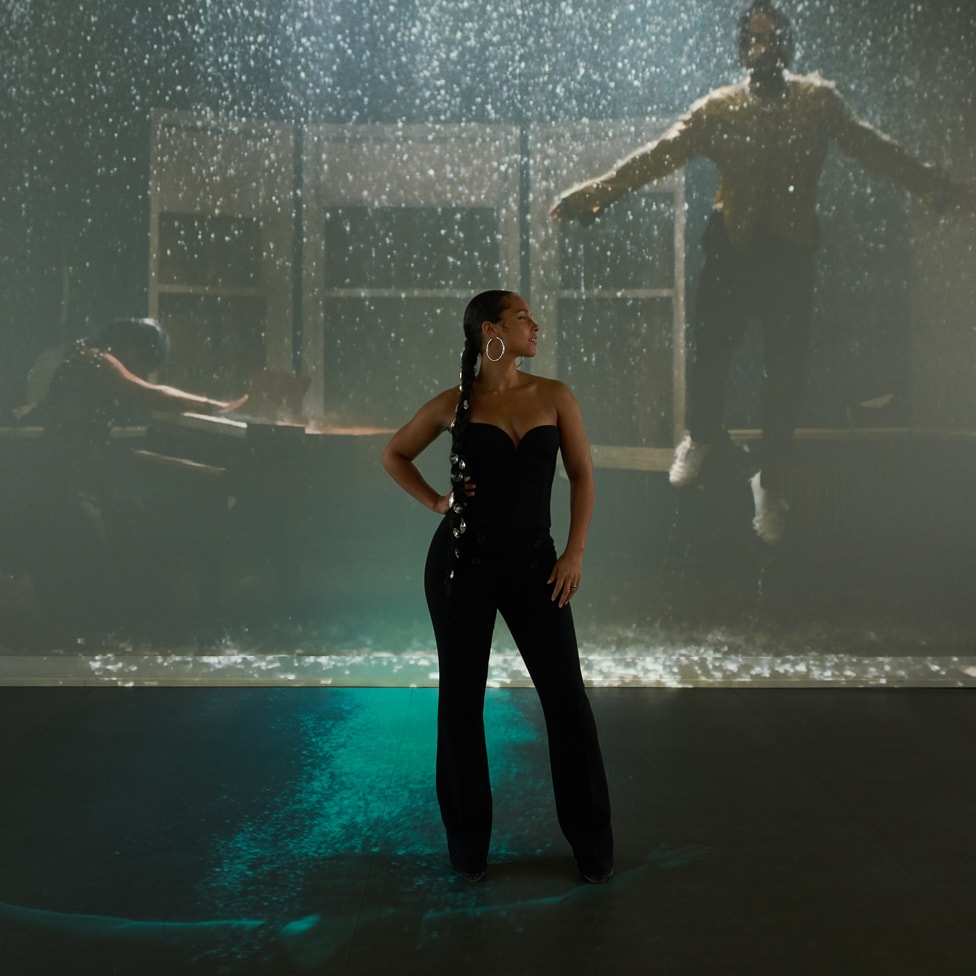 Alicia Keys Is Eyeing "Excellence"
The singer returns with "Show Me Love," an emotional track accompanied by a "sonic visual installation."
"I think that, to be totally candid, I have for a long time been very afraid of being excellent." This is how Alicia Keys — a 15-time Grammy Award winner (who also happened to host and play two pianos at once during this year's show) — explains her newfound connection to the visual arts. Of course, while the awards don't make the man (or woman), it still raises an eyebrow that a musician of her caliber would be "afraid" of anything in her field.
Yet at the premiere of her impassioned "Show Me Love" single featuring Miguel and its accompanying film at New York's Dolby SoHo on Monday, Keys glowed with delicious self-discovery. She may have never consciously striven for "excellence" before — but it's clear she's right at home in that territory.
"I feel like it's scary as sh*t to be who you really are. It just is."
"I just been ready to go to the next level in myself for a bit of a long time. And I don't think I've ever given myself permission to actually do it," Keys told HYPEBEAST of conceiving a heightened experience, what she calls a "visual sonic installation," to go along with the track. She tapped film maven Cara Stricker as the director, and from a "short but really dope" list of collaborators, recruited Michael B. Jordan, Zoe Saldana and her husband, Marco Perego Saldana, to star in the spot alongside herself and Miguel, each one turning out to be "kindred spirits."
For Keys, each artist also mirrored the premise of the scenes in their own ways, depicting love in some of its most familiar forms: self-love (Michael B. Jordan), love with partners (the Saldanas), love from creating (Keys and Miguel) and an overall spiritual love. She was drawn to these particular expressions based on her own recent exploration into her "different sides," hashing over the tiresome cycle of needing to switch personas depending on the situation at hand.
"None of us are just one way. We're at work and we're that way at work, or we're with our family and we're that way with our family, or we're with our friends and we're that way with our friends, and then we're this way with ourselves. And so I've been focused on being more clear [about] who I am in all sides of it," explained Keys.
"I feel like it's scary as sh*t to be who you really are. It just is. And it's easier to kind of default to that one that works like, 'If everybody knows me like this, Imma just do that.' And then we're growing and we're trying to figure out, 'Wait, why don't I feel right in that space anymore?' And I think it's because we don't give ourselves permission to be all the things we are," she said
"For some reason, it's made me very nervous and I think it's because I always felt like I never wanted to leave anybody behind."
This newly-granted self-access into the visual arts world has kicked off with a stunning display in "Show Me Love," the first single from her forthcoming seventh studio album. And it proves Keys' eye for detail is just as meticulous as her ear for music. With Stricker's expertise (a conscious decision on Keys' part to work with a female creative), each section was shot individually but spliced together into a harmonious composite. Her emotional lyrics, written in collaboration with Tory Lanez and Morgan Matthews, amplify the weighty mood. And water, threaded throughout, serves as a powerful, yet unplanned, metaphor.
"Honestly, I think that water wanted to make its own appearance in this," Keys explained with a laugh. "We didn't just go out like, 'Okay we gonna have water as a theme.' But it represents so many different sides. In one way it represents the struggle, in another way it represents the beauty but it never means the same thing."
She clarifies that any true meaning behind the film is to be determined solely by the viewer, however. "I don't want to tell people what to think," she said. "I want people to feel what they feel because [love] happens to people in such different ways that I don't want it to be my version of it. I want it to be your version of it."
It doesn't diminish the fact that Keys' interpretation of it is a show-stopping debut. Even the venue choice for the premiere, the experiential Dolby SoHo space, was a deliberate way to immerse the crowd in a 360-degree experience. Each scene was segmented by room, with the full spot revealed in a darkened theater.
"For some reason, it's made me very nervous and I think it's because I always felt like I never wanted to leave anybody behind. It has to be maybe insecurity, maybe self-worth issues. I'm just being honest because I really realize these things about myself now. And what this visual has allowed me to do, is challenge myself to hold myself to the utmost, highest excellent place that I can," said Keys.
"And I've forced myself. There's times I've been like, 'It's okay. It's cool that didn't work.' No, it's not cool. I'm gonna make sure this is perfect to what I feel is well-done to me. I feel like a little kid because in a way I feel like I made a breakthrough with myself."
To cap the evening off, she ended with none other than what she's long been known to do best (lest the visual arts take over). Alongside guest star Miguel, Keys treated the crowd to a live song and piano performance, bringing her right back to her comfort zone amid this scintillating "new experience."