Knicks Rookie RJ Barrett Talks Signing With PUMA and NBA Goals
The No. 3 overall pick in the 2019 Draft announced a multiyear partnership with PUMA yesterday in NYC.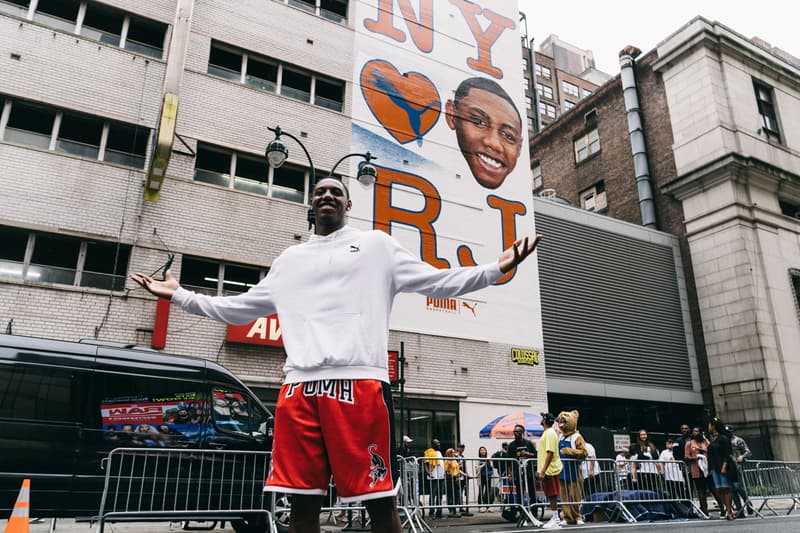 1 of 5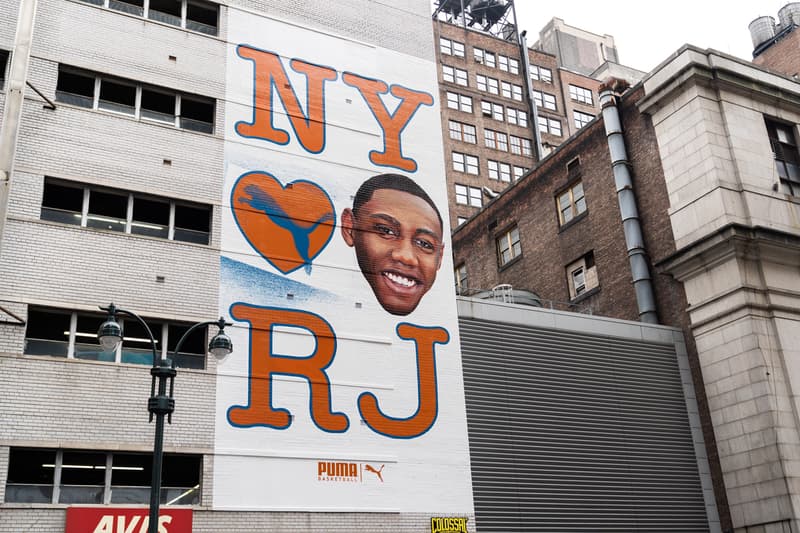 2 of 5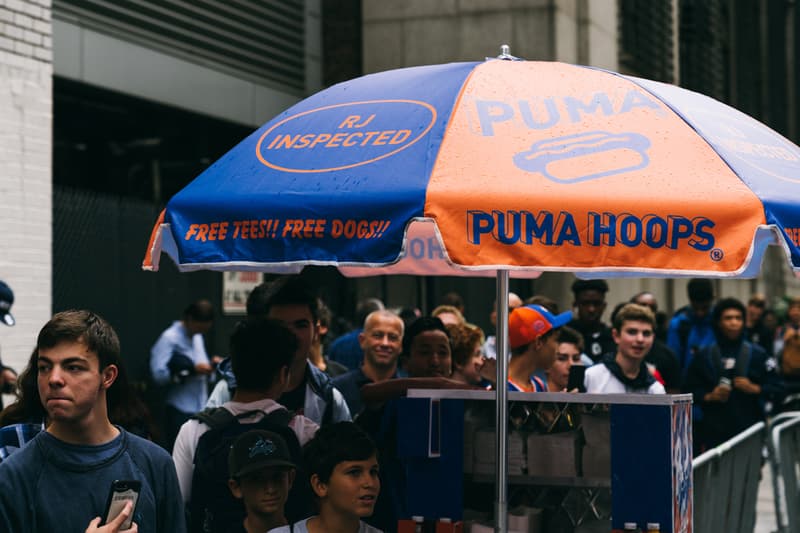 3 of 5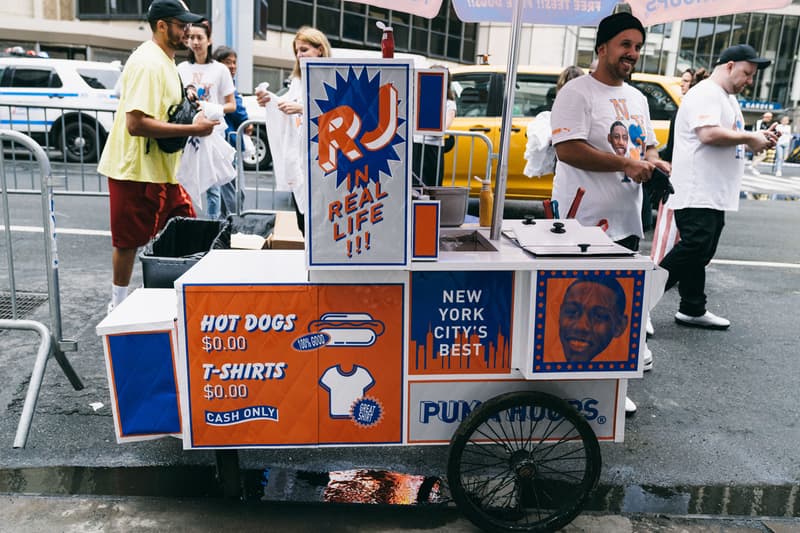 4 of 5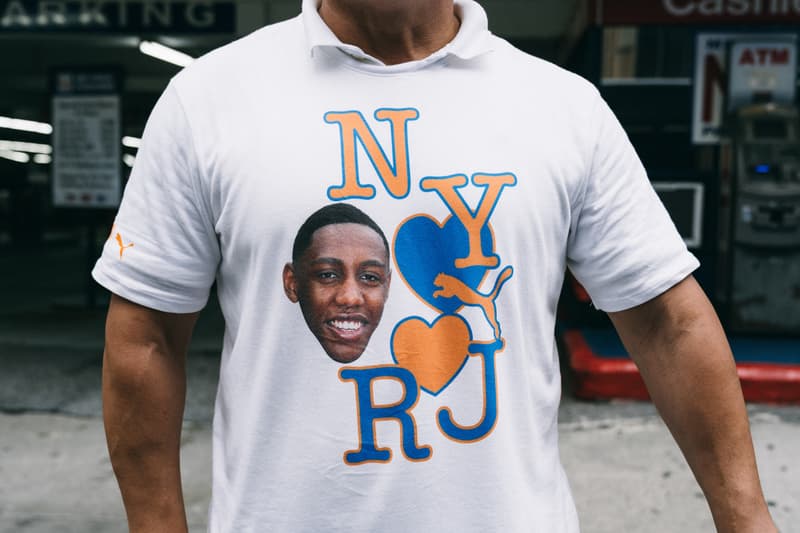 5 of 5
New York Knicks rookie, RJ Barrett, announced his multiyear deal with PUMA yesterday in the Big Apple.
The third overall pick in the 2019 NBA Draft pulled up to a parking garage on 31st Street, just across the street from his new home of Madison Square Garden to hand out hot dogs and "NY ❤️ RJ" tees. Dripped head to toe in PUMA gear, the Toronto native was very much taking it all in, signing all sorts of memorabilia, taking selfies with fans and gawking at the mural that featured his smiling face.
RJ joins an ever-growing roster at PUMA Hoops, one that features five of the top-15 draft picks from a year ago, including the No. 9 overall pick and RJ's teammate, Knicks' second-year forward Kevin Knox. Let's also not forget the original PUMA basketball athlete, Knickerbocker legend and style icon Walt "Clyde" Frazier.
With DeMarcus Cousins, the would-be/should-be face of PUMA Hoops, recently suffering yet another serious injury, RJ is certainly in line to become the brand's star basketball signee, especially since he's in the biggest media market there is. Before he can be that marquee athlete for PUMA however, he's got to be a marquee player for the Knicks.
We got a chance to speak with RJ for a few short moments, discussing his PUMA deal, what he'd want in a signature sneaker, goals for the upcoming season and more. As we opened the door to the Sprinter Van he was waiting for us in, we were immediately greeted with a large, genuine smile and a "HYPEBEASSSSTTTTT, what's up?!" This 19-year-old is ready for the spotlight.
When meeting with shoe brands this summer, what factors in the deal were important to you?
What was important for me was having a family type of feel and that's definitely what I found here. Family is important because you can always make a shoe that's comfortable, but the people that you're going to be working with, that's what's important to me.
What did you like about the process of selecting a footwear partner?
I liked hearing and seeing what the brands have because you don't really get to see everything on the outside. So once I started to really dive in, I was very surprised.
What didn't you like about the process?
I mean, no one likes long meetings [laughs]. But it was very informative.
Besides the family vibes, what else made you sign with PUMA?
You see what I'm wearing now, I could wear this to the gym or I can wear this out, you know what I'm saying? I like that type of stuff. All of PUMA's clothes and how they're really invested in the culture, partnering with rappers and different types of artists. And on the court, I've been wearing PUMAs all summer and they're really comfortable for me.
What's Clyde Frazier like?
I met Clyde, he's a great guy and wears some very nice suits [laughs]. It was an honor to meet him though. I call him Mr. PUMA.
Have you met JAY-Z yet?
I have not. He came to one of our Duke games, but no, not yet.
How excited were you to hear PUMA Hoops has a private jet for its players?
Yo, I just heard about the jet today, like five minutes ago [laughs].
Do you and PUMA talk about a signature line at all?
No, not really. Right now, I wouldn't say so much, but maybe in a couple years. I'm a rookie, they need to see how I do, and see what happens, but hopefully down the line.
What would you want in an RJ Barrett signature sneaker?
Comfort, I love comfort. The shoes I wear have a lot of cushion in them. I want everyone to feel like they're walking on a cloud [laughs]. And I like low-cuts, that's what I normally play in. So all I know right now is low-cut and really comfortable.
If you could collaborate with any designer or artist on a PUMA sneaker or apparel, who would it be and what would it look like?
Honestly, I have no idea, no clue. I'm not going to lie, I have no clue.
Family member: Really? I can think of two people you would collaborate with, I'm going to say them but you don't have to agree. One is Drake and the other would be Zendaya.
RJ smiles then cuffs his hand around his mouth as if to shout: Drake and Zendaya!
On to basketball, what part or parts of your game have you been really focusing on this summer?
See that's the thing, I've been working on everything. I want to be a complete player by the time my career is over. Whether it's finishing more with my right hand or knocking down my jump shot consistently; I've been working on everything.
For your rookie season, what do you hope to accomplish, both on the court with the Knicks and off-court with PUMA?
With PUMA, it's about to be our second season in basketball, so we just want it to explode, to get it out there. I want everyone rocking PUMA. And for myself, I just want to learn the league, work hard and assert myself. Right now I'm at the bottom, so I'm just working to get to the top.
Do you and PUMA have plans for any charity or foundation initiatives?
We haven't really talked about it yet. I don't have all the details, but we definitely will be down the line. Once I get time to breathe, I'll figure it out.
Ok, before we go, I'm going to give you a few names and I want you to describe them in five words or less…
Walt Frazier?
Mr. Puma.
Patrick Ewing?
New York legend.
Carmelo Anthony?
He's a bucket!
RJ Barrett?
We might be here for awhile [laughs].