BMW M Division Head Confirms No Plans for a Current M5 Wagon
The last official one being the E61 V10 edition.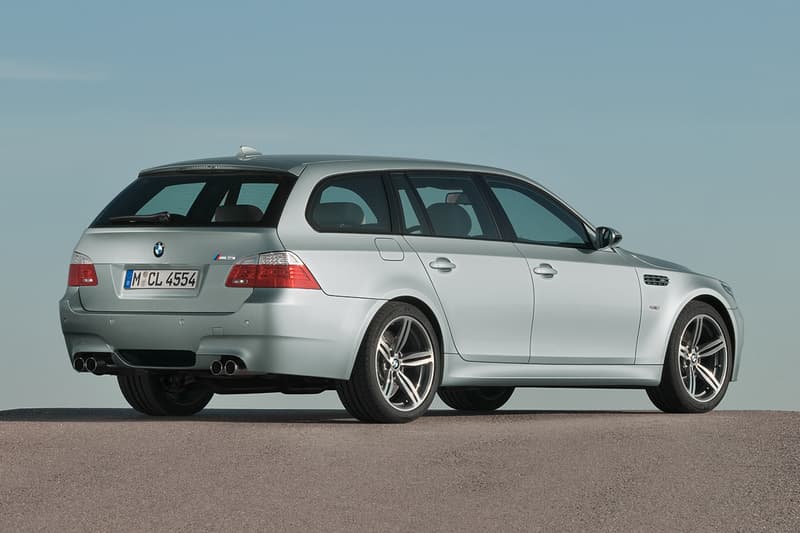 In a rare moment, BMW has officially confirmed that a wagon edition of its ultra-high performance M5 will not be releasing.
Markus Flasch, head of BMW's motorsport-bred M division, stated in an interview with UK's Car Magazine that the current F90-based chassis will not be available in a station wagon style — otherwise known as an estate or a touring edition. Flasch revealed that the decision was a conscious one within the company:
"Touring estates are not part of our M plan. If I asked customers in Austria, Switzerland or Germany they would probably give it the thumbs-up, but we are a global company and we have so many things to deal with on the powertrain side that we don't go into products like this. This is what the SUVs are for."
The SUVs to which Flasch refer are the X5 M and the X6 M, which add aggressive power, handling and styling into the line-up of large capacity carry-all utility vehicles. However enthusiasts would argue these are not true M cars and are merely upgrade packages.
Currently, the BMW M5 F90 houses a 4.4L V8, twin-turbocharged to produce 591hp through the car's controversial all-wheel drive system — the first time an M car was not rear-wheel drive. An estate edition would have most likely contained the same output number and similar acceleration stats, but adding a substantial increase in stowage within the wagon's shape.
The last official BMW M5 wagon — pictured above — released back in the car's E61 chassis style in the mid-2000s, which contained the brand's 507hp naturally aspirated V10 and released exclusively in the UK. For the current 5-series, official tuner/configurator Alpina does have a comparable alternative in the Bi-Turbo B5, however it's based off of a highly modified M5 engine placed inside the BMW 5-series body with Alpina styling and characteristics. Lastly, consumers can turn to rivals Audi and Mercedes-Benz, who both have huge power estate editions — the Audi RS6 Avant and E63 S AMG Wagon, respectively.
For those looking for more of an aggressive styling in their BMWs, the Bavarian brand showcased a one-off BMW X6 in Vantablack.