The Best Vintage Rolex Sport Models for Under $15,000 USD
Timepieces from the '60s to the '90s.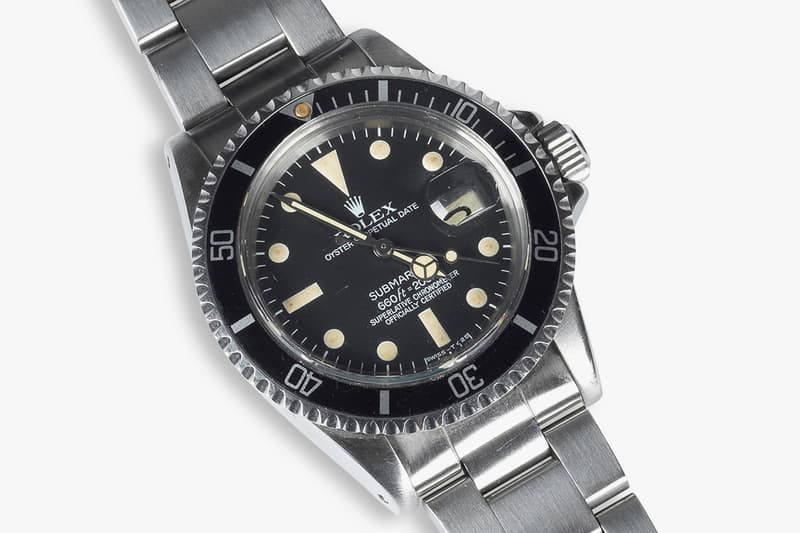 The Rolex Sport line arguably contains the brand's most iconic models. The first Rolex Sport model to be released was the Explorer I in 1953, soon followed by the Submariner, GMT-Master, Milgauss, Daytona, Sea-Dweller, and Explorer II lines. With vintage Rolex Sport models gaining an exceptional amount of notoriety and publicity in recent years, many collectors are venturing away from modern models and warming up to vintage ones instead.
A vintage Rolex Sport model is an undeniably cool and unique purchase when compared to its modern counterpart. Each model represents a milestone in the brand's history and tells a story of the bygone era. The Sport model philosophy of "form over function" and design draw many collectors towards vintage. The earliest variants of the models were intended to be used with purpose, such as diving, exploring and racing. As a result, many Sport models played instrumental historical roles and were worn by influential figures throughout the twentieth century.
Aesthetics also play a significant role in the desirability of vintage Rolex Sport models as they are synonymous with timeless design. For example, a vintage Rolex Submariner non-date ref.5512 shares many design cues with the current Submariner non-date ref.114060, from the dial layout and bezel to the oyster bracelet design. The evolution of vintage Rolex designs parallels that of many other iconic objects, like the Porsche 911. Each generation is refined and improved; the original DNA of the model, however, is preserved and easily discernable. Another important aesthetic aspect that collectors will often discuss is patina: how the watch ages. No two vintage models will exhibit identical aging. From case-wear to dial patina, each vintage Sport model or any vintage watch for that matter is one of a kind. Some collectors favor the "wabi-sabi" appearance of natural wear and dark patina while others prefer examples that show little to no wear. There is no right or wrong and it ultimately depends on your personal preference and style.
With a plethora of models, variants, and price points to choose from, a first-time buyer's options are seemingly unlimited. Many new collectors struggle to find a model they like as well as one that fits within their budget. Recently, I have found that a majority of new collectors pursuing vintage Sport models have similar budgets; around $15,000 USD. Below I have comprised my top five picks for vintage models that can be found in reasonable conditions for $15,000 USD or below. Stay tuned for further articles helping you navigate the world of vintage Rolex.
1966-1989 Rolex Explorer I ref.1016 w/ Matte Dial ($13,665 USD)
Produced from the mid-'60s until the late-'80s, the Explorer I ref.1016 with matte dial is one of the purest examples of Rolex design. The earliest ref.1016's featured "Gilt" dials, meaning the dial finish was glossy with gilt print. Unfortunately, you'd be hard-pressed to source an excellent example of a ref.1016 with a gilt dial for under $25,000 USD. The later version of the ref.1016s with matte dials offer a very similar aesthetic for a fraction of the price. Expect to spend around $15,000 USD for an excellent example. The ref.1016 matte offers a more classic design with a small case size (36mm) when compared to the current generation Explorer I ref.214720 (39mm).
1974-1979 Rolex Submariner Date ref.1680 w/ "White Writing" ($13,538 USD)
The Rolex Submariner ref.1680 with a date function was first released in 1969, with the earliest iterations featuring the word "Submariner" in red text. Today, these are highly coveted by collectors with excellent examples trading at a minimum of $20,000 USD. By 1974 Rolex had transitioned the red "Submariner" text on ref.1680 to white. Fortunately, excellent examples of ref.1680s with white writing trade for substantially less than red writing examples. They offer great value and an opportunity to acquire a vintage Submariner at a relatively reasonable price. The ref.1680 also presents many styling cues as the modern ref.116610LN. Besides the matte finish dial and slim case, it is fitted with a very unique crystal that has been dubbed as the "top hat" by the collector community, due to its height and shape (illustrated above) adding a hard-to-describe yet pleasing vintage charm.
1985-1990 Rolex Submariner (No-Date) ref.5513 w/ Gloss Dial ($11,153 USD)
Often referred to by collectors as the "quintessential" Submariner, the ref.5513 was produced from 1963 up until 1990, making it one of the longest production Sport model references in Rolex history. The last series of ref.5513s featured gloss dials with white gold surrounds encasing the luminous markers on the dial. The first and second series ref.5513s featured gilt and matte dials, respectively. Gilt and matte dial examples in fine condition have become increasingly difficult to source with most trading well above the $15,000 USD mark. The last series ref.5513 offers a great alternative to early models and are perfectly suited as daily wearers. Excellent, original examples can easily be found for $10,000 USD. The ref.5513 with gloss dial has many elements in common with the current Submariner Ceramic No-Date ref.114060 as they both have gloss dials with white gold surrounds, however, the ref.5513 features a cleaner dial with less text, slimmer lugs, and the coveted domed crystal (illustrated above). The clasps are also markedly different with the modern 114060 featuring the easily adjusted glidelock and being cast in thick steel. The vintage 5513 clasp requires micro adjusting along the inner clasp and it is made using pressed steel.
1979-1983 Rolex GMT-Master ref.16750 w/ Matte Dial ($12,478 USD)
Collectors often refer to the ref.16750 GMT-Master with matte dial as the "best of both worlds" as it features a similar matte dial to its predecessor ref.1675, but contains the updated 3075 movement with quickset date function. Later iterations of the 16750 featured the gloss dial with white gold surrounds, however, for the reasons mentioned above, most buyers gravitate towards the earlier ref.16750s with matte dial. Luckily, ref.16750s with matte dials can still be found for under $15,000 USD. With the modern ref.216710BLRO GMT-Master commanding a substantial premium on the secondary market, the ref.16750 with matte dial offers a strong value proposition for any collector. The ref.16750 provides all of the aesthetics synonymous with vintage Sport models for less than the price of a modern GMT-Master on the secondary market.
1984-1987 Rolex Sea-Dweller ref.16660 "Transitional" w/ Gloss Dial ($10,221 USD)
The Rolex Sea-Dweller ref.16660 has been dubbed by collectors as the "transitional" Sea-Dweller due to its upgraded movement and sapphire condition over the previous generation ref.1665. Production for the ref.16660 began in 1979, with the earliest examples featuring the coveted matte dial. They were produced in relatively limited quantities and as a result, have seen great appreciation in the last several years. Finding a great example with a matte dial for under $15,000 USD might prove to be a challenge, so I recommend purchasing a later iteration with a glossy dial and white gold surrounds. These can be found for under $10,000 USD in today's market. The ref.16660 with gloss is arguably the best alternative for a perspective buyer comparing vintage versus modern. Today, the only Sea-Dweller models produced by Rolex are the ref.126600 and ref.126660 (Deep Sea) and are relatively large in diameter: 43mm and 44mm, respectively. The ref.16660 has a classically sized 40mm case and slimmer dimensions. The overall appearance is much more discreet and well suited for your average wrist size.
David Farkas is the founder of Swiss Watch Time and graduated from the University of Arizona's Eller College of Business with a Bachelor's degree in Accounting. He is passionate about helping new buyers enter the world of fine Swiss watches as well as helping the most seasoned collector attain their grail watches. He is also an expert on Rolex, as well as Patek Philippe watches and has operated online under the screen name "Perpetualman88."