Best New Tracks: Gunna, Max B, Future, dvsn, Blood Orange & More
Another week full of worthwhile releases.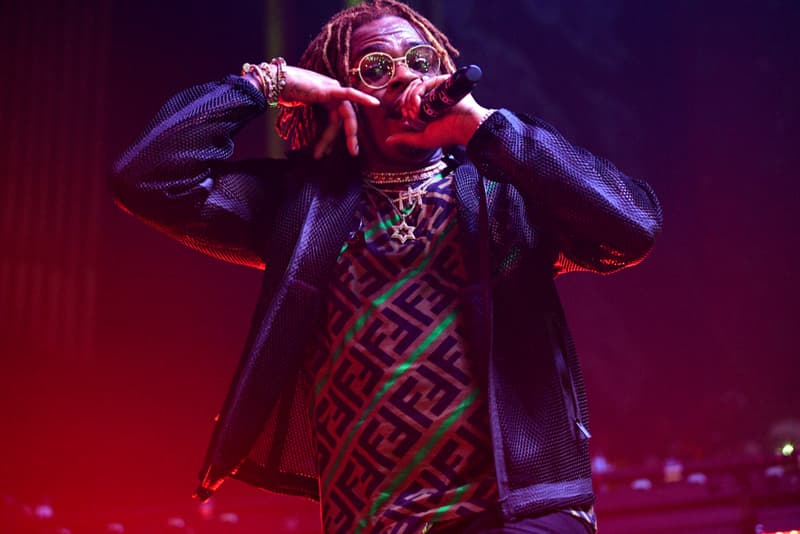 Last week, artists such as Yuna, Little Simz, TM88, 5AM, Calebrate and more came through to supply your weekend listening sessions with new heat. For the latest installment in our Best New Tracks series, we're putting new releases from Rexx Life Raj, G Man & Bris, French Montana, Max B, Future, Blood Orange, dvsn, ComptonAssTG, Teejayx6, Taylor McFerrin, ShooterGang Kony and more on your radar.
Rexx Life Raj & ALLBLACK – "Rich"
Following up last November's California Poppy project,, Rexx Life Raj is planning on serving another new EP, En Route, on July 26. Made up of three new tracks, Rexx Life Raj's En Route EP will support the launch of the promotional campaign for his next studio album, which is expected to hit streaming services and similar platforms in the final months of this year. To introduce En Route, Raj is reconnecting with Oakland star-in-the-making ALLBLACK for a new, DTB-produced single known as "Rich."
"I was in the studio with DTB wrapping up my album and he told me ALLBLACK had a session after me," Rexx Life Raj recalls, breaking down the back-story behind "Rich." "I said 'Load me up, I'm no bitch.' The rest is history."
G Man & Bris – "Blood Brothers"
Continuing to support their recent collaborative project 10:42, Sacramento duo G Man and Bris are unveiling a new visual for 10:42 highlight and single "Blood Brothers." Notably, the visual was filmed in San Francisco and put together by director Trvpy Films.
"Me and Bris are from two hoods in South Sac. I'm from Meadowview and he's from Fruitridge. The album 10:42 is about bringing our hoods together because we're both the n***as in our sections," G Man tells us, breaking down his recent project with Bris and revealing the mindset and back-story behind "Blood Brothers." "We decided to go to the The City (San Francisco, CA), for the 'Blood Brothers' video because that's where ChrisOnThaBeat is from. He produced the record. We wanted to show love to his side. It's real n***as all over Northern California, so we're just connecting the dots for real."
"The whole album is really just songs for real n***as," Bris adds, delivering his own statement on 10:42 and the new visual for "Blood Brothers." "N***as like us who are going through real shit. Taking risks to get a bag, dealing with opps, losing their n***as."
Lykke Li, Skrillex & Ty Dolla $ign – "two nights part ii"
Lykke Li is debuting a new remix of her song "two nights" known as "two nights part ii." Now featuring contributions from Skrillex and Ty Dolla $ign, this new release serves s the second single in support of Lykke Li's forthcoming EP still sad still sexy. The aforementioned project is a collection of new music and remixes, and is scheduled for release on July 26 via RCA Records. The original version of "two nights" was included on Lykke's fourth studio album so sad so sexy, which was released last year.
Blood Orange – Angel's Pulse
Less than a week after revealing plans for a new studio project titled Angel's Pulse, Blood Orange is debuting the full-length in its entirety. Billed as a sort of "epilogue" to his most recent studio album Negro Swan and a mixtape, Angel's Pulse features 14 new tracks, including collaborations with Toro Y Moi, Tinashe, Gangsta Boo, Project Pat, Arca and more.
"I have a habit through the years of making records that I just give to friends, or on tape to people on the street, or no one," Dev Hynes previously shared via an official statement, explaining the creative process behind his latest project. "Usually this material is made directly after the album I've just put out. Somewhat of an epilogue to the thing I've made before. This time.. I decided to release it … I put as much work and care into it as I do with the albums I've released."
Taylor McFerrin – "Now That You Need Me"
Five years after the release of his debut album Early Riser, Taylor McFerrin is finally planning on releasing his sophomore LP. Known as Love's Last Chance, the multi-talented musician's next album is scheduled to see release on August 16. To introduce listeners to this project's sound and direction, McFerrin is unveiling a new single titled "Now That You Need Me."
"'Now That You Need Me' is all about giving up on the dreams of the person you're in a relationship with, but I wrote it like it was a letter I came home to, with someone giving up on me," McFerrin tells us. "In a way this song is the heart of the record because I needed to feel that dark side creeping up on me to find a deeper reason to finish this project. The instrumental part of the song is actually meant to sound like the soundtrack for someone who is on the other side of making that choice and feeling great about it, like they're riding down the coast in a convertible feeling totally free."
dvsn – "Miss Me" and "In Between"
dvsn have released their first new tracks since releasing their 2017 album Morning After. Known as "Miss Me" and "In Between," dvsn's latest singles mark a shift in artistic direction for the OVO duo, who are planning on releasing a new project with a notably different sonic style.
"'In Between' speaks for the grey area between two people who still haven't figured out the best ways to communicate their feelings," dvsn share via an official statement. "Sometimes we need to remove all the barriers, even the ones we may have never noticed."
"We all have that one person we can't get off our mind, but we get scared to ask if they feel the same way," reads a second statement from the act, switching subjects to "Miss Me." "This song helps with that hard to ask question; 'Do You Miss Me?'"
ComptonAssTG – "40 Show"
Pushing ahead with his fast-rising campaign, ComptonAssTG further cements his top at the current ranking of "new, up-and-coming rappers you need to pay attention to." For the latest addition to his expanding hot streak, the Compton rapper serves up a visual for "40 Show," complete with a colorful gun-dance tutorial that almost takes the menace out of the small-human-sized weapon he's holding.
Future, Meek Mill & Doe Boy – "100 Shooters"
Future continues to show no signs of slowing down. One month away from embarking on their co-headlining "Legendary Nights" tour, Future and Meek Mill team up with Doe Boy for a new collaborative single known as "100 Shooters."
French Montana & Max B – Coke Wave 4
French Montana and Max B have reunited for a new installment in the popular Coke Wave series. Dubbed Coke Wave 4, the duo's latest joint effort is comprised of nine new tracks, with Max B's current go-to producer and close collaborator Paul Couture recruited for its production.
"It shows I can collaborate with other artists of stature and still hold my own," Max B says of Coke Wave 4, delivering an exclusive statement to Rolling Stone.. "Anybody I f*ck with, I'm gonna sound buttery."
"Everybody has this thing mixed up that we're talking about actual coke product," Max B adds, recalling the themes and origins of the Coke Wave series. "When we came up with the Coke Wave concept, it was always about the hustle, the grind. When we started, French was in the DVD game. I was doing my thing, had worked with Jim [Jones, the New York rapper behind hits like "We Fly High," which Max B helped write] and all them. So we both had some buzz in the streets. We thought we would come together and put his visual skills with my audio skills. But it's not about drugs — it's about the way we took the music and flipped it to make a profit."
Teejayx6 – "Swipe Story 3" and "Scammer"
Detroit's Teejayx6 approaches rapping about scamming like Pusha T approaches rapping about the whitest bricks of Colombian fishscale; for those conducting criminal experiments as they hop from app to app, refill drugstore-stand debit and gift cards and organize the paperwork for their profiles, this young rapper is turning your lifestyle and unofficial career into a cinematic artform. As he continues his fast rise to the top of Detroit's crowded scene of talent, Teejayx6 links up with Helluva for "Scammer" and shares a video for the K'den Ju-produced "Swipe Story 3."
Gunna – "Baby Birkin"
Gunna revisits his Drip or Drown 2 project for his latest music video. Specifically, the 26-year-old superstar is debuting a new clip for the Drip or Drown 2 highlight "Baby Birkin." Directed by Spike Jordan, the visual for "Baby Birkin" features popular reality TV show personality Jordyn Woods as its star, placing her right alongside Gunna as the video's narrative unfolds.
ShooterGang Kony – "Charlie"
ShooterGang Kony continues to support and promote his forthcoming Second Hand Smoke project by sharing its third single, "Charlie." To bring his latest record to life, the Sacramento rapper debuts the track using its visual companion, which was put together by director Trevor Potter.
"It's always fun and games and shit until the cops show up or somebody get popped," Shootergang Kony shares. "In the song I'm just tryna let you know that I ain't really lookin for no trouble but I don't got no problem f*ckin up yo day. Just like the cops gone fuck up our day no matter what we doing. Just like somebody that want some clout gone try to f*ck up what we doing. I could do the same and you ain't gone like it. Oh… and Belly like one of my favorite movies so you see what I did there."