Epic Games Showcase 'Stranger Things' Skins in 'Fortnite' (UPDATE)
Play as Chief Hop or the Demogorgon.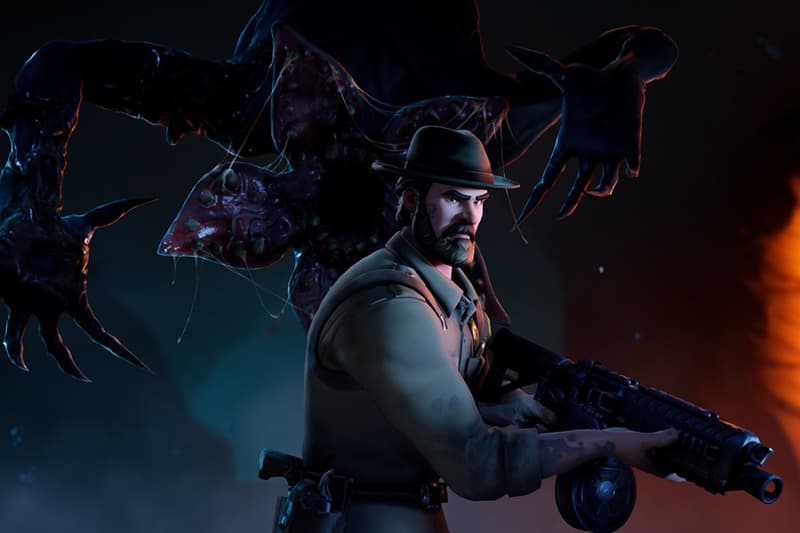 UPDATE: Fortnite introduced a couple of new skins that allow players to appear as Stranger Things characters Chief Hopper or the Demogorgon. Each skin costs 1,500 and 1,200 V-Bucks" respectively, alongside a weapon wrap of "Vines."
#FortniteXStrangerThings https://t.co/HpxRVvUSiY pic.twitter.com/Skf30OsJB8

— Fortnite (@FortniteGame) July 4, 2019
— Fortnite (@FortniteGame) July 5, 2019
---
Original Story Jul 3, 2019: Stranger Things season 3 is premiering on Netflix July 4 and Epic Games appears to be teasing a collaborative event with the show in Fortnite Battle Royale. Several players have already found portals reminiscent of the ones found in the show, and they're appearing in the Mega Mall region.
One of the locations Stranger Things season 3 has been hinted to take place in is the Starcourt Mall in Hawkins. Ice cream cones have also begun to appear, which replenishes a player's health. In a teaser for season 3, Steve Harrington (Joe Keery) and newcomer Robin (Maya Thurman-Hawke) can be seen working as ice cream vendors for the summer. When players walk through the portal, the world turns dark for a bit before you're transported to another side of the map.
Previous collaborations have always been hinted before their announcements have been officially made. Before the John Wick event was announced a couple of months back, his house mysteriously appeared in the game. Many speculate the vent will entail in a few skins that resemble the series' Demogorgon creature or Sheriff Hopper character.
Stay tuned for an official announcement from Netflix and Epic Games.
Meanwhile, in related gaming news, check out Apex Legends' new character Wattson.
NEWS: #StrangerThings Portals appear in #Fortnite ahead of Season Premiere!

? @FNMasterComhttps://t.co/YSeVDkQNRY pic.twitter.com/MJoswprPFq

— Fortnite News (@FortniteINTEL) July 3, 2019
#StrangerThings are happening on #Fortnite pic.twitter.com/SoxvC5aTj1

— SwaeLyse (@LyseSwae) July 3, 2019
Is this new the portal from stranger things. Fortnite X StrangerThings? #Fortnite #XboxShare pic.twitter.com/qqgvxACjZL

— TeamMemes78 (@TMemes78) July 3, 2019
Stranger Things portals are popping up in Fortnite https://t.co/DIPFejPlUP pic.twitter.com/gq8AQkRZGx

— The Verge (@verge) July 3, 2019