IKEA Launches Typeface Inspired by Twitter's Response to Custom Couch Tool
SOFFA Sans is "the world's comfiest font."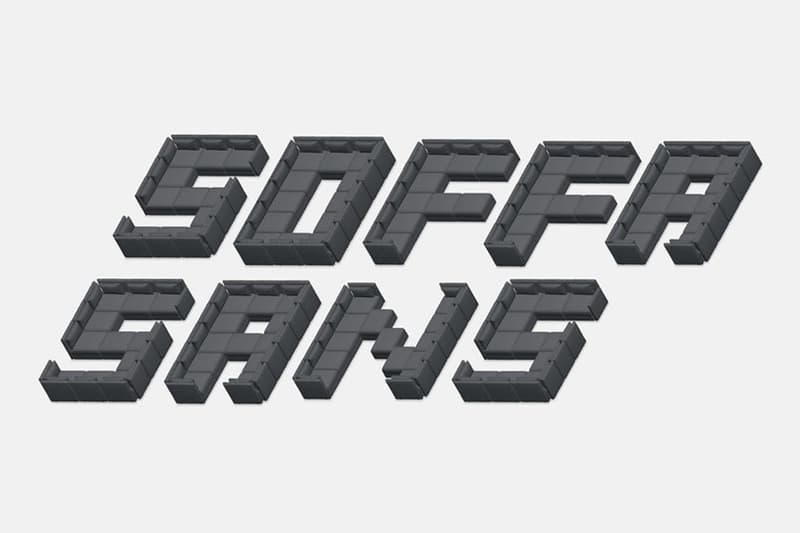 IKEA introduced a custom couch tool last week, encouraging Twitter users to create everything from a $15,000 USD sofa to swirling cushion mazes and even The Couchopticon. In honor of these clever seating arrangements, IKEA UK and customer experience agency Proximity London introduced an accompanying font on Friday, dubbed SOFFA Sans.
SOFFA Sans is comprised of rearranged couches from IKEA's customization program and reportedly would cost $135,000 USD to recreate in reality. Luckily the typeface is free, utilizing the Vallentuna Hillared dark grey model as the base of its letters. "We've been really enjoying seeing the fun that people are having with our sofas and the innovative solutions they are creating," Marcos Tejedor, living rooms sales leader for IKEA UK and Ireland said in a statement. "Inspired by their creativity, we've launched SOFFA Sans, the world's comfiest font. Its modular form and relaxed letter-spacing makes it one of the most versatile fonts out there and we're looking forward to seeing where it's used."
Download the font and create your own bespoke couches on IKEA's site.
Elsewhere, it was reported the IKEA plans to deliver robotic furniture by next year.
We loved your sofa planner creations so much they inspired the comfiest font ever. Meet SOFFA SANS. Download here https://t.co/ZdMyFuahqM pic.twitter.com/IIHnDHWwFO

— IKEA UK (@IKEAUK) June 28, 2019
#fontreview: #soffasans by IKEA

Soffa Sans is a font designed around home decor. Specifically the use of sofas built to form characters for the font. From an eye's glance, only a few of the sofas seem practical to use. For example the V sofa would work well for a (1/2)

— Fonts (@ThisIsFonts) July 2, 2019
cartoon villain in their lair. Is it otherwise in anyway practical? No, but do I expect this to be a massive meme in the upcoming months? Absolutely. I give #soffasans a 3/10 #fontscore with the opportunity to gain more points depending on what I see made out of this font. (2/2) pic.twitter.com/pDaVhJWcEE

— Fonts (@ThisIsFonts) July 2, 2019
This is awesome. Might need to be couched as to how to use it properly. Sofa, so good. #soffasans https://t.co/hEiu3ls64D

— Michele Sardy (@MSardy) July 2, 2019
IKEA's Soffa Sans is definitely the world's comfiest free #modular #font ever https://t.co/TqOlAbU1pm #IKEA #SoffaSans pic.twitter.com/TpCWvRu7Cv

— Typeroom (@typeroom_eu) July 1, 2019