Hackers Break Into 'Fortnite' World Cup Winner Bugha's Social Media Accounts
Giving away hundreds of free subs on his Twitch account.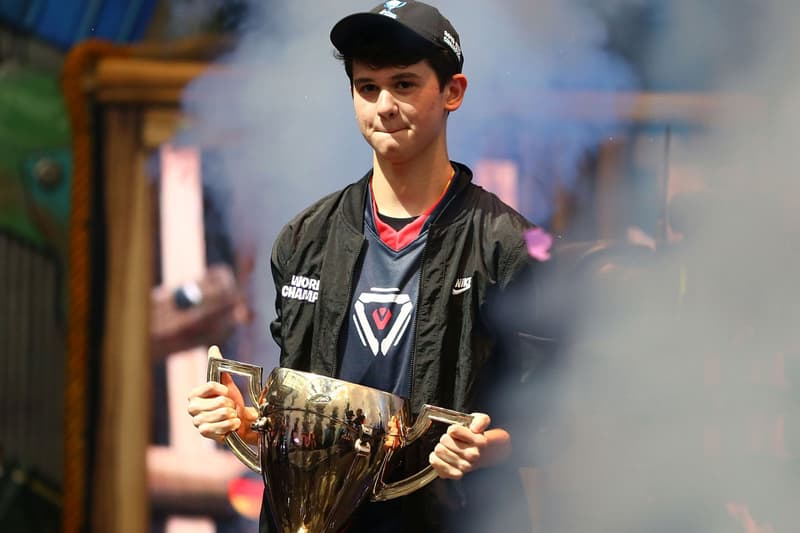 As reported by Dexerto, Fortnite World Cup 2019 winner Kyle "Bugha" Giersdorf was recently hacked shortly after scoring the $3 million USD grand prize on July 28. Though the hackers were eventually ousted, they managed to send out several strange tweets and gift free subs on Bugha's Twitch account.
As Bugha celebrated his victory in the solo finals category, his Twitter and Twitch accounts were compromised by an unknown number of hackers. They began by tweeting to "follow @perocet @_eclan," and reiterated the statement in a follow up: "Follow @perocet @_eclan we in the vip lounge dropping dom p bottles live stream in 10 following 100 back in an hour." After retweeting a post from @perocet, the hackers took to Twitch to begin livestreaming an image that said "Follow @percocet / @bug on twitter for a follow off bugha," with messages from a chatroom full of confused Bugha followers summarily deleted.
FaZe Clan member Nate Hill tweeted that Bugha's account gifted him 100 subscribers, one of the various Twitch users who received a sub boost from Bugha's hacked account. Soon after, Bugha posted an Instagram Story, clarifying that "My Twitter account has been hacked, those tweets are not mine." Bugha's pro gaming team, Sentinels, finally reclaimed the hacked accounts, removed the offending posts and asserted that "We are aware of the situation and are working to regain control."
View screenshots of the incident on Dexerto's site and read the following posts below. Portions of the Twitch stream were recorded by some users in the chat and then uploaded to Youtube, also seen below.
Luckily for Bugha, the hackers that took over his accounts were far less enterprising than the recent Japanese bitcoin hackers.
Yo @bugha thanks for the 100 gifted subs ? @Twitch think my mans is hacked pic.twitter.com/RBRl7wg0Ic

— Nate Hill (@NateHillTV) July 29, 2019
Bugha's phone and social media accounts have been compromised. We are aware of the situation and are working to regain control.

- Sentinels Management

— SEN Bugha ✈️ NY (@bugha) July 29, 2019
For clarification, we are unable to remove the vulgar retweets at the moment due to the user blocking Bugha. The tweets are unavailable to view for him. We're working to ensure all his socials are safe and running soon!

— Analynn ??? (@bawlynn) July 29, 2019
Bugha is hacked just so everyone knows.

— SEN Aspect (@AspectFN_) July 28, 2019