Missy Elliott Inducted to Songwriter Hall of Fame, Lizzo Performs "Sock It 2 Me" as Tribute
Michelle Obama & Queen Latifah praised Elliott on the landmark achievement.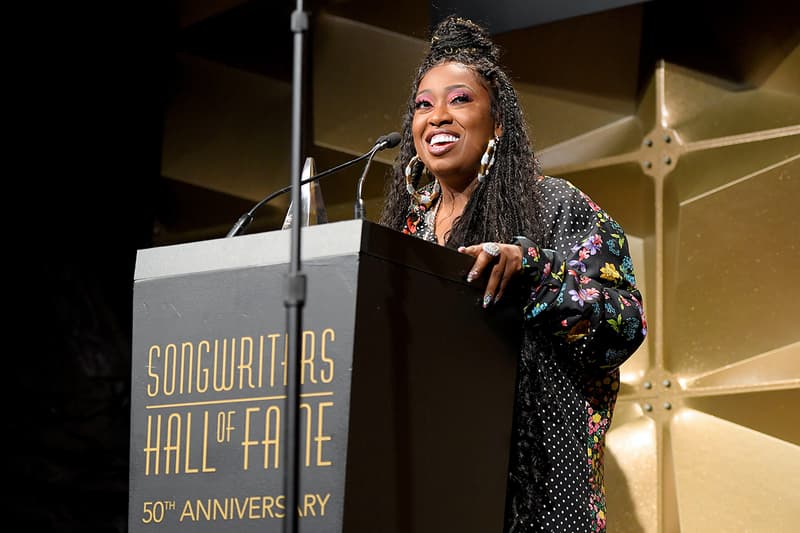 Missy Elliott has been officially inducted by Queen Latifah into the Songwriter Hall of Fame, making her the first female rapper on the list. Following a 10-minute long heartfelt speech from Elliott, Lizzo graced the stage and performed one of the rapper's most legendary hits, "Sock It 2 Me." The "Tempo" collaborator also brought out Da Brat to do the rapid-fire verse and wore Elliott's iconic finger wave hairdo.
Elliott joins just two fellow rappers — Jay Z and Jermaine Dupri — and now features in a list that includes Mariah Carey and Marvin Gaye. Michelle Obama spoke on Missy Elliott's award, saying, "Thank you not for just sharing your gift with the world, but for being an advocate for so many people out there, especially young girls who are still figuring out how to make their voices heard."
Elliott said, "I want to say one thing to the writers, to the upcoming writers: Do not give up. We all go through writer's block. Sometimes you just have to walk away from a record and come back to it. But don't give up because I'm standing here. And this is big for hip-hop, too."
Last night's additions to the Songwriters Hall Of Fame also included John Prine, Cat Stevens, Tom T. Hall, Dallas Austin, and Jack Tempchin. The event also marked 50 years of the awards ceremony and you can watch Lizzo perform below.
In other news, Charli XCX has announced a new album featuring Lizzo, CupcaKKe and more.
Last night my heart was full❤️ latifah one of my besties your a Queen @lizzo @sosobrat my sisters merked it! AND @MichelleObama I LOVE YOU! You are AMAZING & FIERCE! I am humbly grateful the committee of Songwriters Hall of Fame?? and the other WONDERFUL inductees?? pic.twitter.com/3lxFcAqQ4J

— Missy Elliott (@MissyElliott) June 14, 2019
Lizzo performing in honor of Songwriters Hall of Fame inductee Missy Elliot pic.twitter.com/4zYadUwtyF

— steve greenberg (@steviegpro) June 14, 2019