Golden State Warriors Part-Owner Gets 1-Year Ban from NBA Games
Along with a $500,000 USD fine for shoving Kyle Lowry.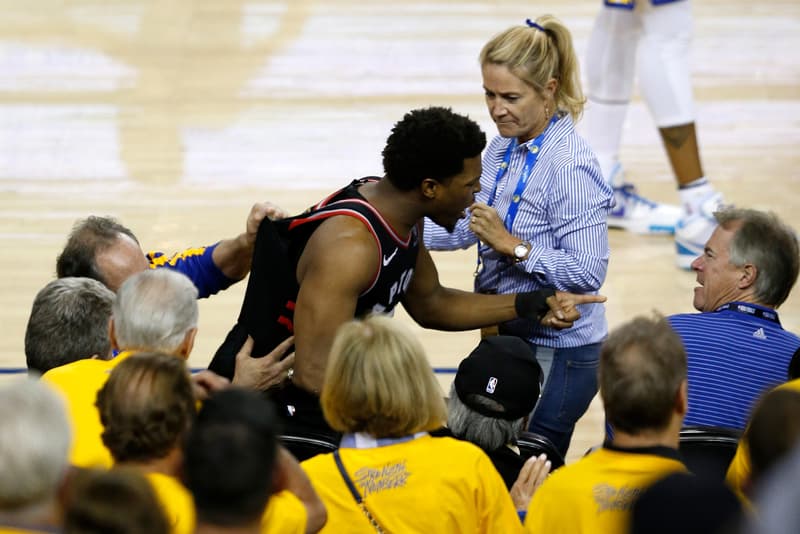 LeBron James hasn't held back one bit in calling out Mark Stevens, part-owner of the Golden State Warriors, for his offensive act towards Kyle Lowry.
For those that didn't catch the brief incident during Game 3 of the NBA Finals, Stevens shoved Kyle Lowry after Lowry fell into the seats from diving for a loose ball. According to Lowry, Stevens also went as far as saying "go f*** yourself" multiple times. Since then, James took to Instagram to state that "there's absolutely no place in our BEAUTIFUL game for that AT ALL." James mentions that as part-owner of the Golden State Warriors, Stevens should know better and that "Something needs to be done ASAP! A swift action for his actions."
It has been reported that the NBA has issued out an official 1-year ban for Stevens along with a $500,000 USD fine. A statement from the NBA has gone on to emphasize that "a team representative must be held to the highest possible standard and the conduct of Golden State Warriors investor Mark Stevens last night was beyond unacceptable and has no place in our league." Though no official response from Stevens has surfaced yet, reports are claiming that Lowry should be expecting a public apology from Stevens soon.
Stay tuned for more news on the incident and scroll below to see LeBron James Instagram post about it.
In other related news, the NBA reportedly spoke with the Toronto Raptors about Drake's sideline behavior.