Jeff Bezos' Blue Origin Has Assembled a Superteam to Send Astronauts to the Moon (UPDATE)
Including industry giants Lockheed Martin, Northrop Grumman and Draper.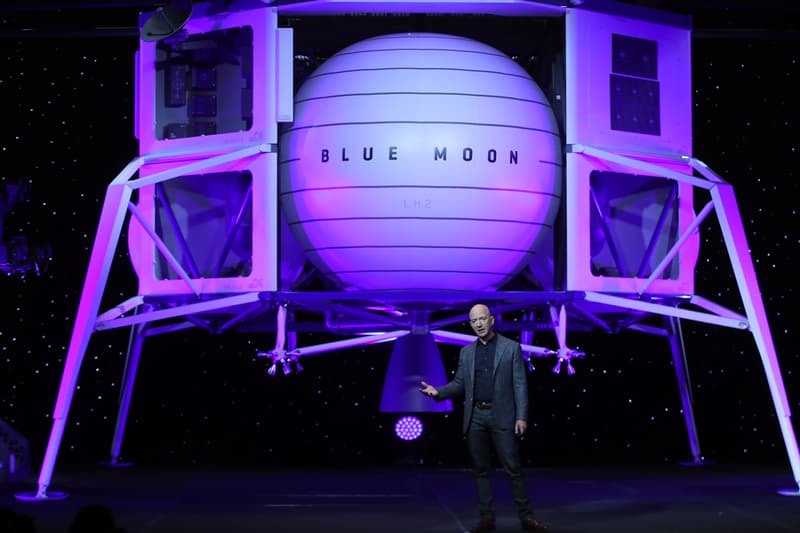 UPDATE (October 22, 2019): In a recent announcement at the International Astronautical Congress, Amazon CEO Jeff Bezos revealed that his rocket Company Blue Origin is officially working on a plan with industry giants Lockheed Martin, Northrop Grumman and Draper. According to CNBC, the group will submit one collective design to NASA who will consider using the design during its Artemis program, which aims to send US astronauts back to the moon by 2024. "I'm excited to announce we have put together a national team to go back to the moon," Bezos said during the announcement. "This is the only way to get back to the moon fast."
To complete the proposal, Lockheed Martin, Northrop Grumman and Draper will each work on pieces of a wider lunar landing system that will complete Blue Moon's already existing lunar lander, which is aptly named Blue Moon. Lockheed Martin will contribute a reusable vehicle called an "Ascent Element" that will bring astronauts back from the moon, Northrop Grumman will create a "Transfer Element" vehicle to help the lander while in lunar orbit, and Draper will develop systems for the mission like a guidance system and flight avionics. Meanwhile, Blue Origin will oversee management and serve as the bid's prime contractor.
Stay tuned for more information as it arises.
ORIGINAL STORY (June 7, 2019): Amazon is currently hosting its first-ever publically accessible post-MARS (Machine learning, Automation, Robotics, and Space) conference in Las Vegas where CEO Jeff Bezos took the stage Thursday to announce Blue Moon and his initiative to focus on lunar exploration.
Joined alongside Amazon's director of forecasting Jenny Freshwater, the two partook in a conversation, where he was asked if he'd share some of his tech and business predictions for the next decade. Bezos stated that he believes robots will be able to grasp objects as well as humans within the next ten years, including in commercial settings. He also says he wants to use his company Blue Origin as the stepping stone for true space colonization, and as such, wants to provide a transportation infrastructure for space with Blue Moon.
According to TechCrunch, Bezos says: "You cannot start an interesting space company today from your dorm room. The price of admission is too high and the reason for that is that the infrastructure doesn't exist. So my mission with Blue Origin is to help build that infrastructure, that heavy lifting infrastructure that future generations will be able to stand on top of the same way I stood on top of the U.S. Postal Service and so on."
Bezos believes "the reason we go to space in my view is to save the Earth," and that humanity needs to outsource heavy industry off Earth and leave the planet as a residential location only.
In the middle of the "fireside chat," an animal rights protestor rushed the stage shouting that she's seen the inside of Amazon-affiliated chicken farms. She then began pleading to Bezos "you're the richest man on this planet, you can help the animals," before being apprehended and Bezos nonchalantly continuing his conversation.
In related news, Robert Downey Jr. also made a proclamation at Amazon's main MARS conference earlier this week to save the world with nanomachines.
Wow. Protestor on stage just happened talked about working conditions at Amazon @AWSreInvent @aws @JeffBezos #reMARS pic.twitter.com/Svj37beJlN

— Vishal Gurbuxani (@vgurbuxani) June 6, 2019