Flipp Dinero Could Be Brooklyn's Next Big Rap Star
The budding talent talks about life after "Leave Me Alone."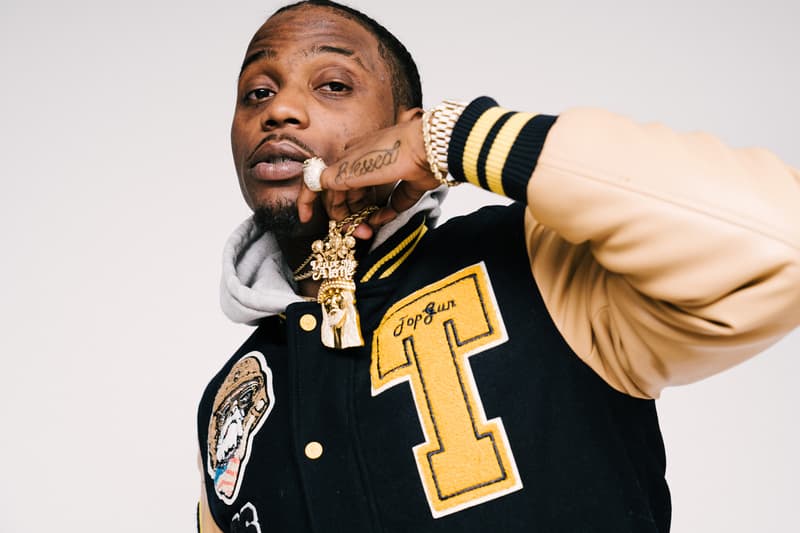 One year can change everything. Flipp Dinero is a perfect testament to that fact. In 2017 when he dropped his debut tape The Guala Way, the then 21-year-old artist was just a fledgling from Brooklyn who had recently signed to Johnny Shipes' label Cinematic Music Group. Fast forward one year later, Dinero, born Christopher St. Victor, had a top 20 Billboard Hot 100 double platinum single with "Leave Me Alone," plus a major label partnership with Epic Records, DJ Khaled's We The Best record label and Cinematic. Now in 2019, the rapper could be Brooklyn's next big superstar.
Born to Haitian immigrant parents, Dinero grew up in the Christian church and gravitated towards making music as a teenager, already recording and releasing music when he was as young as 13. By 2015 Dinero began to take music more seriously, catching his first break when his distinctive raspy voice and melodic delivery grabbed the attention of Joey Bada$$. The Pro Era frontman then brought Dinero's music to Shipes, who quickly signed the budding star to his label. Shipes would also share Dinero's music to Kendell "Sav" Freeman, a behind-the-scenes music industry veteran who later became the rapper's manager in January 2018.
Following the release of The Guala Way, Flipp released "Leave Me Alone" as a standalone loosie. But after Odell Beckham Jr.'s Instagram post showing himself dancing to the song during a tumultuous NFL offseason went viral, the record started to take off. In June 2018 Drake credited the song as one of the inspirations behind his Scorpion album and by the time DJ Khaled heard the track in July, Flipp Dinero was on his way to stardom. In August, Khaled announced he signed Flipp to his We The Best imprint and its parent company, Epic Records. By November, the song debuted on the Billboard Hot 100 chart, eventually peaking at No. 20.
Most recently, Flipp Dinero is gearing to release his major label debut and previously dropped two new singles, "IF I TELL YOU" and "NOT TOO MANY," which showed off his versatility. In between his travels, HYPEBEAST sat down with Flipp Dinero to talk about life before, during and after his breakout hit "Leave Me Alone."
1 of 2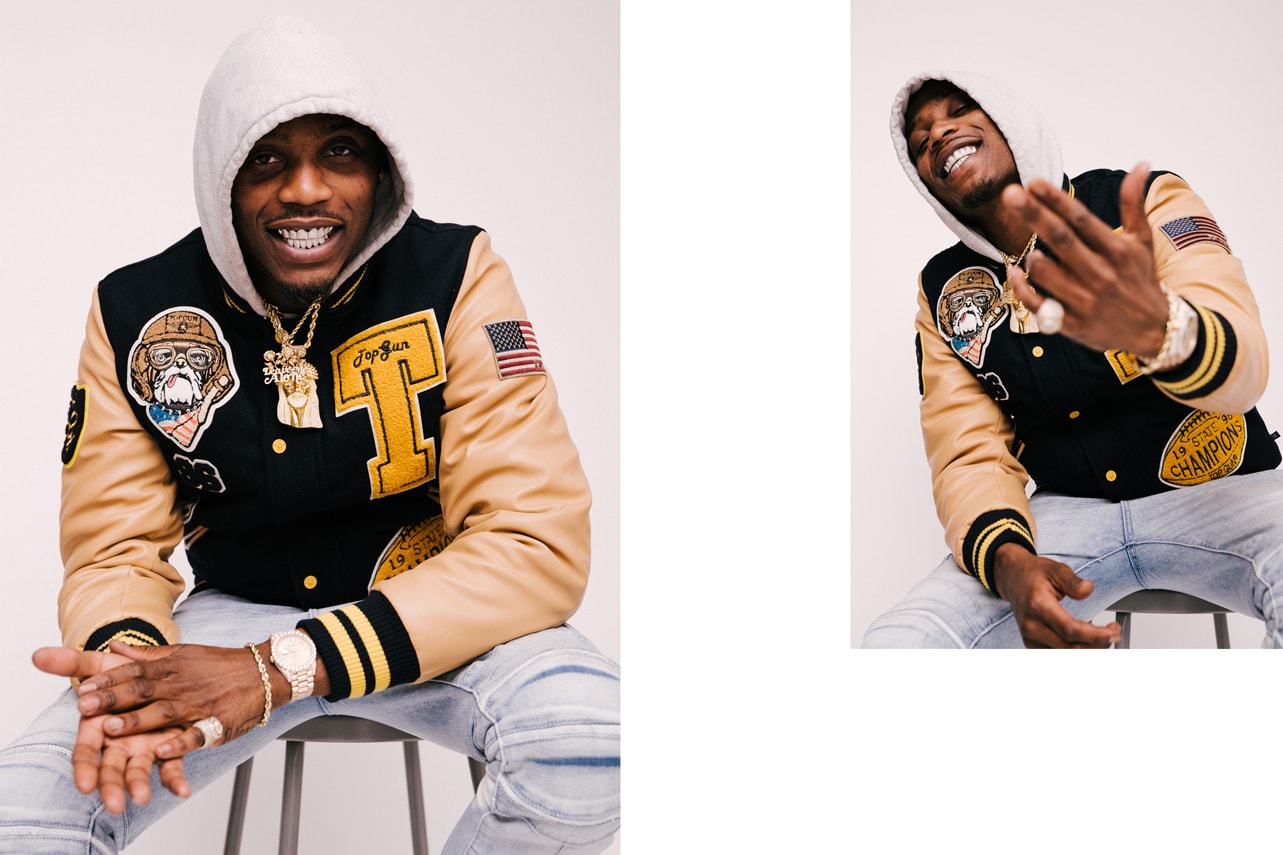 2 of 2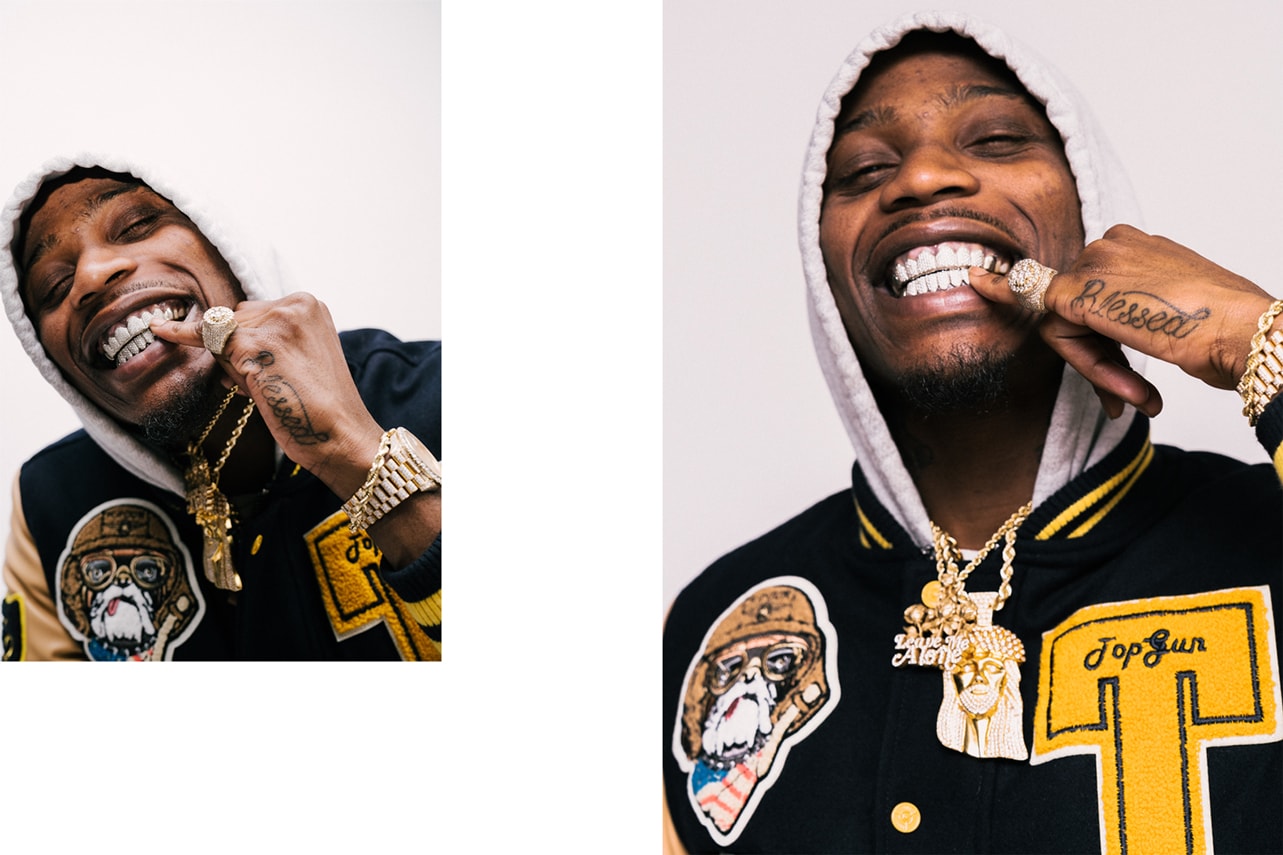 HYPEBEAST: Where did you grow up?
Flipp Dinero: I was born in Brooklyn, Flatbush. I moved to Canarsie at the age of seven. Mother and father are Haitian. My father came to New York when he was 14, my mother when she was 19. I got an older brother, I got a little brother I got a little sister.
Describe Canarsie.
The Floss, Canarsie is very unexpected, anything can happen. It's very random. A lot of negativity happens in that area, despite all the positive things that are placed in that area for our betterment.
Was music always a part of your life?
Yup, from the beginning. I grew up in the church. My mother and father has always instilled with me the church. Singing was my first love and what I was raised to do before I started rapping. My mother was always in the choir, my father was always in the choir, so it was something I just always did.
When did you first listen to hip-hop?
Honestly, I can't remember, but it was something I was always a part of me and I used to get scolded a lot. My mother used to scold me for listening to like Paul Wall or Mike Jones or some shit. I was always wildin', since I was a little kid. I used to play video games, have you ever heard of Midnight Club? I used to play that all day and listen to rap music and my father would put the volume down. I used to ask, "Why are you putting the volume down? There's something to it," and I put the volume backup. I always loved music.
So the first rappers you liked to bump were Houston artists?
Paul Wall, but I also used to listen to Ludacris, I used to listen to Biggie [Smalls] a lot cause my brother used to bump him a lot. A lot of people back in the day. I love music, music saved my life. Since I was little I always knew music will be a part of me forever.
"I always had the name Flippa, I've had that name since I was eight, nine years old."
Why is that?
It's an emotional connection, I just knew. Everywhere I went, I always emphasized music, whether it was at work or school. I was always writing poetry before I started making music. I was always ahead of my time in that field. Then when I started listening to beats and putting poetry to the beats plus with singing, I just thought, I think I'm on to something. This was when I was 12 years old.
Who brought you into the studio?
My boy Los. We had linked up and one day I rapped for him. He was just like, "Yo, you're dope, I'm trying to build a studio in my crib, come through." The next day I came to his crib, I rapped over Nicki Minaj's "Moment for Life." That was like the first song I ever put on wax. He lived in Canarsie right up the block.
How you get your rap moniker?
I always had the name Flippa, I've had that name since I was eight, nine years old. As I got older I always try to revolve my name around Flippa. But then Flipp came because I'm a big kid now, I don't want to be Flippa, I'm Flipp and Dinero is just the love for money so n*ggas called me Flipp Dinero.
What does Flippa mean?
[Laughs] Hey man, I was a little flipper, if you catch my drift.
So when did you start rapping as Flipp Dinero?
Since way back, I was making music that was appealing to everyone. No one sounded like me. So first song I was like this is Flipp, because I ain't bight nobody sound. It was clearly my own stelo. I was gaining buzz in my hood.
The rawness of your music, it evokes something emotionally that few musicians do and I think it has a lot to do with your distinct voice.  How did you develop your sound?
I don't know, as I got older, my bars did too. My thought process changed, I'm really just expressing how I feel. I'm just trying to say what I have to say. My don't know, my flow, it's continuing to build
The video for "I Do" was making its way around the web, this was 2017, was the same momentum felt in person?
Nah, I wasn't even buzzin' in my neighborhood. I was buzzin' within my homies. I kept trying to beat into my homies head like, "I'm that guy, trust me real quick. I'm going to make this happen." A lot of people didn't believe me, some people did. Then I came out with "I Do" and when I came up with the other songs after that, they started to look at me like, aight, this n*gga ain't stoppin'. When I came out with the [debut] project, n*ggas was like, "Oh shit, he tweaking it's a vibe." Then second project on they headtop, everyone was like, "Oooh, I can't believe it."
When did you meet Shipes?
I think it was 2016, early 2016 then I got my deal in the summer of 2016.
"I was never the one to seek fame. So I always knew every song I put out, I'll gain the recognition."
And It was Los who introduced you to Joey Bada$$ and Joey intro you to Jonny Shipes?
Joey was mentoring too, he was giving me pointers like, "Flipp don't stop." He was putting a lot of energy into me and he believed in me.
What did you learn from Shipes?
Hustle and don't stop. He a real n*gga, he gets to it. He instilled that into me. And because he put that into my head, I made a lot of tracks. Tracks that you never even heard yet. I got tracks on the computer that accountable for a mixtape, an album, that's not even on the next project.
When did you think things started to connect?
Honestly, I'm still in search on making things connect, I still don't feel like it's there now. It's connecting now because we're in the process of making it. We're here right now, right? So I feel like we're growing.
Looking back at history, it's hard when an artist has this sudden gigantic rise of popularity because of a song. But consumers aren't really recognizing the artist rather than the song. Do you feel like you have to establish yourself?
Yeah, but the thing is, I was never the one to seek fame. So I always knew every song I put out, I'll gain the recognition and more and more recognizable. It just that "Leave Me Alone" happened to be a muthaf*cking hit. [Laughs] It's too a point when I'm I the street and people would y'all out to me to say hi.
1 of 2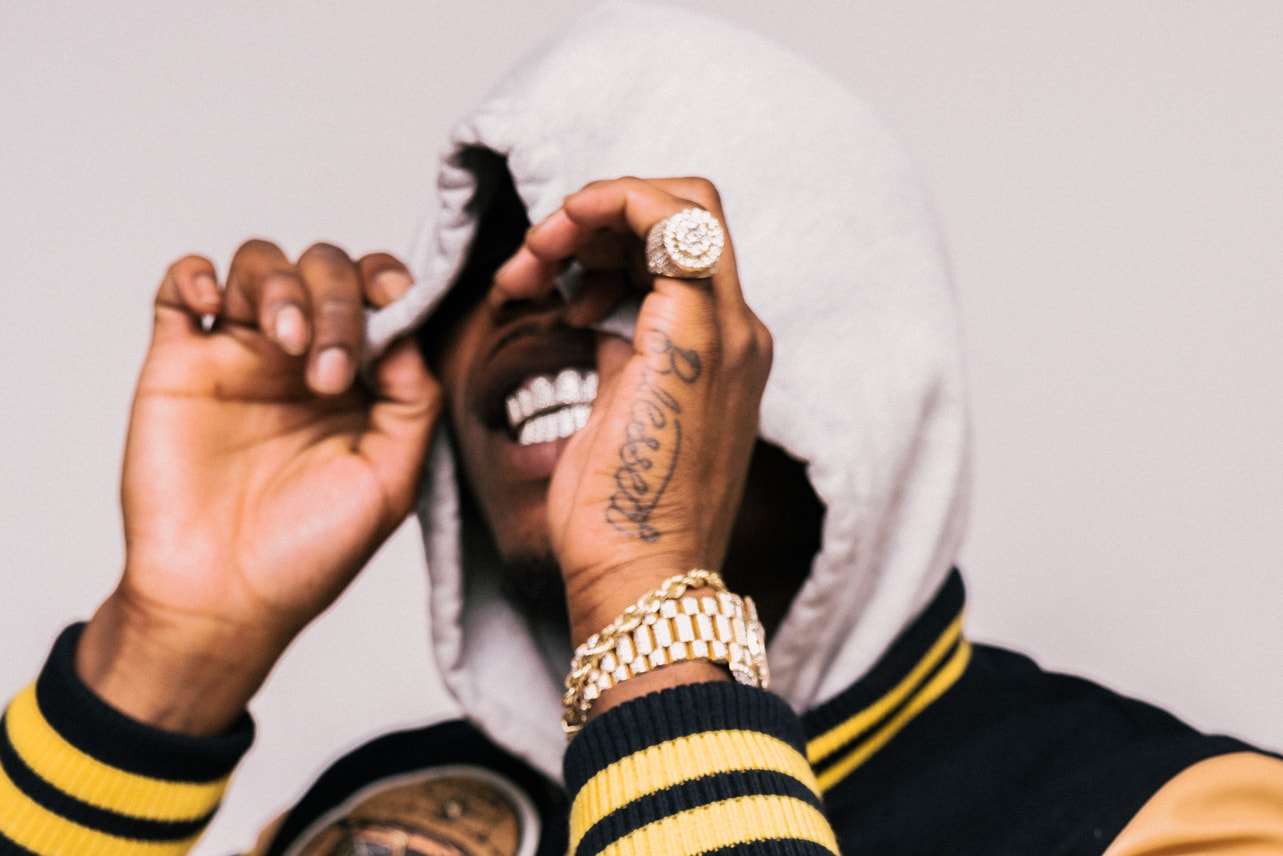 2 of 2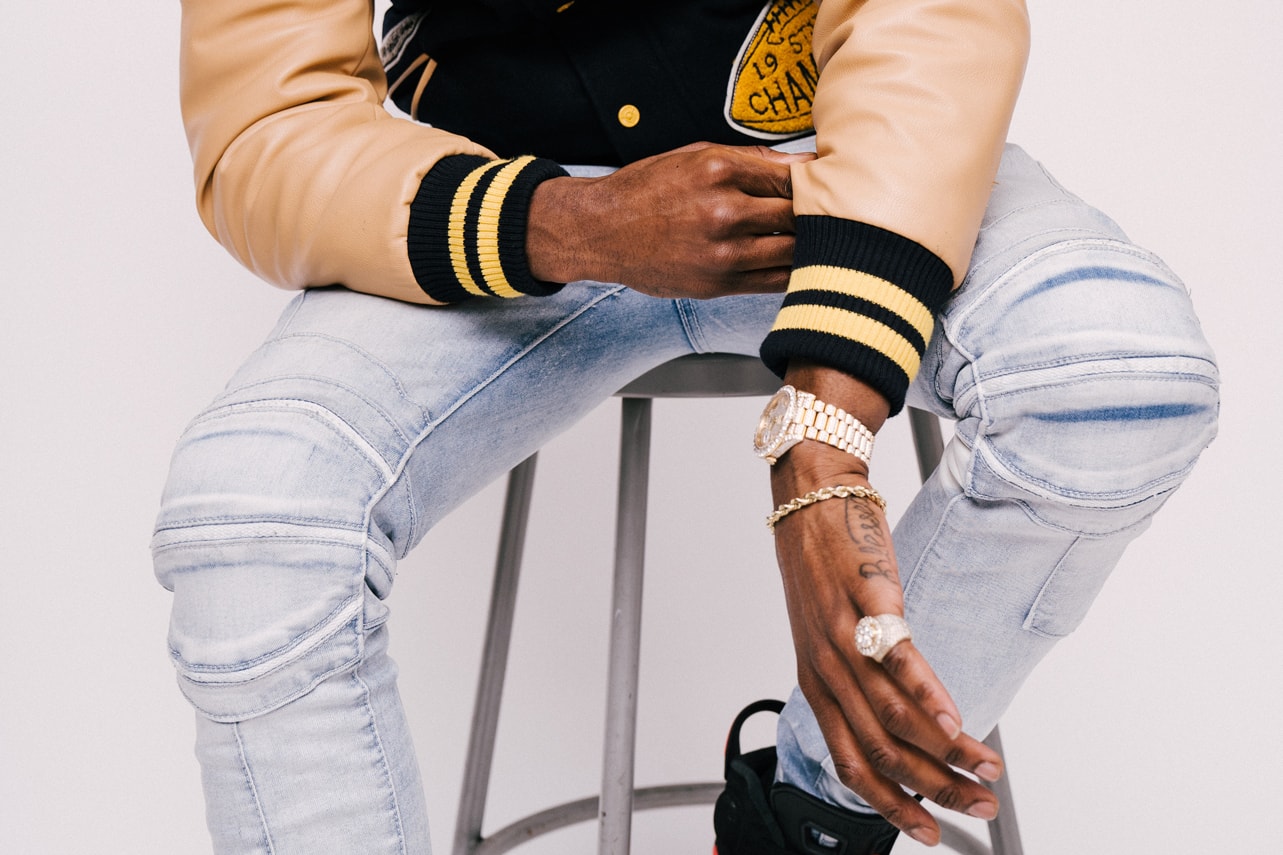 What is the energy like when you go back home? Back in Canarsie.
I love my homies cause they still treat me like a piece of sh*t. But the energy is all love because that's what I'm promoting. My music is not promoting gang violence, or someone dying. If I can make positive music that you can relate to and I don't come across as cocky or arrogant or an asshole, that's what I'm going to do. Music that the kids will love, the adults will love, and the hood n*ggas and the bitches will too.
It's always a special energy when a New York artist breaks out to a national scene. What do you think you bring that's different from the rest?
That humbleness and that hard work ethic plus the ability to love. I'm not trying to be this tough bad guy. I'm really a happy individual trying to just share the love. I just want to win.
How you initially meet Khaled?
I met him through my big brother Sav, he's always throwing pointers and there in my ear. So Sav kept planting the seeds and amongst the people, he played my music for is Khaled. And then he asked to meet me and from there, the rest is history.
How did you know that you can trust Khaled with guiding your career?
Because I trust my big bro, Sav. He wouldn't put me in no situation that was fucked up. We really grinded together and we both want to win, we're doing this for our family. You keep the energy positive and you get what you give.
What's your future look like for you?
I got a project that I'm going to drop real soon but now I'm just trying to work on the project I got after I drop this one. I'm just building up, catching the vibes, plotting the visuals and continuing filling up the schedule.