Will Fashion's Next Big Thing Come from Finland?
Why the fashion giants like LVMH are looking to Helsinki's Aalto University for new talent.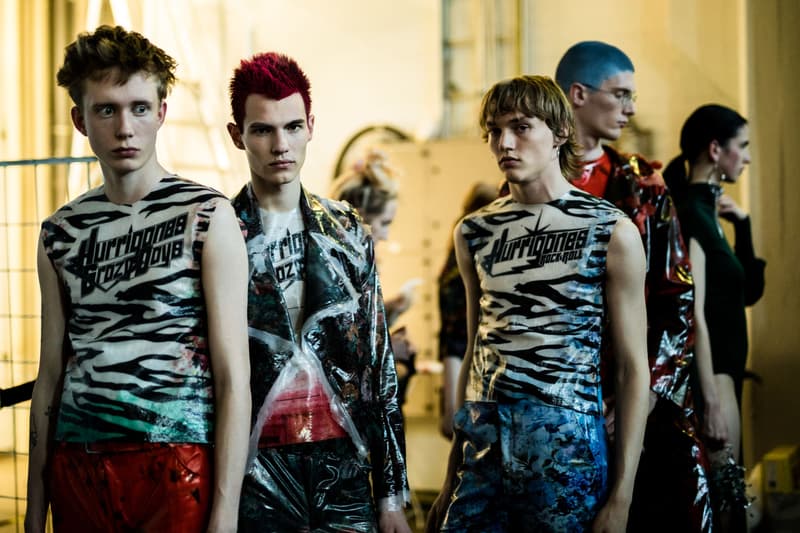 There's a Finnish invasion taking over fashion. But it's a quiet, behind-the-scenes kind of invasion. "We have alumni in practically every house in Paris," says Tuomas Laitinen, senior lecturer at Helsinki's Aalto University.
The nexus of Helsinki's fashion industry is not a traditional fashion week like in other European cities — it's Näytös, Aalto's end of year runway show for its graduating Bachelor's and Master's fashion students. Laitinen oversees each year's show, and in the past 10 years he's observed the school's profile slowly rise throughout Europe and beyond. Thanks to the fact that many of its graduates have won awards from Festival d'Hyères and the LVMH Prize, Näytös is nowadays a hot ticket not just for locals in the fashion industry, but headhunters from LVMH and Kering looking for new talent. It's no surprise then that Aalto topped Business of Fashion's list of best fashion schools for 2019.
That's certainly a boon for those who graduate from the elite university, but it also presents a challenge for Finland's fashion industry – as headhunters look to poach interns for brands like Saint Laurent and Rick Owens, much of Finland's young talent leaves to find success. Finland is frequently compared to its neighboring Sweden, but while the former may have Aalto's reputation, the latter has the financial backbone to support an industry.
"There's not really an industry in Finland. In Sweden there is, it's not a high fashion industry. It's a commercial, high street industry," Laitinen says. "All that is very commercial, mid-market. There's nothing wrong with that, but it's not fashion, it's garments."
The local industry is growing though, albeit slowly. Finland is best known for the groundbreaking fashions of Marimekko in the 1960s, but Laitinen says the industry remained relatively quiet for 50 years. "It really had an impact," he says of Marimekko. "But since that there hasn't really been anything, until 10 years ago." Nowadays there are burgeoning designers like Rolf Ekroth, an Aalto graduate who has received financial backing to run both his namesake label and revive Finnish brand Terinit. That is a recent, but welcome, change, Laitinen says. "There will be more hopefully cases like Rolf's. And that might be a birth of an industry or a proper let's say fashion scene," he adds.
"We have alumni in practically every house in Paris."
But Aalto remains at the center. A sort of pseudo-fashion week, known as Fashion in Helsinki, has sprung up around Näytös to harness its hype, with international press descending on Helsinki for lectures, events and of course the final graduate show. This year's lineup brought out international stylists, editors, and designers to not only attend Näytös but also participate in lectures on the state of the fashion industry and visit events highlighting up-and-coming Helsinki brands like Nomen Nescio, ensaemble and Mannisto. That editors and stylists from around the world have eyes on Helsinki gives hope to young graduates that going abroad isn't the only option.
"I think that I previously thought that's what you should be doing, but now. Of course that's one way to do it, but I don't see it as the only path or one to become better," says Emma Saarnio, an Aalto graduate. Though she herself will soon begin an internship at Louis Vuitton, she notes that those who stay in Finland may have an advantage in not having to learn the workings of a foreign industry. And though Finland lacks the apparel manufacturing industry found in Italy or France, factories can be found just across the water in countries like Estonia.
Helsinki's profile may be growing, but developing an industry on the level of Sweden or Italy is no small task. For Finnish designer Heikki Salonen, who lectures at London's Royal College of Art and acts as MM6's design director, going abroad to the fashion capitals is simply part of the deal, even as homegrown comforts may be hard to give up. "I think it's very easy here. It's made really for us in Finland. I think that's part of the problem in a way." The country was recently named the happiest country in the world after all.
However, it's not just fashion, but many Finnish creatives who are obligated to go abroad. "All the Finns are famous for like techno music. And electronic music. They all live in Berlin, cause that's where it's happening," says Salonen. It's just part of the reality, one that all small countries face compared to their cultural powerhouse neighbors
Some designers however find Finland's low profile to be a feature, not a bug. Born in Colombia to a Finnish-Colombian family, Mannisto designer Julia Männistö grew up in Helsinki and received her Bachelor's from Aalto before moving to London to pursue her Master's at Central Saint Martins. She began her brand in 2015 and has seen interest in the Finnish fashion scene change significantly; when she graduated from Aalto, Männistö says she and her colleagues were worried they'd have to put mannequins in the seats to make it look full enough. "And now it's like sold in one and a half hour. It's crazy. I'm like, who is buying these tickets?"
"In here it's still so baby. We can just do whatever nonsense."
Männistö says she left London for the simple fact that she ran out of money, but today she's found that the small scale of Finland's industry gives her more chances to experiment. In fact, the designer has chosen to live in the smaller city of Turku rather than Helsinki itself. "In here it's still so baby. We can just do whatever nonsense," she says. "When I see things happening in London and all that, it's like, jeez."
So, which names from this year's Näytös should you look for to follow in the footsteps of Julia Männistö and Rolf Ekroth? Keep your eyes peeled for Ines Kallaila, whom Marni creative director Francesco Risso, Vogue editor Laird Borrelli-Persson, Director of Palais Galliera Miren Arzalluz and PHIPPS designer Spencer Phipps recognized with this year's Näytös19 Award. Or for Justus Kantakoski, who scooped up the Diesel Prize. Designers such as Amanda Ripatti and Heidi Karjalainen showed great knack for color and volume. Others showed the power of collaboration, such as Elina Heilanen, Aleksandra Hellberg, Camilla Naukkarinen and Noora Vihervit, whose group collection earned the Marimekko Prize.
And perhaps current and future Aalto graduates won't need to choose between going abroad and staying home – as Männistö has found, building a brand in Finland doesn't have to mean remaining isolated. The designer is currently collaborating with Finnish workwear brand Lindström on creating upcycled apparel, but she's also hoping to return to Colombia to work with the country's textile producers and artisans. "For a while I will be in here and I will suck in again all this kind of like weirdness from Finland, and then I will again go abroad," she says.
Wherever this year's crop of graduates end up, the global fashion world will certainly benefit from their talent.