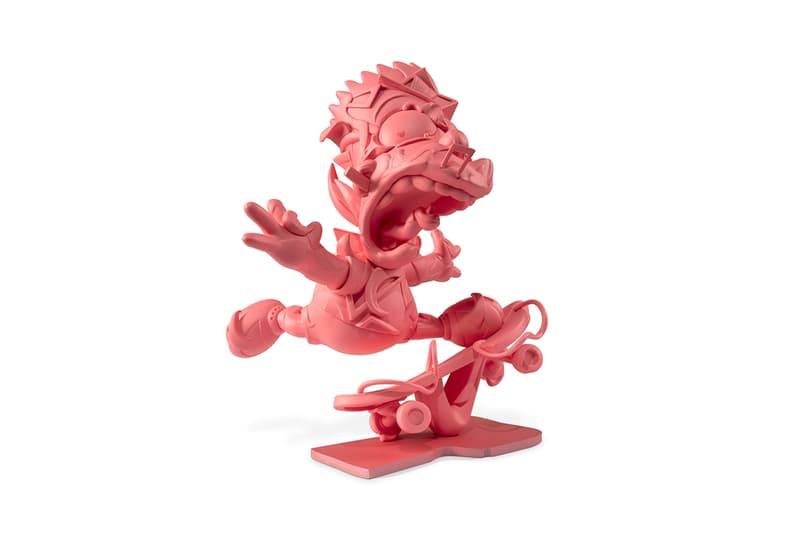 Louis De Guzman Drops Pink Vinyl 'ELEVATE' Bart Simpson Sculpture
Limited to just 500 pieces.
---
Chicago-based visual artist and designer Louis De Guzman has returned to 2019 with another Bart Simpson-themed sculpture, once again titled ELEVATE.
This dusty pink iteration marks Guzman's second-ever sculpture and will available in a limited run of just 500 pieces. The sculpture is made from vinyl and reworks the cartoon character in the abstract, geometric fashion that is synonymous with the designer. The sculpture stands at eight inches tall and is a showcase of his artistic skills which developed from his own experience as a second-generation Filipino American, a story which he explores through images and stories that evoke his family's struggles.
Speaking on ELEVATE, Louis De Guzman says, "The idea, concept of sculpture and abstract dimensional form has always been on the agenda. To evolve my personal body of work from two-dimensional intricate line work and pattern sequenced shapes into something more tangible that my audience can examine and study. I want the viewer to be able to view it from all angles and see every little detail. I'm trying to bring something unfamiliar to a familiar space and ultimately evoke emotion and personal attachment."
ELEVATE will release via LouisDeGuzman.com on May 31, where it is suggested you sign up for further release updates if you are looking to pick up one of the 500 pieces.
In case you missed it, check out the HYPEBEAST roundup of this week's best art drops.