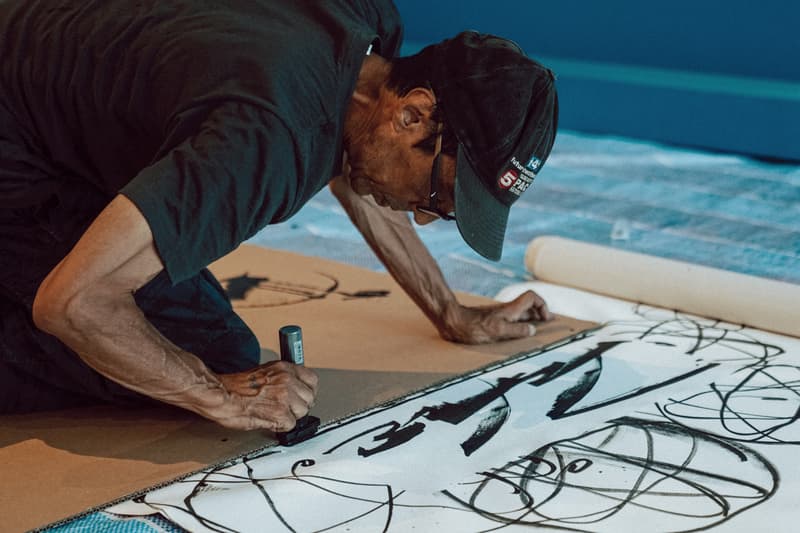 Best Art Drops: Futura "CONSTELLATION" Editions, Jun Cha 'Warrior' Print & More
ncluding 'COOKBOOK MAGAZINE' release with a special contribution by Virgil Abloh.
---
Every week we spotlight the best art drops by notable artists, galleries, museums and contemporary art platforms across the globe. Listed items typically encompass limited edition artworks, prints, collectible figures, collaborative merchandise and more.
For this week's installment: Futura will release exclusive artworks and merchandise at his upcoming Singapore exhibition entitled "CONSTELLATION," Ravenel spearheads a new online auction spotlighting works by major international artists, Jun Cha just launched his latest time-limited print edition called Warrior, Paul Insect will purvey an exclusive print edition at his upcoming pop-up exhibition at Allouche Gallery in Paris, and NARANJO-ETXEBERRIA studio announces its new fascicle 10/12 of COOKBOOK MAGAZINE Nº4 with a special contribution by Virgil Abloh.
View the full list below.
Futura Announces Exclusive Products For "CONSTELLATION" Exhibition
Release Date: May 30
Release Price: TBC
Futura is currently gearing up for his first solo exhibition in Singapore entitled "CONSTELLATION." The forthcoming presentation will spotlight 30 original works by the legendary graffiti artist. Not to mention, those attending the show will be able to purchase exclusive art editions such as a 150-page catalog for the exhibit, and merchandise up for grabs.
To further celebrate Futura's Southeast Asian debut, Dover Street Market Singapore (DSMS) will officially re-launch the artist's namesake brand, Futura Laboratories. The official retail launch date will be on May 31. Futura's solo-exhibition starting May 30 until June 9. Visit FuturaCONSTELLATION.com for more details.
CONSTELLATION
Gillman Barracks
9 Lock Road #02-21
Singapore
Ravenel's Online Auction Includes Works From KAWS, Takashi Murakami & More
Release Date: 11 p.m. EST, May 29 at Invaluable's website
Release Price: Varied
Ravenel will soon launch an auction that features works from KAWS, Takashi Murakami, Kongsanji and Daniel Arsham, among others. Named "All In Out of Now," the forthcoming sale will feature sought-after figures, prints, and more. Highlights include Takashi Murakami's Flowers skateboard, Nara Michi's puppy money bank and a set of 100 limited edition pieces of Hajime Sorayama's Sexy Robot sculpture.
Jun Cha Launches Time-Limited Warrior Print
Release Date: 24 hours from May 28 until May 29 on Jun Cha's official website
Release Price: $230 USD
Multifaceted artist Jun Cha just released a new time-limited edition print entitled Warrior. The artwork (32″ tall × 24″) features a black-and-white illustration of Zeus' bastard son, Perseus, beheading the Gorgon Medusa as per the ancient Greek myth. The composition was inspired by a sculpture made by the 14th-century Italian sculptor Benvenuto Cellini and the paintings of Miyamoto Musashi.
Paul Insect to Release Exclusive Print at Allouche Gallery in Paris
Release Date: May 30 at Allouche Gallery in Paris
Release Price: $1,340 USD
British contemporary artist Paul Insect will soon launch a solo exhibition at Paris' Allouche Gallery, spotlighting his latest mixed-media works in a pop-up exhibition titled "There's More Upstairs." Accompanying the exhibition run from May 30 – June 10, there will also be a limited release of prints at the exhibition. Sized at 64 x 72 cm each, the prints portray Insect's signature masked portraiture with elevated collage motifs across the composition. Altogether the prints will release in a signed and numbered edition of 75.
Allouche Gallery
123 Rue de Turenne
75003
Paris
NARANJO-ETXEBERRIA Drops COOKBOOK MAGAZINE Nº4 10/12 with a special contribution by Virgil Abloh
Release Date: Available now on NARANJO-ETXEBERRIA's website
Release Price: $19 USD
Cookbook Magazine is an experimental project created by Naranjo-Etxeberria. In the latest volume Nº4, the publication invited L.A. based artist Cali Thornhill Dewitt, to be its guest artist. The new installment, 10/12, includes a special contribution by Virgil Abloh. Across the new fascicle, the multifaceted designer interpreted Dewitt's fashion references based on the title of his new upcoming exhibition at MCA Chicago entitled "FIGURES OF SPEECH."