Lacoste Replaces Crocodile Branding for New Threatened Species Collection
The second "Save Our Species" polo collection.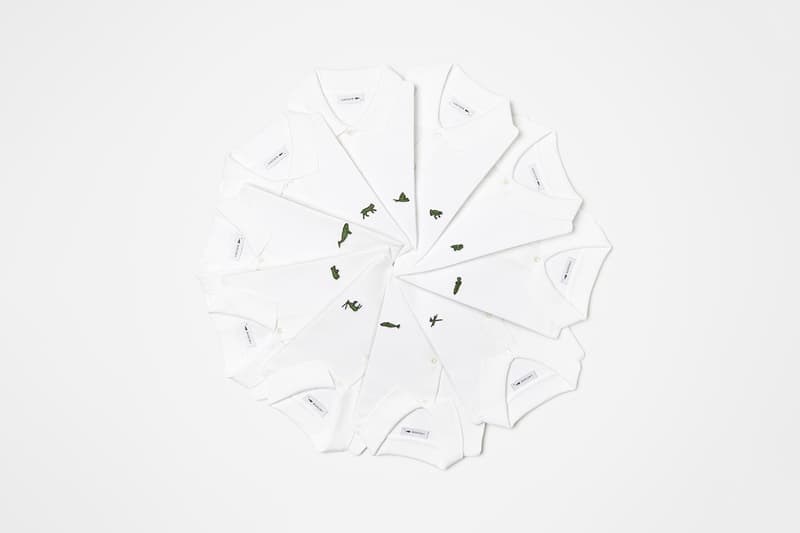 Lacoste has unveiled its second run of "Save Our Species" polo shirts, replacing its signature crocodile branding with 10 new threatened species. Each animal-themed polo will only be available from one store, with the number of pieces available matching the number of animals known to remain in the wild.
Lacoste's Covent Garden store in London will exclusively stock the Yemeni Mouse-Tailed Bat, of which only 150 are known to remain. Similarly the New York Broadway store will feature the North Atlantic Right Whale (444 specimens left), the Tokyo Shibuya location will release the Northern Hairy-Nosed Wombat polo shirt (115 specimens left) and the Lacoste web store will stock polos themed around the Hawaiian Monk Seal (1,400 specimens left). You can take a look at the full list below.
Overall, there will be 3,520 polo shirts released on May 22, with profits going towards the International Union for Conservation of Nature's efforts to conserve threatened wildlife.
In other fashion news, take a look at the tennis-themed release from Fred Perry and Margaret Howell.
Paris – Champs Elysées – The Iberian Lynx – 589 specimens left
London - Covent Garden – The Yemeni Mouse-Tailed Bat – 150 specimens left
Los Angeles - Rodeo Drive – The Opal Goodeid – 150 specimens left
Tokyo - Shibuya – The Northern Hairy-Nosed Wombat – 115 specimens left
Miami - Lincoln Road – The Mountain Chicken – 132 specimens left
Berlin – Kudamm – The Addax – 90 specimens left
Shanghai - Shanghai Kerry – The Cebu Damselfly – 50 specimens left
New York - Broadway – The North Atlantic Right Whale – 444 specimens left
Seoul - Garosugil – The Moheli Scops Owl – 400 specimens left
Online – The Hawaiian Monk Seal – 1,400 specimens left