IKEA Launches Rainbow Shopping Bag for Pride Month
With all proceeds going towards the Human Rights Campaign Foundation.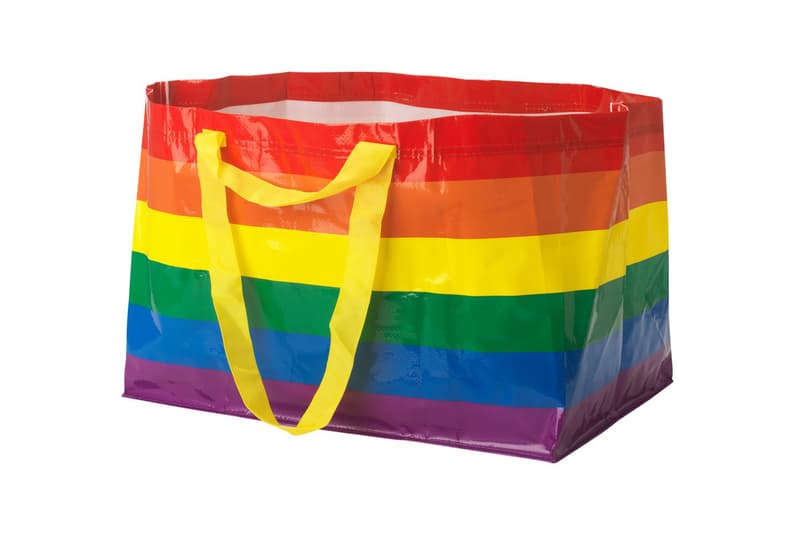 IKEA's signature FRAKTA shopping bag has seen various makeovers over the past year. From being turned into facemasks and sneakers, the now iconic carry-all will be getting a rainbow update just in time for Pride Month. Dubbed the KVANTING, the 19-gallon capacity bag will be able to withstand up to 1000 trips and can carry up to 55 pounds without ripping.
On the project, Rafael Fantauzzi, IKEA U.S. Diversity & Inclusion Manager stated:
"We are excited to partner with the Human Rights Campaign Foundation for Pride Month. At IKEA, our culture is centered on the value of togetherness. We believe equality is a fundamental human right and that all homes are created equal. We know everyone deserves a home you absolutely love and a workplace where you can be yourself."
Ellen Kahn, director of the HRC Foundation's Children, Youth & Families Program added, "It has never been more important to commit to doing more to protect, affirm and uplift LGBTQ youth, who are at increased risk of bullying, homelessness and violence compared to their non-LGBTQ peers."
IKEA's limited edition rainbow KVANTING shopping tote will go on sale starting June 1 for $3.99 USD. All proceeds will go towards the Human Rights Campaign Foundation in order to support LGBTQ+ children, youth and families.
Having debuted back in 1996, the FRAKTA bag has seen its popularity soar within the fashion realm, even been spotted at various fashion weeks around the world.
For more Pride releases, take a look at adidas' latest footwear offerings.