Drake Shouts out Arya Stark During His Billboard Awards Speech
Another victim of the "Drake Curse?"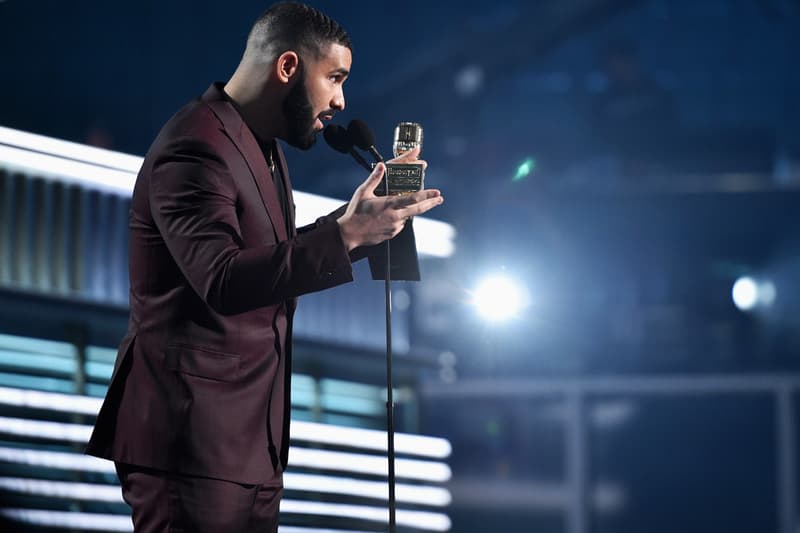 Drake officially became the most awarded Billboard Music Awards artist ever on Wednesday night and he took this opportunity to jump on a new bandwagon, that of Arya Stark's.
Warning: This post contains mild spoilers.
During his acceptance speech for winning the Top Billboard 200 Album for Scorpion, the Canadian artist paid tribute to the ultimate Night King killer. "Shout out to Arya Stark for putting in that work last week. Hey!," he enthusiastically stated. He also thanked his mother for her "relentless effort" saying, "No matter how long it took me to figure out what I wanted to do, you were always there to give me a ride and now we're all on one hell of a ride." Drake won a total of 12 awards last night, taking his tally up to 27.
Arya Stark's MVP moment came during Sunday night's episode when she single-handedly ended the war against the dead. Soon after this moment the Internet went into a frenzy with a slew of memes that followed. The final season of Game of Thrones continues this Sunday on HBO.
You can find Drake's acceptance speech and Game of Thrones references in the video below along with a few Internet reactions.
Back in April, Drake addressed being called a culture vulture during an interview with DJ Tiffany Calver on BBC Radio 1's 1Xtra Rap Show.
Drake shouts out Arya Stark pic.twitter.com/r7qqNhZavi

— CJ Fogler (@cjzer0) May 2, 2019
drake literally just said "shout out to arya stark for putting in that work last week" in his acceptance speech and i've honestly never seen the billboard music awards before but it is now my favorite one

— Jamie (@Jmw3iss) May 2, 2019
When drake said "shout out to arya stark for putting in that work last week" I felt that ?

— k. (@OfficiallKelsey) May 2, 2019
I just have this strong feeling that Drake's next hit is going to have some Game of Thrones reference lyric about Arya Stark.. it's something he would do

— sad naruto flute (@FaithRies) May 2, 2019
Nobody:

Drake and His Curse : " Yoo shoutout to #AryaStark "

GOT Fans: pic.twitter.com/bDSnVpIIX0

— Jazzy Fizzle (@AlllthatttJazzz) May 2, 2019