Christopher Kane Doesn't Believe in Bad Taste
The Scottish designer discusses sex, fashion and sneaker fetishes at Frieze New York.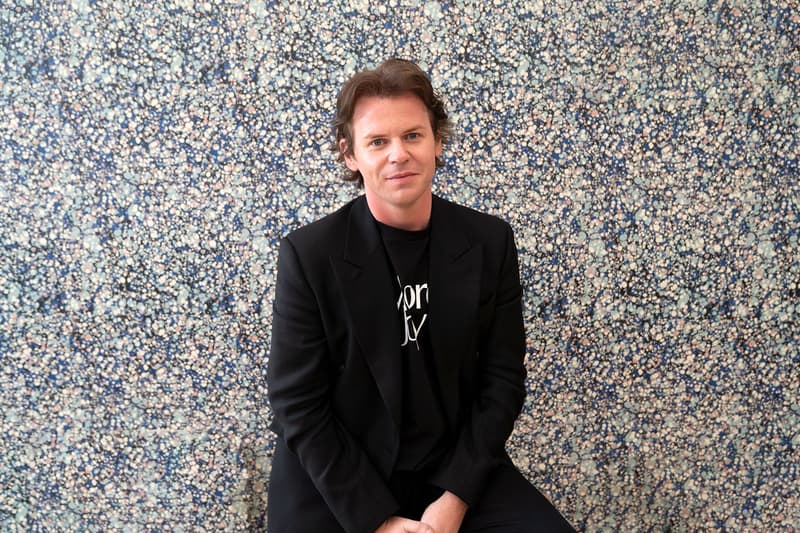 "No one would ever question a naked body on a canvas," Christopher Kane tells HYPEBEAST. Speaking at Frieze New York, the Scottish designer is surrounded by images of the naked body. But even in 2019, Kane laments that when it comes to fashion there's still always the fear of clothing being too revealing, too tacky, too gay, too taboo.
Pushing back against judgment and sexual norms however is what drives much of Kane's work, which is exactly why MATCHESFASHION.COM invited the designer to join sex educator Liz Goldwyn and fashion critic and journalist Alexander Fury to Frieze New York to lead a panel on sex in fashion.
"There's no such thing as good or bad in my eye," Kane says. "Or bad taste. It's just different." The designer draws influences from everyone from fashion legends like Helmut Lang and Gianni Versace to English madame Cynthia Payne and his own Catholic upbringing (loving Jesus can be its own kind of fetish, Kane says). His recent collections have been inspired by topics like sex in nature, obscure fetishes focused on the likes of balloons and rubber, and the seminal 1972 book The Joy of Sex.
The latter is a point that Goldwyn believes needs to be revitalized in today's sexual era. "We are in that moment right now, where all of the focus around sexuality in contemporary media is about trauma," she explains at the panel. "We do need to get back to the pleasure potential of sex."
As Kane, Fury and Goldwyn would agree, the fashion industry has a responsibility to discuss sex and sexuality openly. "There's a really fantastic Vivienne Westwood quote," Fury says, "Which is that fashion is about eventually being naked."
Following the Frieze panel, HYPEBEAST sat down with Kane to discuss sexuality in fashion. Read more of our Frieze New York coverage here.
1 of 2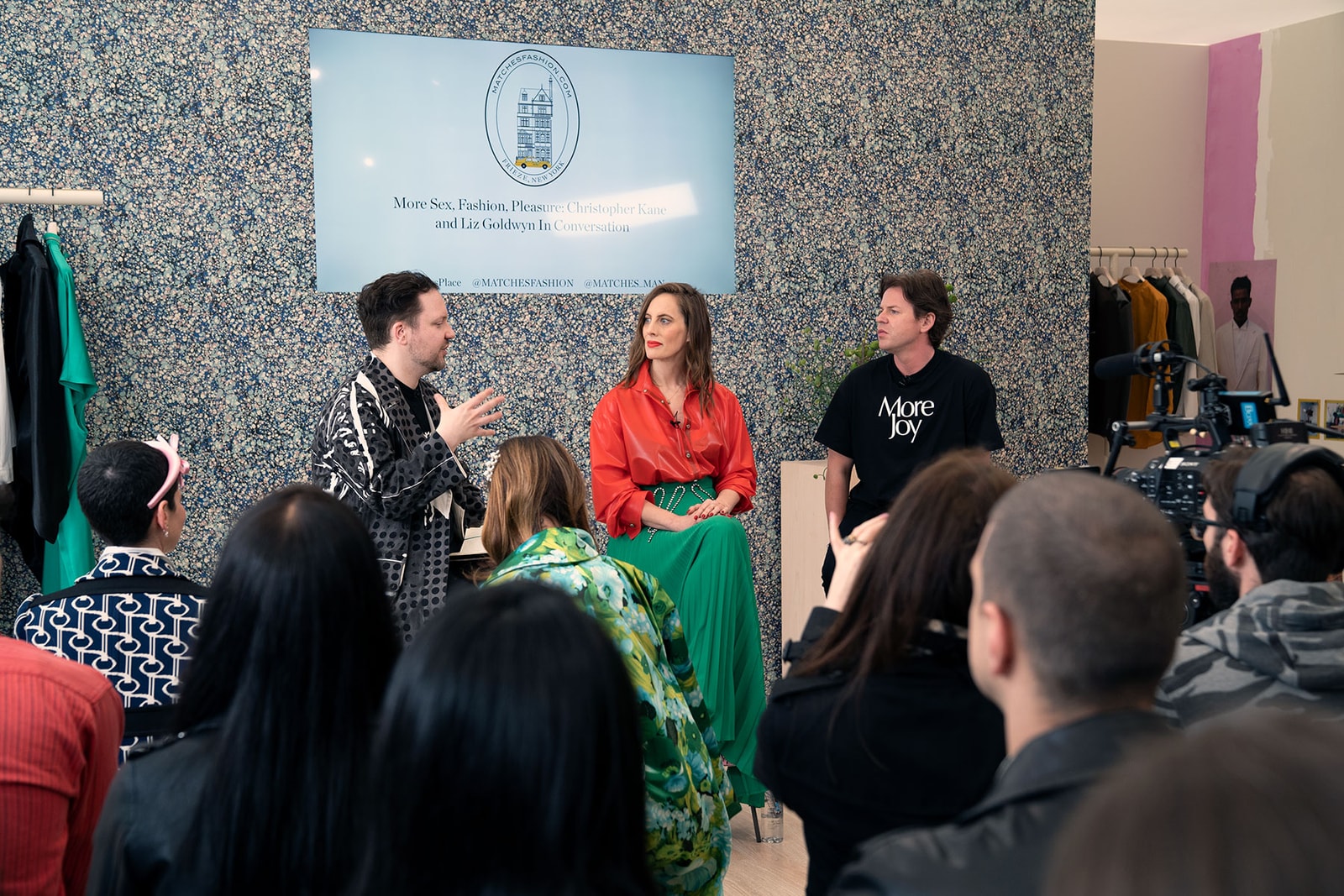 2 of 2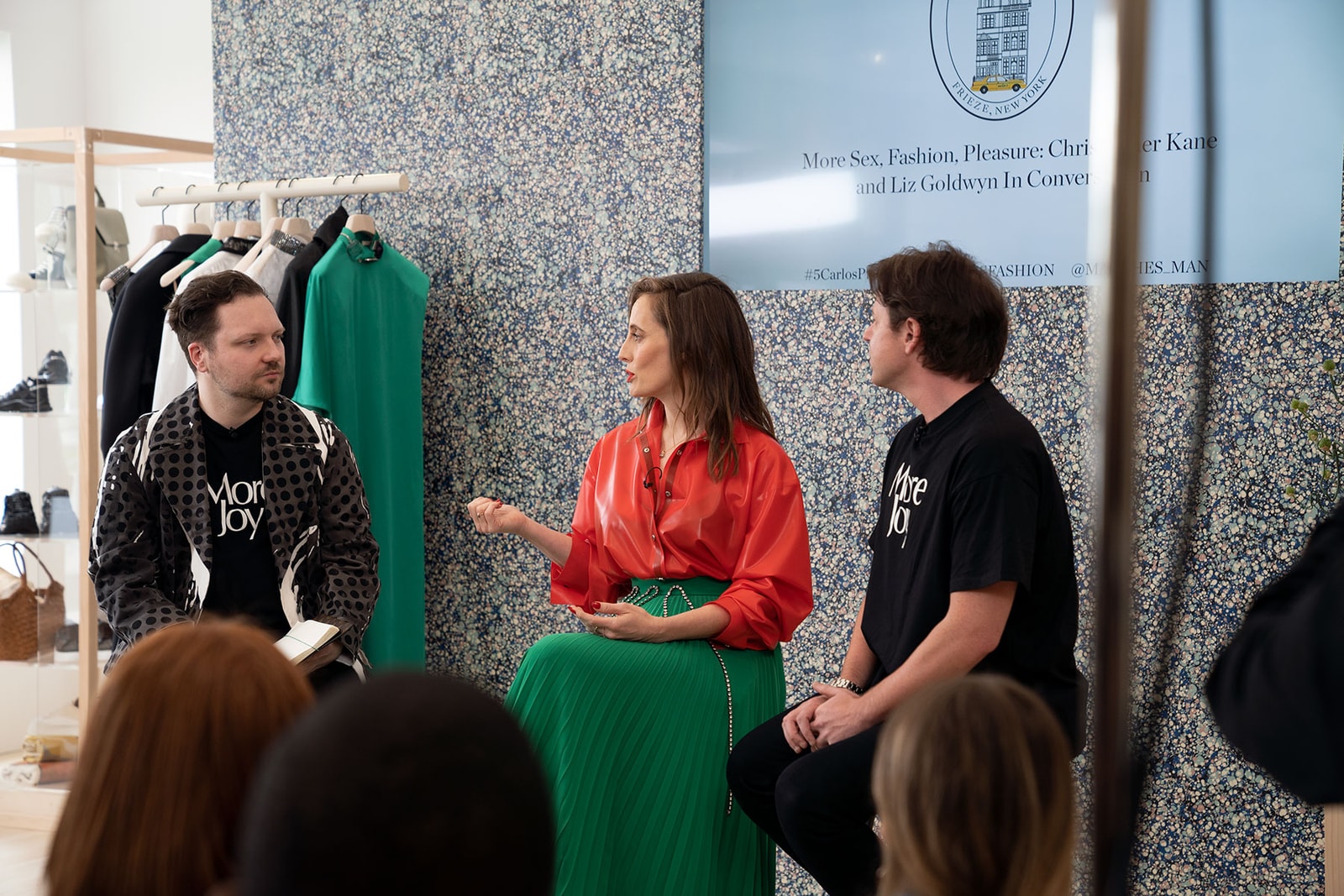 HYPEBEAST: We're used to womenswear being sexy and showing parts of the body, perhaps more than menswear. Do you see a difference in designing menswear versus womenswear?
Christopher Kane: No, we always take the menswear from the womenswear. And so that theme directly influences the men's. I think there's no bad errors or any boundaries now. Men can wear what they like now and not feel scared to be judged. They can wear the dress, or another version of the dress, or a T-shirt version of the dress. It's easy to adjust those little things.
But men I think, getting back to what's happening now with everything, men are actually getting a little bit more reserved, being that outward, because they're kind of scared of being perceived as a bad person or a bad character, or pervert. It's just the same as women, where I need to be smarter or women won't respect me.
When designing womenswear, is that ever a concern of creating clothes that are sexy and sexual, without turning women into sexual objects?
I think that's something that will always come up, that's always going to be there. But then you look back at parts of fashion, parts of the world, people find other things sexy compared to what we would find sexy. It's just how they're brought up culturally. So there's no right or wrong or good or bad taste. It's just different, and that's ok.
There's nothing taboo. We really push things, we really want to take things that are a bit ordinary and make them extraordinary. Like talking about lace, and the way I use it. Yeah sometimes I do want to do cheap and tacky. But then I do also want it to feel rich and expensive. I don't see anything wrong with being a sexual object, personally. Why not? You're a human being.
But like I was mentioning, people do still judge people, that always happens. So that's just being human beings. But sometimes it's just pure jealousy. Hatred most times comes from that.
Do you think men feel uncomfortable at all buying clothes that present them as a sexual object?
I think that's how many thousands of years old. We'll never break that overnight. It's just what it is. Can't argue it. People will always judge, like I said. All those puritans will be like, "Why is he wearing the color pink? He must be gay." I'm like come on, we're still talking like that? "Boys should be in blue, girls should be in pink."
As it's based on nothing.
Most things are.
We're seeing with menswear a bit more of a fetishwear inspiration, like the Louis Vuitton harness, Gucci even had a jockstrap come out recently. Do you think this kind of trend could take off?
No, cause I've seen it before. I think it's just too blatantly obvious, if I'm being honest. I think it's just for the headlines. I mean Gianni Versace, he did it in a kind of really Brave New World sort of way, he actually put sex workers on the runway. Not literally but those outfits were so structured and beautiful. And now I think people just do things for cheap tricks. I think it takes us back a lot. I'd rather wear the vintage Versace if I do, vintage Thierry Mugler. Cause there's real intellect behind that. Not that I'm saying Gucci's not — but people need to do it in a new way. People might not like it, but that's ok.
Men can wear what they like now and not feel scared to be judged.
You did the collection based on fetishes, the balloon fetishes, etc. Have you ever heard of sneaker fetishes? Would you ever design a collection based on that?
Why not? We have a sneaker called the Looner, which is basically based on balloon fetishists. They have a bold shape people find really quite sensual. And I mean the looners are really interesting people because they love balloons. They're not hurting anyone, and it's very consensual what these fetishists do. If it crosses a boundary I totally think it's wrong, but I think when it's consented, that's fine.
They fascinate me these people, because it's the unknown. And the outsiders are always the most interesting cause they really take you to places you've never been, or see or think about. And sometimes we're just so — we're fed the same old stories. Talking to the subcultures, the punks and the goths and the rock and rollers, they were so far ahead that they were shunned, shamed.
And now we're adopting those styles.
It always comes back. And it is a vicious circle, it just keeps coming back. Who knows, maybe in another 20 years we'll get another #MeToo thing.
Are there any big taboos or topics you would like to tackle with your next collection?
I think it's always to take it to really positive level. Like never abuse your power. That's why I've never wanted to devalue a woman or a man, like I think it's always to be empowering. I think that's something I'll always tackle. I think again, education. People don't do enough research. And they just spark something out and make a headline out of it. You need to do your research not from your Instagram account. Especially students and art students. They just know the same 10 people because that's all that's in their phone. There's a whole other world out there.