Adam Sandler Pays Tribute to Chris Farley on 'SNL'
Not a dry eye in the house.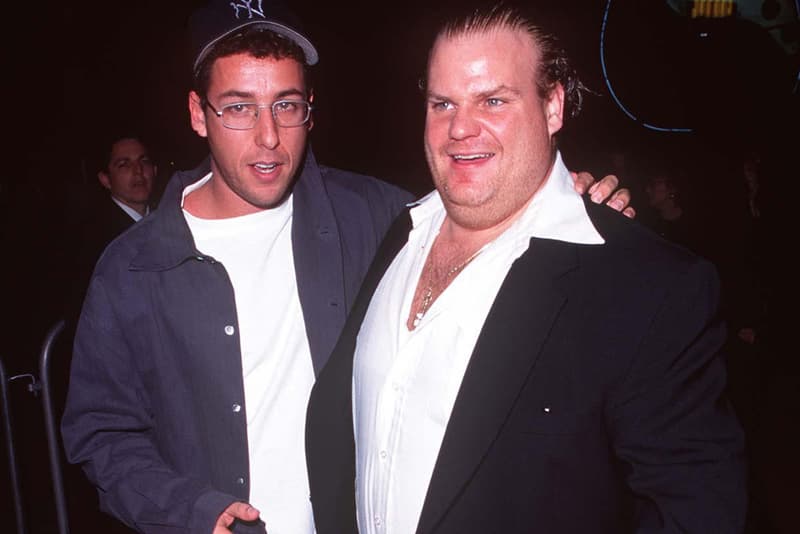 Over the weekend, Saturday Night Live alumnus Adam Sandler returned to his roots to take on hosting duties for the comedy sketch show; the first time for the comedian.
During the show's "10-to-1" spot, Sandler took this opportunity to pay tribute to the late Chris Farley, another former SNL cast member who found great success from the series. As the show closed, Sandler performed a song from his recent Netflix special 100% Fresh, while the lyrics touched upon Farley's most famous SNL characters and sketches (including "the Bumble Bee Girl" and "Van Down by the River"), while images from the skits were shown. "He was a one-man party, you know I'm talking about, I'm talking about my friend Chris Farley," he sings.
Farley died in 1997 from a cocaine and morphine overdose. He was 33-years-old. Take a look at the tribute below. Saturday Night Live airs at 11:30 p.m. EST.
The big finale with Endgame star Paul Rudd and musical guest DJ Khaled airs on May 18.
Ending the night with @AdamSandler's tribute to Chris Farley. ? #SNL pic.twitter.com/FW1KkIETFu

— Saturday Night Live – SNL (@nbcsnl) May 5, 2019
Not. A. Dry. Eye. In. The. House… @AdamSandler @nbcsnl #ChrisFarley pic.twitter.com/38NoArzo2v

— Leslie Jones ? (@Lesdoggg) May 5, 2019