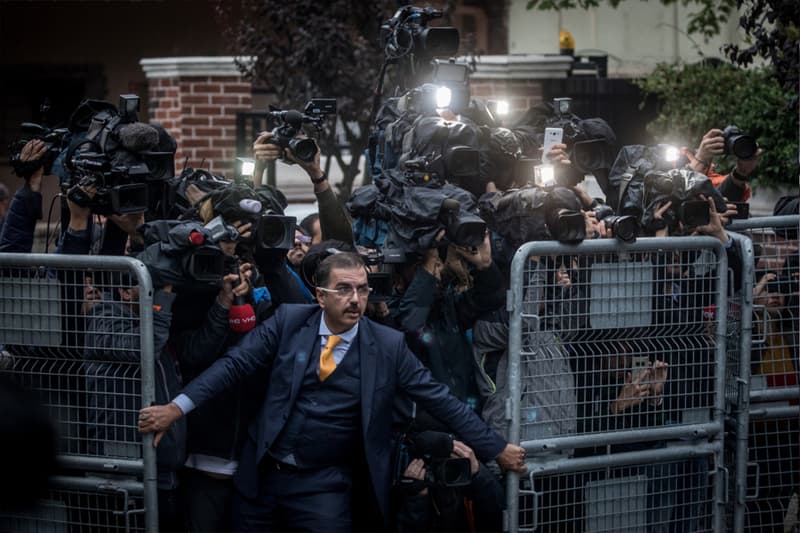 World Press Photo 2019 Winners Announced
Breath-taking imagery.
---
The largest photojournalism competition, The World Press Photo 2019, unveiled the winners of the 62nd edition, as seen on HYPEBEAST FR. Chaired by Whitney C. Johnson (Deputy Director of Photography for National Geographic magazine ), the jury had received more than "78,801 photos from 4,738 photographers from 129 different countries" according to GEO magazine.
On the 11th of April in Amsterdam, the names of the winners were announced among 8 categories: "Contemporary Subjects," "General Information," "Environment," "Nature," "Long-term Projects," "Portraits," "News" and "Sport".
Photo of the year
Crying Girl on the Border – John Moore
A two-year-old Honduran girl cries as her mother is searched and detained near the US-Mexico border on June 12, 2018, in McAllen, Texas. Capturing asylum seekers who had crossed the Rio Grande from Mexico, as the Border Patrol enforced Trump's "zero tolerance" policy against Mexican immigrants. Here a mother is searched before being sent to a treatment centre for a possible separation with her daughter.
Series of the year
The Migrant Caravan – Pieter Ten Hoopen
During October and November 2018, thousands of Central Americans migrated north to the US border. The caravan left San Pedro Sula (Honduras) on October 12 before growing with the arrival of people from Nicaragua, El Salvador and Guatemala. The complete series of Pieter Ten Hoopen can be found here.
Category Contemporary Subjects – 1st Prize (single photo)
The Cubanitas – Diana Markosian
Pura travels around her neighbourhood in a 1950s pink convertible, as the community gathers to celebrate her 15th birthday in Havana, Cuba.
Category Contemporary Subjects – 1st Prize (series)
Blessed Be the Fruit: Ireland's Struggle to Overturn Anti-Abortion Laws – Olivia Harris
On May 25, Ireland voted in favor to cancel its abortion laws with a large majority, which were among the most restrictive in the world. A 1983 referendum resulted in an eighth amendment to the Irish constitution reinforcing the ban on abortions, even if the pregnancy was the result of rape and incest. Before the referendum, approximately 3,000 women travelled to the United Kingdom each year to undergo an abortion.
Category Environment -1st Prize (single photo)
Akashinga – The Brave Ones – Brent Stirton
Petronella Chigumbura, 30, a member of an all-female anti-poaching organisation called Akashinga, is involved in stealth and concealment training at the Phundundu Wildlife Park in Zimbabwe.
Environment category – 1st Prize (series)
The Chad Crisis Lake – Marco Gualazzini
A humanitarian crisis is underway in Chad Basin, caused by a complex combination of political conflicts and environmental factors. Lake Chad – one of the largest lakes in Africa and a lifeline for 40 million people – is experiencing massive desertification.
Category News – 1st Prize (single photo)
The Disappearance of Jamal Khashoggi – Chris McGrath
On October 15, 2018, an unidentified man tried to detain the press as Saudi researchers arrive at the Saudi consulate in Istanbul, Turkey. In the context of growing international reaction following the suspicious death of journalist Jamal Khashoggi.
Category News – 1st Prize – Series
Yemen Crisis – Lorenzo Tugnoli
After nearly four years of conflict in Yemen, at least 8.4 million people are at risk of starvation, and 22 million people (75 per cent of the population) need humanitarian assistance, according to the UN.
Category Long-Short Project – 1st Prize (Series)
Beckon Us From Home – Sarah Blesener
April 4, 2016 – November 17, 2018 – The photographer visited ten youth programs in the United States, as well as schools and military summer camps in Russia. The aim of the series is to use these young people and their lives as a central point in an open dialogue about ideas introduced to future generations and to examine how young people react to contemporary society.
Category Nature – 1st Prize (Single Photo)
Harvesting Frogs' Legs -Bence Máté
Sliced-legged frogs surrounded by juvenile frogs wrestle at the surface after being thrown into the water in Covasna, Eastern Carpathians, Romania, in April.
Nature category – 1st Prize (series)
Falcons and the Arab Influence – Brent Stirton
The millennial practice of falconry is experiencing an international resurgence, particularly through efforts in the Arab world. UNESCO now recognizes falconry as an intangible cultural heritage of humanity (ICH), a status that has not been recognized by any other hunting sport.
Category Portrait – 1st Prize (Single Photo)
Dakar Fashion – Finbarr O'Reilly
31 December 2018 – Diarra Ndiaye, Ndeye Fatou Mbaye and Mariza Sakho are models for the designer Adama Paris, in the Medina district of the Senegalese capital (Dakar) under the gaze of curious residents.
Category Portrait – 1st Prize (Series)
Land of Ibeji – Benedictine Kurzen and Sanne de Wilde
Nigeria has one of the highest twinning rates in the world, especially among the southwestern Yoruba. In the town of Igbo-Ora, in the south-west of the country, nicknamed "the house of the twins of the nation", almost all families would have at least a pair of twins.
Sport Category – 1st Prize (Single Photo)
Boxing in Katanga – John T. Pedersen
March 24, 2018 – Boxer Moreen Ajambo (30) trains at the Rhino Boxing Club in Katanga, a large slum in Kampala, Uganda.
Sport Category – 1st Prize (Series)
Crying for Freedom – Forough Alaei
In Iran, women are forbidden to enter football stadiums, football being the most popular sport in the country, this ban is a controversial issue. On March 1, 2018, FIFA President Gianni Infantino met with Iran's President Hassan Rouhani to address the problem.
All winners are to be found on the World Press Photo website.