Teejerker & Duke's Cupboard to Celebrate Record Store Day With Vintage Band T-Shirt Pop-Up
Also dropping a highly-exclusive collaborative T-shirt in celebration of the partnership.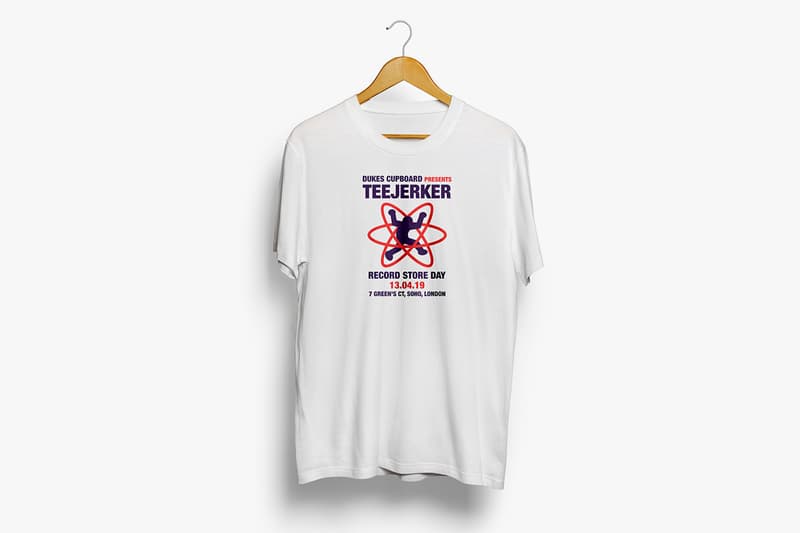 Teejerker and Duke's Cupboard — two of London's go-to hubs for sourcing vintage garms — have come together to celebrate Record Store Day 2019 with the sale of 100 original '80s and '90s band T-shirts, and a collaborative co-branded graphic T-shirt drop.
Teejerker, known for its wideranging collection of vintage band T-shirts, and Duke's Cupboard will be selling T-shirts from the likes of Pink Floyd, Oasis, Slipknot, The Cure, Nirvana, Misfits and more at the Duke's Cupboard brick-and-mortar store at 7 Green's Court, Soho.
To celebrate the partnership, the two vintage-selling staples are releasing a graphic T-shirt in a highly limited run. Featuring a red atom emblem with a purple raver in the middle, the T-shirt simply states their coming together in celebration of the renowned day with "DUKES CUPBOARD PRESENTS TEEJERKER — RECORD STORE DAY. " In true band T-shirt style, the location and date of the vintage pop-up gig are featured on the T-shirt as well.
Head down to Duke's Cupboard on April 13 to shop the hand-picked selection of iconic retro band memorabilia.
For more Record Store Day news, take a look at the full list of special releases that will drop at independent retailer's worldwide on April 13.
Duke's Cupboard
7 Green's Court
Soho, London
W1F 0HQ