Notre Dame Cathedral's Main Structure & Bell Towers Spared From Deadly Fire
Along with most of the artwork and religious relics that called the cathedral home.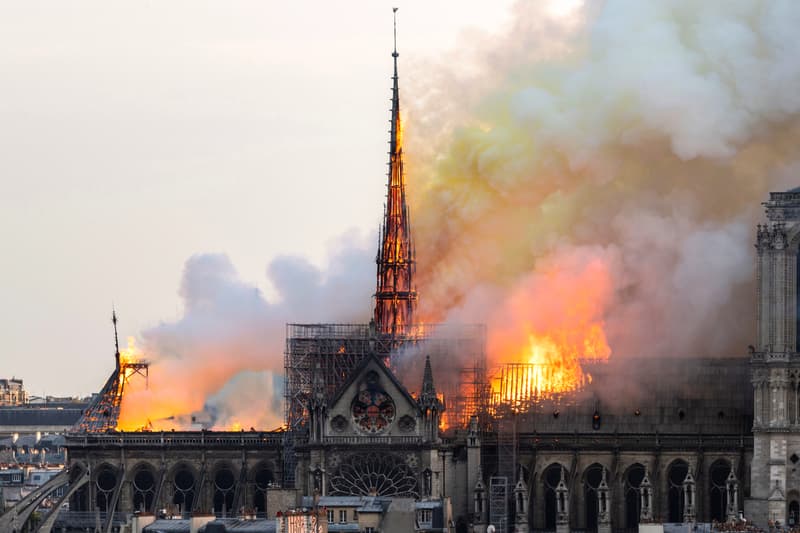 Paris landmark Notre Dame Cathedral was hit with a major fire on the evening of April 15, but the 850-year-old gothic beauty's structure was thankfully saved from the blaze.
Paris fire-service commander Jean-Claude Galler confirmed that the main edifice and two bell towers of the cathedral had been spared, crediting the work of hundreds of firefighters in preventing the fire's spread to the north tower belfry. City mayor Anne Hidalgo announced that most of the artworks and religious relics that called Notre Dame Cathedral home were also salvaged, with France's culture minister Franck Riester uploading photos of their removal on social media.
President Emmanuel Macron made a statement just outside the cathedral, vowing to rebuild the beloved and historical structure. "The worst has been avoided, but the battle isn't fully won yet," he said, revealing that France will start an international fundraising campaign in order to raise money for the expensive reconstructions.
Figures such as Barack and Michelle Obama, Idris Elba, Hillary Clinton, Kylian Mbappé and the Archbishop of Canterbury all took the time to grieve with the people of France. The former First Lady even penned a short yet personal story of her first time in Notre Dame, ending her piece with a spark of hope.
Police claim that the fire accidentally began due to the cathedral's ongoing construction but an investigation has been opened by the prosecutor's office to clarify. The deadly blaze began at around 5:50 PM local time, claiming two-thirds of the roof and the spire installed in the 19th century. Its three medieval rose windows also reportedly exploded in high heat. Visitors and residents inside the landmark and surrounding areas were quickly evacuated along with the closure of metro stations and certain roads by the river.
In other news, the Helvetica font is getting a revamp for the first time in 35 years.
French President Macron speaks outside of Notre Dame after officials declared that the cathedral structure would be saved. https://t.co/ohhf84VGxm

— NBC News (@NBCNews) April 15, 2019
Les agents du @MinistereCC, épaulés par les équipes de l'archevêché, les @PompiersParis et les forces de sécurité, évacuent les œuvres se trouvant à l'intérieur de la cathédrale. Elles sont progressivement mises en sécurité. #NotreDame pic.twitter.com/iINHyUqJME

— Franck Riester (@franckriester) April 15, 2019
???… pic.twitter.com/Y5y8c83qMz

— Kylian Mbappé (@KMbappe) April 15, 2019
Tonight we pray for the firefighters tackling the tragic #NotreDame fire – and for everyone in France and beyond who watches and weeps for this beautiful, sacred place where millions have met with Jesus Christ. Nous sommes avec vous.

— Archbishop of Canterbury (@JustinWelby) April 15, 2019
My heart goes out to Paris. Notre Dame is a symbol of our ability as human beings to unite for a higher purpose—to build breathtaking spaces for worship that no one person could have built on their own. I wish France strength and shared purpose as they grieve and rebuild.

— Hillary Clinton (@HillaryClinton) April 15, 2019
I cannot believe what's happening to Notre Dame.

— Idris Elba (@idriselba) April 15, 2019
Notre Dame is one of the world's great treasures, and we're thinking of the people of France in your time of grief. It's in our nature to mourn when we see history lost – but it's also in our nature to rebuild for tomorrow, as strong as we can. pic.twitter.com/SpMEvv1BzB

— Barack Obama (@BarackObama) April 15, 2019