'Breaking Bad's Schraderbräu Beer Will Soon Be Available
For serious fans of the series.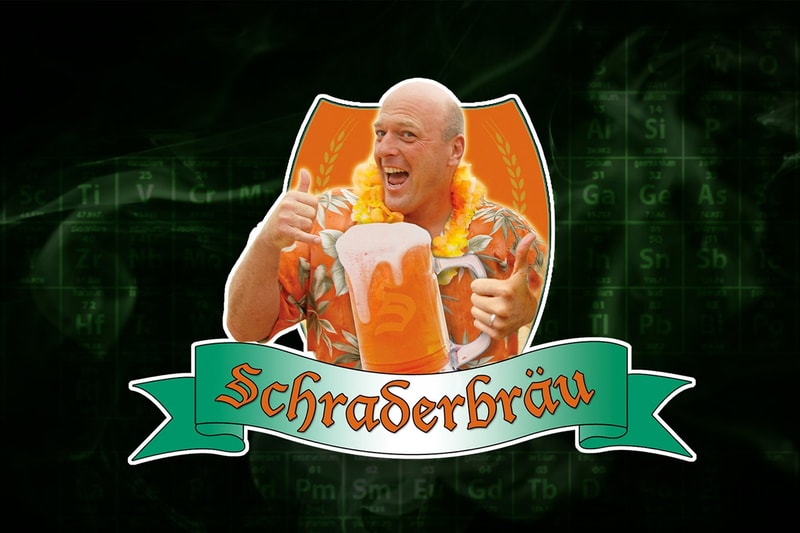 If you love beer as much as you love Breaking Bad then you're in for a treat. Dean J Norris, who plays the role of our beloved Uncle Hank, has teamed up with Figueroa Mountain Brewing Co. to make the DEA agent's home-brewed Schraderbräu beer a reality. Norris has been very enthusiastic about the project, heading to Twitter and Instagram to promote his new brew. Fans of the legendary meth-cooking series will recall that Hank Schrader brewed his own German-style lager, made a six pack and even slapped on a logo with his own face on it. Now, that very logo will become the face of a Schraderbräu beer you can buy soon.
In an interview, the actor said that the idea traces back "a long time ago" and it was Breaking Bad's 10-year anniversary which finally pushed him into starting the project: "It took a long time to find the right brewery," he said. "I knew if I put out a beer, it's gonna get a lot of scrutiny — I don't want people going, 'Ah this is crap.' We finally got one that made a really fantastic beer."
In another interview, Norris spoke of how he chose the flavor and feel of the beer: "The show gave us some great hints as to what Schraderbräu should actually be," Norris commented. "Obviously the name lends itself to a German lager, and we wanted the ABV and flavor profile to reflect Hank's persona on the show."
With an ABV of 6.3%, Schraderbräu beer will be available in the US come late May online and at select retailers shortly after.
For other television and beverage crossovers, check out Mountain Dew's new Game of Thrones-themed cans.
As Hank Schrader once said: "brewing is an art form." We take those words to heart. So we're joining up with our good friend @deanjnorris and @sonypictures to create a long-awaited beer that's been "brewed to silky perfection." https://t.co/iQCWEZ7y3V #Schraderbräu pic.twitter.com/4LaT53ZpsL

— Figueroa Mountain Brewing Co. (@figmtnbrew) March 20, 2019
#schraderbrau brewed to silky perfection … @BreakingBad_AMC pic.twitter.com/l5tvPp7l9F

— Dean Norris (@deanjnorris) February 7, 2019
Dammit Marie, it's not a rock or a mineral, it's a lager and a damn good one. It's official!! SCHRADERBRAU!!! Silky perfection coming to you! @figmtnbrew @Schraderbrau_BB @BreakingBad @SonyTV @Sony pic.twitter.com/p3jJeX2lWj

— Dean Norris (@deanjnorris) March 20, 2019