Ulysse Nardin Introduces Newest "Freak" Concept Watch
Named the "NeXt."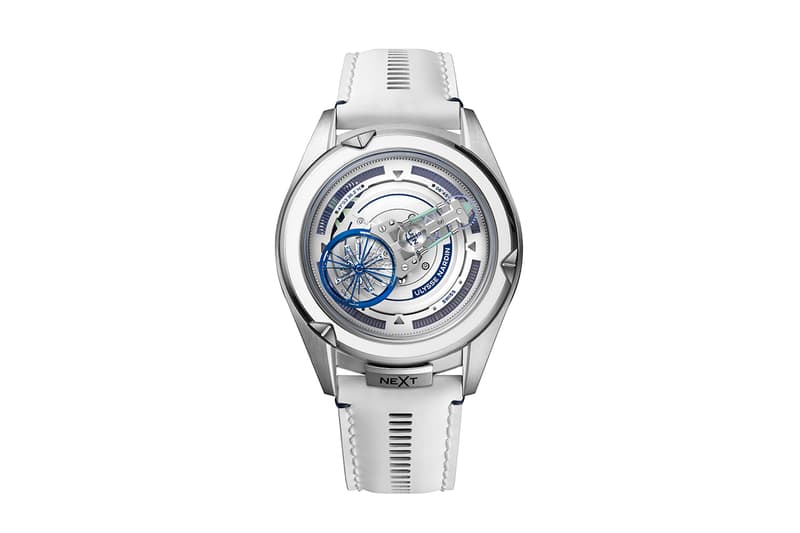 The NeXt is the latest in Ulysse Nardin's Freak series, a collection of watches known for their bold design and silicon components. These elements were cutting edge when the first Freak watch was introduced in 2001. Keeping in step with the collection's forward-thinking ethos, its newest timepiece pushes the envelope with impressive technological advancements and thoughtful aesthetics.
First and foremost, the watch's most notable feature is the recently revealed NeXt flying oscillator. The watchmaker and its partner manufacture Sigatec developed the technology as a next chapter to the Ulysse Anchor flying escapement. The oscillator, 3D constructed and made from silicon, eliminates the need for a central pivot of the balance wheel, suspending its center in mid air. Translation: the watches highly complex construction makes its inner workings lighter and eliminates friction at certain points, contributing significantly to piece's efficiency and 70-hour power reserve.
On its face, the watch proudly highlights the new technology through a transparent glass window and reflects in shades of purple, blue, or green, depending on the angle from which it's viewed. Despite its sophistication, the futuristic Freak NeXt WATCH presents as a minimal and simple. The space-inspired look is accentuated by phosphorescent details and a white rubber strap with white stitching.
Though the concept watch is not for sale, its advancements are a symbol of Ulysse Nardin's ability to push the Freak collection into a new era. By year's end, it's likely we'll see its technological advancements in commercial products.
In case you missed it, Bradley Cooper's Oscars watch was recently auctioned off at Sotheby's.