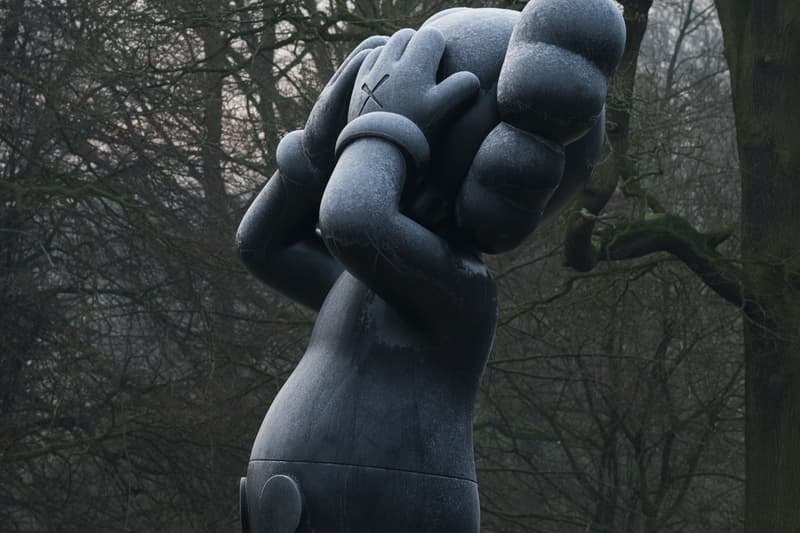 The UK's Best Art Galleries Outside London
The best spots for art from Glasgow to Somerset.
---
While London — home to the National Gallery, Tate Modern and White Cube amongst others — can be seen as the focal point of UK's art, the rest of the country also hosts some world renowned galleries. Ranging from huge outdoor spaces such as Yorkshire Sculpture Park to intimate spaces like Cambridge's Kettle's Yard, the UK's galleries outside the capital are a diverse and engaging list of places to visit.
To shine a light on some of these lesser-visited spots, we've pulled together some of the stand-out galleries from across the country.
Tate St. Ives
The coast-side outpost of the national Tate group — which also includes two in London and one in Liverpool — opened in 1993, before getting a major new extension in 2017. Highlights from the space's previous exhibitions include Aquatopia, a multidisciplinary exhibit focusing on the ocean's role in art and featuring work from Juergen Teller, Lucian Freud and Hokusai amongst others, as well as dedicated exhibitions from artists including Anthea Hamilton, Tony O'Malley and Richard Deacon.
Address: Porthmeor Beach, Saint Ives
Hauser & Wirth Somerset
With outposts in L.A., New York, London and Hong Kong, Somerset might seem like an incongruous location for Hauser & Wirth. Opened in 2014, the gallery features an outdoor sculpture park, two exhibition spaces and a special pavilion. Previous exhibitions have included 2018's Alexander Calder retrospective, featuring works never before seen in the UK, and a spotlight on legendary British photographer Don McCullin.
Address: Durslade Farm, Dropping Ln, Bruton
Yorkshire Sculpture Park
Located in the grounds of an 18th-century country house, Yorkshire Sculpture Park is arguably the UK's best known sculpture park. The open-air gallery boasts an extensive permanent collection that includes works from a diverse group of artists ranging from Ai Weiwei to Henry Moore. Somewhat rarely for a sculpture park, YSP also has a regularly-changing calendar of dedicated exhibitions. Standouts from recent years include KAWS first UK museum exhibition (2016) and Anish Kapoor (2012).
Address: West Bretton, Wakefield
Hepworth Wakefield
Named after sculptor Barbara Hepworth, who was born and raised in the town, the Hepworth Wakefield blends international modern and contemporary art with spaces dedicated to Hepworth's work and creative process. Since the gallery opened, it has hosted exhibitions from creatives including J.W. Anderson (2017's "Disobedient Bodies"), Franz West and Martin Parr. The gallery has also gone on to launch the Hepworth Prize for Sculpture in an attempt to spotlight innovators in the field.
Address: Gallery Walk, Wakefield
Open Eye Gallery (Liverpool)
Liverpool-based photography museum Open Eye Gallery is the region's only dedicated photography space. Recent exhibitions have included retrospectives of works by artists including Ren Hang, Martin Parr and Tom Wood, as well as the first showing of 2017's North: Identity, Photography, Fashion, which featured work from Raf Simons and Virgil Abloh amongst others. As well as the rotating exhibitions, Open Eye Gallery hosts an archive of over 1600 works from a whole range of Europe's best known photographers.
Address: 19 Mann Island, Liverpool
Turner Contemporary (Margate)
Opened in 2011 and named after artist JMW Turner — who had a strong relationship to Margate — the Turner Contemporary has mixed the classic work of its namesake with an ever-changing cast of more modern artists. The contrast between old and new was arguably best shown by a joint exhibition featuring Turner's paintings of storms and the sea alongside Tracey Emin's infamous "My Bed." Along with Emin, the coastal gallery has also featured exhibitions from some of the UK's other most loved artists including Jeremy Deller and Grayson Perry.
Address: Rendezvous, Margate
Glasgow Gallery of Modern Art
The formidable Glasgow Gallery of Modern Art has established an extensive collection since it opened in 1996. Some of the standout artists represented in the gallery include David Hockney, Andy Warhol and John Bellany. As well as its permanent collection, GoMA has a particular focus on engaging with the surrounding community. The space often features workshops and talks, as well as using some of its smaller gallery spaces to host collaborative projects.
Address: Royal Exchange Square, Glasgow
Whitworth (Manchester)
Making up part of the University of Manchester, the Whitworth boasts a collection in excess of 55,000 works from artists including David Hockney, Vincent van Gogh and L.S. Lowry. In addition to this collection, the Whitworth has become known for its exhibition schedule. Over the past five years, the Whitworth has given a platform to some of the UK's most important contemporary artists while also covering topics ranging from the South Asian Modernist movement to the natural landscape.
Address: Oxford Rd, Manchester
Ashmolean Museum (Oxford)
Oxford's Ashmolean Museun opened in 1683, making it the oldest university museum in the world. Over the course of this storied history, the museum has mixed its collection of historical artefacts and fine art with an ever-changing array of exhibitions. Previous highlights include exhibits spotlighting artists ranging from Andy Warhol and Georgia O'Keeffe to Picasso and Cezanne. 2019 saw the museum open a huge Jeff Koons exhibit, curated by Koons himself, after Oxford University students invited him to the city.
Address: Beaumont Street, Oxford
Kettle's Yard (Cambridge)
Situated in a house once owned by Jim Ede, a former Tate curator, Kettle's Yard displays the collection he amassed through his connections. Artworks featured in the intimate space include paintings from Joan Miro and Christopher Wood, as well as sculptures by Henry Moore and Barbara Hepworth. The space is largely as Jim Ede left it when he moved away in 1970, looking more like a house than a gallery. With no labels added for each work, Kettle's Yard is designed to show one person's collection rather than a heavily curated selection of pieces.
Address: Castle St, Cambridge
Spike Island (Bristol)
Community-focused space Spike Island acts as both a gallery and a studio space to students, artists and creatives. While Spike Island has worked with established names in the past, the space's focus is on giving a platform to emerging talents. When inviting an artist to participate, Spike Island gives them the chance to create new works and pieces that engage with the community.
Address: 133 Cumberland Rd, Bristol