8 Drops You Don't Want to Miss This Week
Featuring Moncler Genius, The North Face, N.HOOLYWOOD, Mitchell & Ness and more.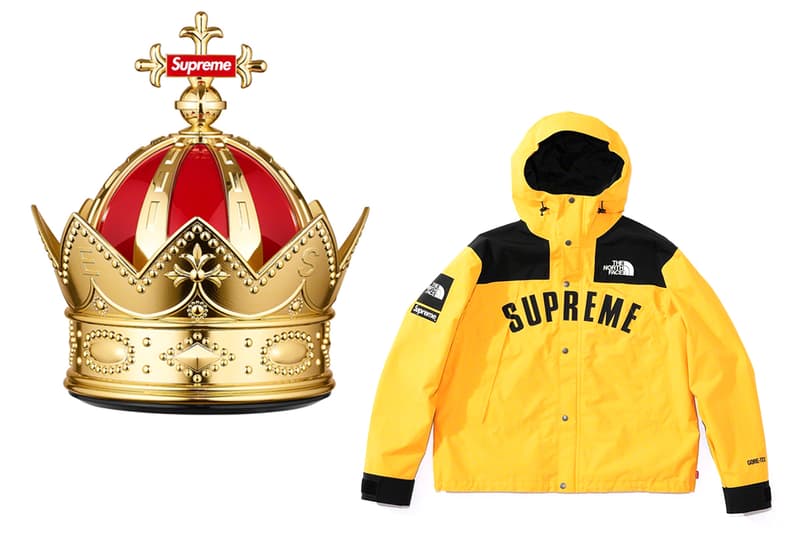 This week's installment of our product drops series is led by a The North Face collaboration from Supreme and the fifth delivery of its Spring/Summer 2019 collection. The notable drops are comprised of eight releases comprised mostly of collaborations, seasonal collections and special capsules. Between Supreme's Week 5 release and Palace's Week 6 release, this week we have an impressive array of street staples accompanied by sure to be sought-after accessories.
Additional collaborations come in the form of a soccer-inspired union between N.HOOLYWOOD and Umbro, Travis Scott's contributions for the Mitchell & Ness x Bleacher Report NBA Remix Campaign and the Mobile Suit Gundam x Uniqlo UT 40th Anniversary capsule. Volume Two of INDVLST LAB's Screen Print Activation Kit series and The North Face Play "1st Anniversary" collection serve as this week's special capsules. With Moncler Genius' 7 Moncler Fragment Hiroshi Fujiwara release rounding up the selection of notable offerings.
Key items this week include Supreme's Crown Air Freshener, Palace's P Racing Top, Volume Two of INDVLST LAB's Screen Print Activation Kit series and Travis Scott's installment for the Mitchell & Ness x Bleacher Report NBA Remix Campaign.
INDVLST Lab Screen Print Kit Vol. 2
Back with Volume Two of its inventive Screen Print Activation Kit series, INDVLST LAB put together a release built upon a distinct military inspiration.
Comprised of an M65 Field Coat and Long Sleeve T-shirt versions, the kit includes a screenprint with pre-designed graphics of the Army of One: Volume Two release, along with accompanying tools, a blank garment and a pin set for additional personalization.
Aside from offering traditional product releases that express the same graphic sensibility found in the kit, INDVLST LAB is also launching a new Automated Print Program. The two T-shirts included in the program continue the kit's military inspiration with macabre graphics that reference iconic war films Full Metal Jacket and Apocalypse Now.
When: Now
Where: INDVLST LAB
N.HOOLYWOOD x Umbro Spring/Summer 2019 Collection
N.HOOLYWOOD and Umbro have joined forces on a graphic-heavy capsule for Spring/Summer 2019. The collection includes an all-black tracksuit, lending a retro aesthetic, along with a number of logo-stamped T-shirts in long and short-sleeved silhouettes.
Emblems for each label are printed in bold block letters on the tees, while color combinations such as red with black and blue with yellow provide punchy pops. Meanwhile, the white and black editions of the shirts offer up neutral options to the mix.
When: Now
Where: N.HOOLYWOOD
Mitchell & Ness x Bleacher Report NBA Remix – Travis Scott Houston Rockets Release
Mitchell & Ness and Bleacher Report tapped Travis Scott for the debut of their new NBA Remix Campaign.
La Flame reimagined the original Houston Rockets jersey from the '70s. Created under his Cactus Jack, the jersey adds the multicolor globe motif associated with Travis' Astroworld and features "Jack 01" player notation at the rear. Travis' inaugural installment of the campaign also features two T-shirts decorate with the same graphic found on the jersey.
When: Now
Where: Bleacher Report & Mitchell & Ness
Mobile Suit Gundam x Uniqlo UT 40th Anniversary Capsule
Uniqlo is celebrating the 40th anniversary of popular anime Mobile Suit Gundam with a dedicated capsule collection under its UT range. The assortment encompasses a dozen unique graphic T-shirts, with many of the styles honoring the show's specific characters, such as Amuro, Ramba Ral and RX-78 Gundam. Pockets and an "RX-78-2" logo add additional design elements to select tops, which are all priced at approx. $15 USD each.
Customers in Japan also have the chance to enjoy more product commemorating the cartoon. For those who purchase at least two shirts, Uniqlo will gift one of two special HG Gunpla models.
When: Now
Where: Uniqlo
Moncler Genius The Next Chapter: 7 MONCLER FRAGMENT HIROSHI FUJIWARA
Serving as the fourth release of the year from Moncler Genius, 7 Moncler Fragment Hiroshi Fujiwara is dominated by a reimagining of the Italian label by the pervasive streetwear godfather.
Maintaining a subtle brilliance often associated with his aesthetic, the latest range is filled with technical details like extreme lightness and functional packability. The expansive collection is centered around the theme of the "World Tour," drawn through both a travel and music scope. Plaid blazers, parkas, field jackets, varsity jackets and travel jackets found in the range come decorated with lightning branding synonymous with Hiroshi's fragment design imprint. One notable point of construction used on an array of items is taping, which adds a level of technicality to the motion focused lightweight garments.
When: March 28
Where: Moncler & Select Retailers
Supreme Spring/Summer 2019 Collection Drop 5
Continuing the releases, for Week 5 of SS19, Supreme is gearing up to deliver its first The North Face collaboration of the year and another range of standout streetwear staples. The latest TNF team up comes in the form of light outers and accessories to keep you warm through those abnormally cold days and nights.
Sure to be sought after items from the collaboration include the Mountain Parka, Mountain Pant and Denali Fleece Jacket all available in bold looks of purple, teal, red, yellow and black. Moving beyond garments, accessories come in the form of the Duffle Bag, Organizer, 6-Panel Hat and Denali Fleece Blanket done in the same five colorways. Key details found throughout the team-up include full GORE-TEX constructions, fully sealed seams, appliqué branding, and heavy-duty 1000D/840D TPE laminate with ballistic nylon material.
Drop 5's accompanying range is led by the Cheetah Hooded Station Jacket, Tag Logo Hooded Sweatshirt and Drills Skate Pant. This week's boldly branded accessory comes in the form of the anticipated regal Crown Air Freshener.
When: March 28
Where: Supreme Online & Retail Stores in NY, Brooklyn, London, France & Japan
The North Face Play "1st Anniversary" Collection
To celebrate the first anniversary of its Tokyo Midtown Hibiya store opening, The North Face Play has unveiled its "1st Anniversary" collection stocked with brand staples across outerwear, tops, bottoms and accessories.
The assortment encompasses a coach jacket, anorak parka, stand collar jacket, shorts, hoodies and T-shirts, all grounded in an earthy color palette of black, khaki, gray and orange. A limited-edition GORE-TEX waterproof pouch brings an exclusive accessory to the range, as the item will only be offered to customers who spend at least JP¥ 20,000 (approx. $180 USD). The line ranges in price from JP¥ 6,800 to JP¥ 30,000 (approx. $45 – $205 USD).
When: March 29
Where: The North Face Tokyo Midtown Hibiya store & goldwin.co.jp
Palace Spring 2019 Collection Drop 6
Keeping the Spring 2019 releases coming, Palace has prepared another line-up of unique British streetwear to drop this week.
This week's releases leans on the lighter side, comprised of denim pieces, sweatshirts and a small selection of accessories dressed with bold Palace branding. Notable items include the all over print Team Jacket and Team Panel Jeans, motorsport-inspired P Racer Top and 3M reflective Deflecto Bum Bag.
When: March 29
Where: Palace