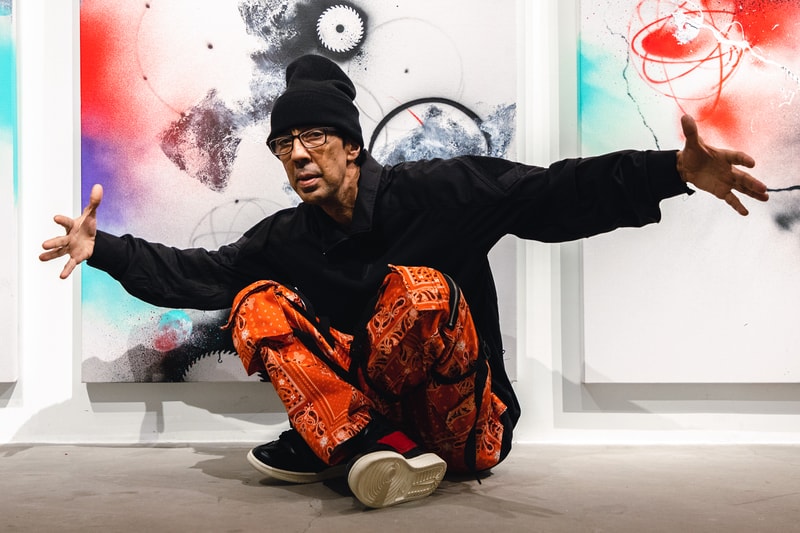 1 of 2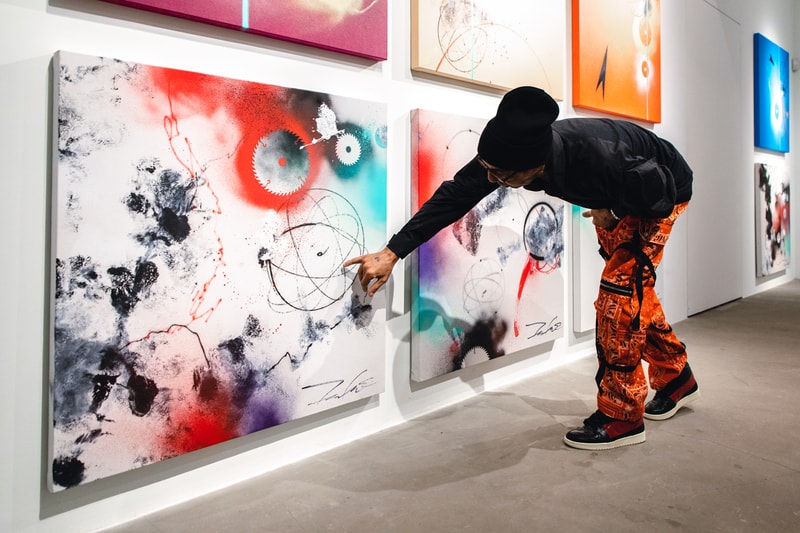 2 of 2
Futura Guides Us Through His "Abstract Compass" Exhibition
The OG graffiti artist's latest body of work in Hong Kong.
---
We finally have a complete look at Futura's "Abstract Compass" exhibition that was teased earlier this week. Arriving weeks before his show, the pioneering graffiti artist used the gallery space as an impromptu studio for his newest body of work which includes 12 new paintings, some never-before-seen works from his Brooklyn studio, and a set of concrete sculptures between Futura and Samuel Ross/Jobe Burns' Concrete Objects line.
Catching up with the artist prior to the show's opening, we learned of the different bits of inspiration that went into the new paintings as well as how the pre-existing works found their way onto the gallery walls. No stranger to the City of Hong Kong, having first been acquainted with the city in the '80s, this Danysz-curated show features elements of the city's cuisine and architecture mixed in with Futura's signature motifs and techniques — the Pointman also makes an appearance.
Check out the exhibition images above, and read below for a short interview with the man himself.
"I find myself as more of a mentor. I like educating people."
Could you tell us about the show and the story behind the name "Abstract Compass"?
Everyone has a different take on what they are seeing. Yes, it is the title of the show, but it could also mean guidance. You've heard of "moral compass," well this is like that, but with my art. Every day, you could be looking at clothing, for instance, you may think it looks this way, but then others looking at your outfit could interpret it another way.
Take Instagram, for instance. You could choose to never add a caption to what you are posting, so if I just posted artwork each day and never wrote a caption, you would still be seeing it but would be deciphering it in your own way. By adding a caption, it sort of acts as a compass, or guides you towards something. So yeah, it is a title, but it can also mean other things.
It also just ties into what I am also feeling these days as I am a bit older. I find myself as more of a mentor. I like educating people. I can play the role of a teacher, a father, mentor, big brother, uncle… I can be all of those people. It would be a pleasure to share something.
Have you had to play those roles more often these days?
Yes, I have. I try to give people work. If a project is coming up, I try and include people. I like giving the opportunity for having other artists' work seen. I always just tell people that they need to work. Do what you are doing and get enough of it together. Get a body of work together. It could be a folder on a computer, paintings, photos… but people need to be working.
Don't always look for an immediate return on labor. Be willing to understand the realities of life. You might just have to have a job for some time that can just sustain you. This doesn't deny you from being creative with the extra work that it may take to see no reward. You do, however, get to see something in the end that you've made with your own two hands.
I come from another world where those burdens were a real challenge, like no food, no loot, but I never let that slow me down. For me now, yeah I am Futura the artist, people know my work but I got my children who are a big part of who I am as a person. This has more value to me then the paintings, Pointman, and the commercial products I've created — because there's got to be this separation from myself as a person, and myself as an artist. That's the place I'm at right now in life.
"There were no limitations for me. Now I am just more conscious of space."
Is it hard jumping back and forth from the artist Futura to Lenny McGurr?
No. I can be me and him simultaneously or jump between the two. As blessed as I am for this life and the opportunities I have experienced, I don't want to just use that and live there forever. I don't want this to change the value system that I had before I became famous, or before anyone invested in me. I feel very comfortable that if we took all of this away, and it was just me, at this point of time I would already be retired from a regular profession.
I could have still been a decent person. Unlike most of my contemporaries, artists that exist today, I think I am uniquely not living the life 24/7. It's so easy to become a caricature of the thing that you are. I need to know what's real.
Do you think your technique has changed at all with age?
I was way more immersed in it when I was younger. Magda Danysz did this great book of my work called Futura: Full Frame, and there are some works from 35 years ago in it. A lot of crazy gears and patterns that didn't use templates. All hand-done. I don't know what I was smoking back then ha-ha. I never held back on what I was doing. There were no limitations for me. Now I am just more conscious of space. Before I was just going for it. I look back and can't understand what I was thinking.
It's an evolution. I am not sure if the work was better back then, but it was certainly different. I just did the wall in New York for James at the new Supreme store, and he was referencing a lot of the work from the '80s like, "can we go back to that stuff?" That kind of regenerated this exploration back into my old approach. Looking at the first three paintings at this "Abstract Compass" you can see that old '80s vibe in the colors.  
I had one studio in Brooklyn for like a week. That building had a flood and I had to leave. Some of my shit got damaged but I managed to save a few paintings from a series of eight. These really haven't been seen before so I thought this would be a great place to show them. I painted 12 paintings for this show but they wanted a lot more, and I told them that I can't do that many here, so I told them I could bring in some pieces that I've been saving.
Space 27
10F Block A/B Tung Chong Factory
653-655 King's Road
Quarry Bay, Hong Kong
In other art news, Banksy's Devolved Parliament painting is back on display in time for the original Brexit date.