Best Art Drops: Futura x Concrete Objects, Haroshi Sofbi Sculptures & More
Including Nina Chanel Abney's 'Boobie' wooden figure.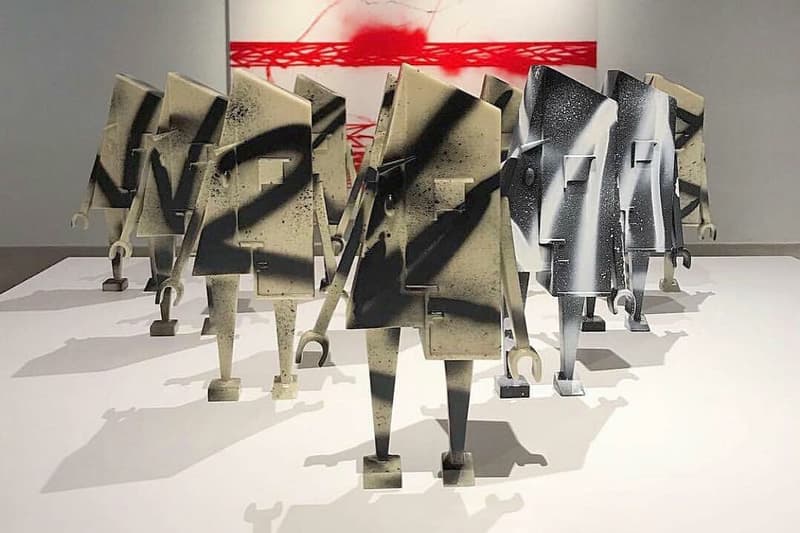 Every week we spotlight the best art drops by notable artists, galleries, museums and contemporary art platforms across the globe. Listed items typically encompass limited edition artworks, prints, collectible figures, collaborative merchandise and more.
For this week's installment: ICNCLST teases limited edition sculptures by Futura in partnership with Samuel Ross's Concrete Objects output, NANZUKA launches special Sofbi sculptures by Haroshi, WOAW and Ross + Kramer Gallery purvey new paintings by Japanese artist Koichi Sato, Nina Chanel Abney unveils exclusive Boobie wooden figure at Art Basel Hong Kong 2019, and renowned artist-duo FAILE drop new book cover editions.
View the list below.
Futura x Concrete Objects Sculptures Debut at "Abstract Compass"
Release Date: Available soon
Release Price: Contact hello@icnclst.com
Futura recently launched his latest solo exhibition "Abstract Compass" at Danysz Gallery in Hong Kong. The dynamic presentation features new paintings portraying the graffiti legend's signature, abstract symbology: spray-painted atoms, stardust, unwavering lines, and lightning bolts.
Recently, creative agency ICNCLST teased new collaborative sculptures by Futura under Samuel Ross's Concrete Objects line. The editions are on display at the gallery and will be available soon.
Space 27
10F Block A/B Tung Chong Factory
653-655 King's Road
Quarry Bay, Hong Kong
NANZUKA Launches Haroshi Sofbi Toy Editions
Release Date: Available now
Release Price: Contact info@nug.jp
Japanese contemporary art gallery NANZUKA is currently participating in Art Basel Hong Kong 2019. Led by founder Shinji Nanzuka, the institution's booth at the art fair features a selection of special Sofbi toy editions by Haroshi.
The mixed media sculptures were made using popular vintage toys in Japan. Select pieces will be available via a lottery at the booth today.
Art Basel Hong Kong 2019

Convention & Exhibition Centre
Booth 3C3
Harbour Road
Wan Chai
, Hong Kong
Koichi Sato Paintings at WOAW's New Space in Hong Kong
Release Date: Available exclusively at WOAW Hong Kong
Release Price: Starting at $950 USD
Self-taught Japanese artist Koichi Sato is known for his representational paintings mired with various pop culture subjects. Sato is currently the subject of a solo exhibition at WOAW's new space in Hong Kong.
Joining forces with Ross+Kramer and Bill Brady Gallery, the presentation entitled "Ecstasy Journey" spotlights Sato's small to large-scale works portraying his signature subjects with stylized faces and exaggerated forms. Accompanying the exhibition is a selection of curated art products including Medicom Toy collectibles alongside footwear, homeware, and high-tech gadgets.
WOAW Store Hong Kong
5 Sun Street.
Wanchai, Hong Kong
Nina Chanel Abney Presents Exclusive Boobie Wooden Figures
Release Date: Available now
Release Price: Contact info@paceprints.com
Throughout Art Basel Hong Kong 2019, Pace Prints will spotlight a selection of new works on paper by rising Chicago-born artist, Nina Chanel Abney. Largely known for her vivid representational paintings that touch upon societal issues, Abney's latest pieces continue to shed light on bold narratives. At the fair, Abney will also debut a new exclusive wooden figure entitled Boobie.
Art Basel Hong Kong 2019

Convention & Exhibition Centre
Booth 1B38
1
Harbour Road
Wan Chai
, Hong Kong
China
FAILE Drop From The Air We Share Book Cover Editions
Release Date: Available now on FAILE's website
Release Price: $1,950-$2,250 USD
This Wednesday, internationally-renowned artist duo FAILE is set to drop a series of limited edition book covers from From the Air We Share project in Strasbourg, France. The mixed-media artworks were made using hand-cut portions of old paper stocks, mounted onto vintage book covers, and then silkscreened. Each piece arrives framed and ready to hang.