Zion Blows Through Sneaker and Sprains Knee, Nike Responds
With President Obama, Spike Lee, Ken Griffey Jr. and many more in attendance.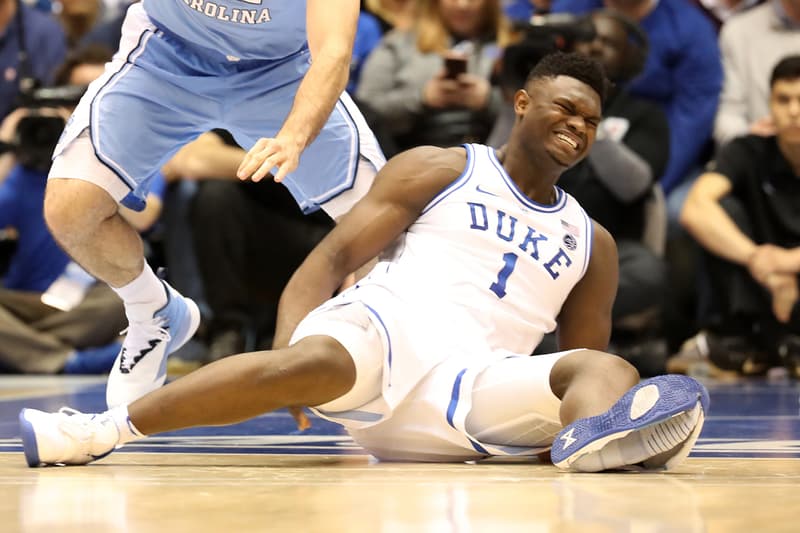 February 22: Zion is currently listed as day-to-day after suffering what has now been diagnosed as a grade 1 right knee sprain. There's no word on whether he'll play Saturday, February 23 at Syracuse.
"I think that everyone wants to know his status, and it's still — we don't have a timetable, but the preliminary reports that we have on Zion's injury are all optimistic — very, very good," Blue Devils Coach Mike Krzyzewski said on his weekly ESPNU Radio show on SiriusXM. "And the fact that it's a stable condition, a mild sprain, and we're going to do what everyone would do, and that's what's in the best interest of the young man. And Zion will get proper care. He's getting it today, as this moves along these next 24, 48 hours, we'll have a better feel for things, but there's no rush. You want to make sure he's completely at 100 percent."
---
Last night, in what was expected to be the most entertaining game so far this season, with President Obama, Spike Lee, Ken Griffey Jr. and many more in attendance,
Zion Williamson
blew through a pair of
Nike
 sneakers just 36 seconds into play.
The young phenom dribbled hard from the left wing to the foul line, stopped with his back to the hoop to half-spin back to where he came from and slid across the floor, with his entire forefoot busting through the toebox of his custom Duke Nike PG 2.5 kicks. He immediately went down and clutched the back of his right knee, then got up and hobbled off the court with a mangled sneaker in hand. Soon after, he left for the locker room, and moments later it was announced that he would not return to the game.
After the game, one in which UNC dominated most of the way, Blue Devils coach Mike Krzyzewski told reporters that Zion suffered a "mild knee sprain." He could not however comment on his recovery time, but said he will know more tomorrow, February 21.
Nike responded to the unfortunate malfunction in a statement to ESPN: "We are obviously concerned and want to wish Zion a speedy recovery. The quality and performance of our products are of utmost importance. While this is an isolated occurrence, we are working to identify the issue."
If it is indeed a mild knee sprain, Zion should eventually recover back to full form. However, if the injury is worse, some have began to wonder whether or not he and/or Duke could sue Nike for supplying a defective product. The short answer is yes, but they would have the heavy burden of proving the injury was a result of the sneaker, and Nike may even argue that the responsibility actually lies with Duke, as Nike didn't directly sell Zion the model. If you want to read more about the possible legal implications, should the injury be more than what's been initially diagnosed, check out Sports Illustrated's article "Could Zion Williamson's Sneaker-Related Knee Injury Lead to Legal Action Against Nike?"
Be sure to check back as we'll continue to update this post with Zion's injury, his return and Nike's response.
You may also remember that back in 2017 Nike experienced a similar malfunction when its new NBA jerseys began ripping during games.
Zion's shoe: destroyed ? pic.twitter.com/LqQ2te0Jay

— SportsCenter (@SportsCenter) February 21, 2019
Zion Williamson seems like an outstanding young man as well as an outstanding basketball player. Wishing him a speedy recovery.

— Barack Obama (@BarackObama) February 21, 2019
Hope young fella is ok! Literally blew thru his ?. ??

— LeBron James (@KingJames) February 21, 2019
Again let's remember all the money that went into this game…. and these players get none of it…. and now Zion gets hurt… something has to change @NCAA

— Donovan Mitchell (@spidadmitchell) February 21, 2019
Let these kids go straight out of HS!!! Too much on the line to be messing with college if you got a legit chance to turn pro. One injury can change somebody career, Zion sit yo ass down lol and we will be ready for you in the big boy league #LookingOutForThePlayers

— Isaiah Thomas (@isaiahthomas) February 21, 2019
Zion Need To Chill Out The Rest Of Season…

— Trae Young (@TheTraeYoung) February 21, 2019