How Karl Lagerfeld Changed the Face of Fashion Forever
Remembering the inimitable designer's many game-changing feats.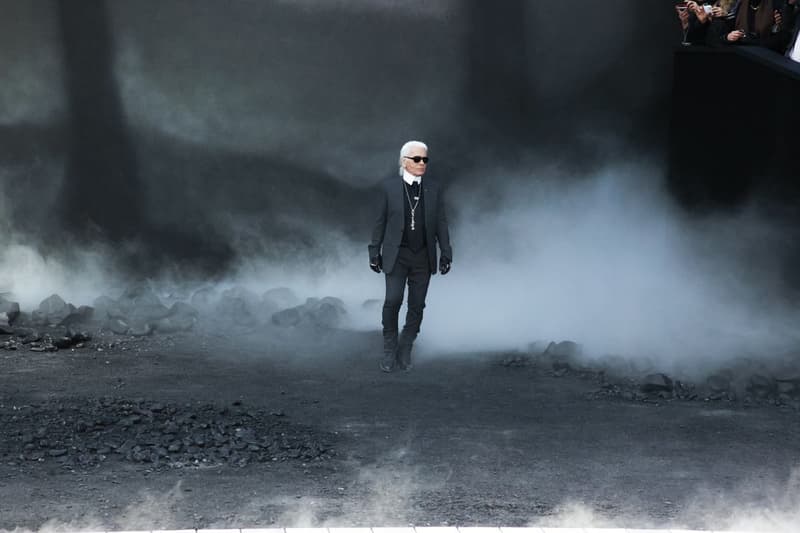 This week marks the passing of one of fashion's most indomitable and prolific figures, Karl Lagerfeld: master of couture, commerce, carefully cultivated personal style, quotable quotes and of course, the world's most famous cat: that fantastically fluffy Birman, Choupette.  Driven by a self-professed "insatiable" curiosity, Lagerfeld achieved innumerable successes in his six-decade career – from reinventing the house of Chanel and elevating it to powerhouse status to creating some of the most memorable fashion show spectacles of all time. "What I love best in life is new starts," he once said – a mantra he adhered to unwaveringly.
Born in Hamburg in 1933 according to most sources (the designer was notoriously secretive when it came to his age), Lagerfeld was a singular being from childhood. "As a child I never played with [other] children," he told The Business of Fashion's Imran Amed in 2014. "I did nothing else other than sketching and reading." Both past times continued to play an integral role in Lagerfeld's output throughout his life – his distinctive, beautifully realised fashion drawings continue to sell at auctions for a small fortune, while the library in his Paris apartment is rumoured to contain over 100,000 books which he would glean for inspiration.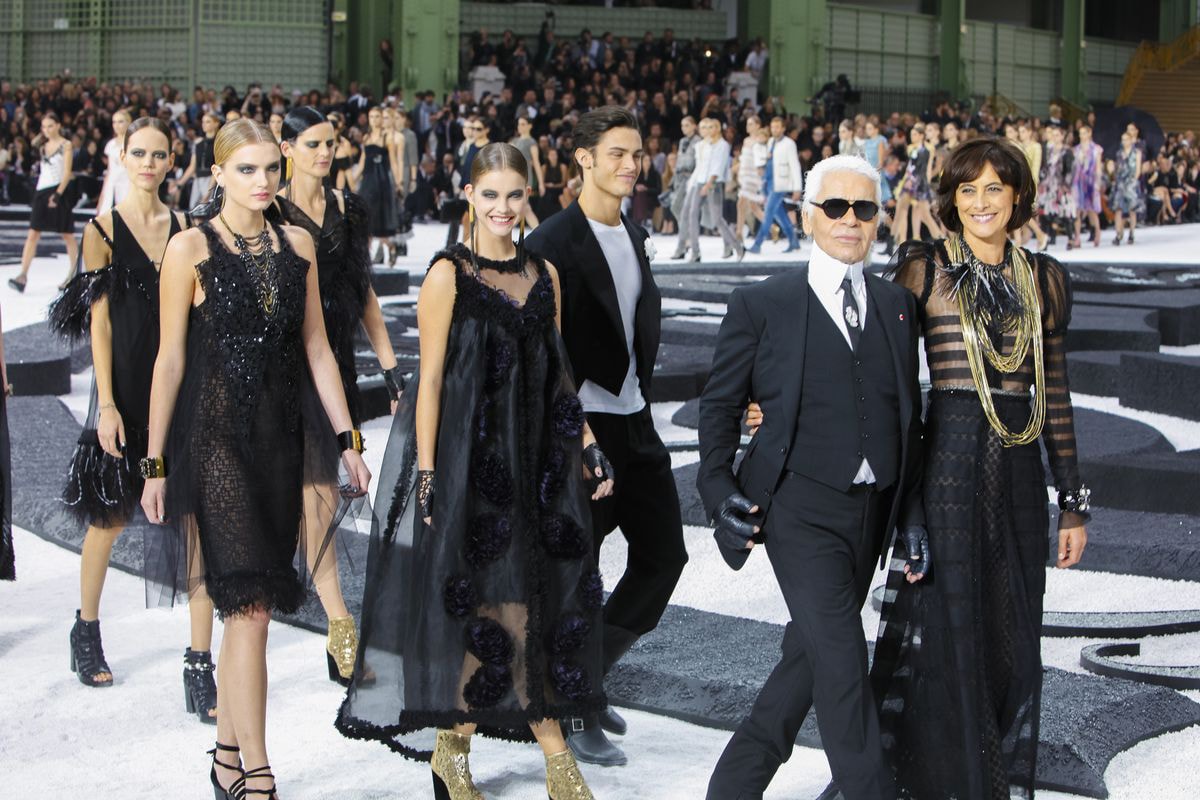 Lagerfeld's lifelong synchronicity with the current moment, born of an innate understanding of the ever-shifting zeitgeist and reflected in his constantly updated coterie of modern muses, was also an attribute he cultivated young – at the age of 14, upon setting his sights on the fashion world, he expressed a desire to move to Paris. His parents agreed, and the brave young aspirant ventured forth to the City of Lights (and luxury clothing), setting the ball in motion for all that was to come.
It was aged 21, however, that Lagerfeld secured his first big break, after winning the coat award at the 1954 International Wool Secretariat competition (now the Woolmark Prize) and securing an apprenticeship with haute couturier Pierre Balmain thereafter. In 1958, he joined Jean Patou as a designer, dreaming up the house's bi-annual couture collections. "At Balmain I learnt what not to do because the technique was not what I liked," he recounted to Amed. "At Patou, I learned all the old techniques and all the materials… The fact [is] that I now know the technique; there's not a question in dressmaking, there's not a technical question I cannot answer in three seconds." And indeed, it was the designer's knowledge and reverence of traditional craftsmanship that – like Picasso, and others before him – lent such credibility to every new and daring undertaking upon which he'd later embark.
In 1963, Lagerfeld made perhaps his most defining and subversive career move: departing Patou to go it alone as a freelance ready-to-wear designer – then an entirely new concept in the fashion realm. "He totally grasped the epoch. He knew he wanted to do his own thing and not in some old couture house," his friend, the designer Fernando Sanchez, said in an interview with Lagerfeld biographer Alicia Drake. Soon Lagerfeld was working with a diverse array of brands, among them Chloé, where he took founder Gaby Aghion's bohemian vision to new heights through statement prints and romantic, free-flowing dresses. Some ten years later, in 1974, he would catapult the label to worldwide fame after being appointed head designer.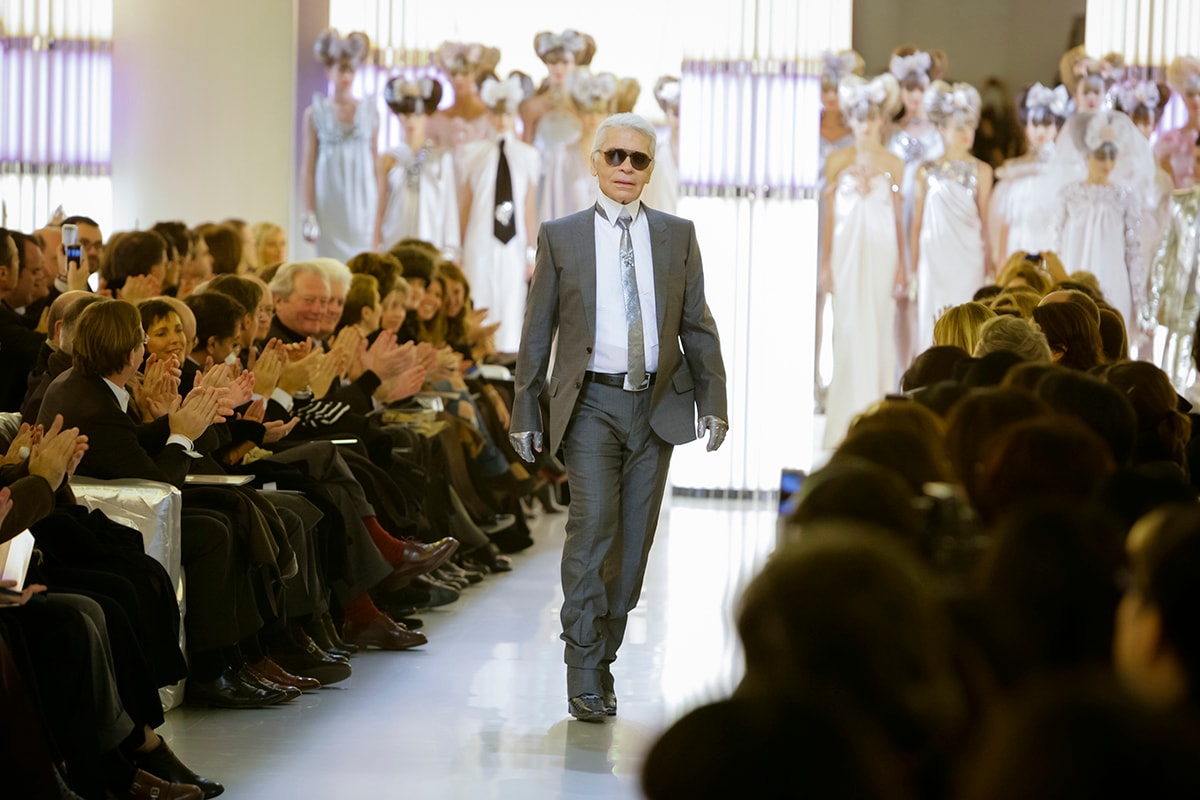 In 1965, meanwhile, Lagerfeld was approached by the Fendi sisters to revitalise the Italian brand's then-floundering fur line. He rose to the occasion with aplomb – memorably making history with his playful introduction of common pelts, such as mole, rabbit and squirrel, into the high fashion sphere – and no small amount of controversy where animal rights activists were concerned. The designer, of course, remained creative director at Fendi right up until his death, the now-blockbuster status of the Fendi "baguette" bag – conceived by Silvia Venturini Fendi but reworked, season after season, to cult effect, under Lagerfeld's instruction – perhaps the most enduring legacy of his time there. (No one knew how to render a design iconic quite like King Karl).
"Lagerfeld took the classic Chanel staples and updated them time and time again."
Which brings us neatly onto the designer's most seminal role: his 36-year reign as creative director at Chanel – beginning in 1983, 12 years after Coco Chanel's death – where he took a business in swift decline and from it forged the ultimate blueprint for a multibillion-dollar rebrand. Where other designers may have buckled under the weight of the mantel that they were taking on (especially given Mme. Chanel's much-mythologised status), Lagerfeld fearlessly blazed his own trail, while adhering to Chanel's founding principles of modernity, craftsmanship and independence. "What I do Coco would have hated," he said in a 2011 interview. "The label has an image and it's up to me to update it. I do what she never did. I had to find my mark. I had to go from what Chanel was to what it should be, could be, what it had been to something else."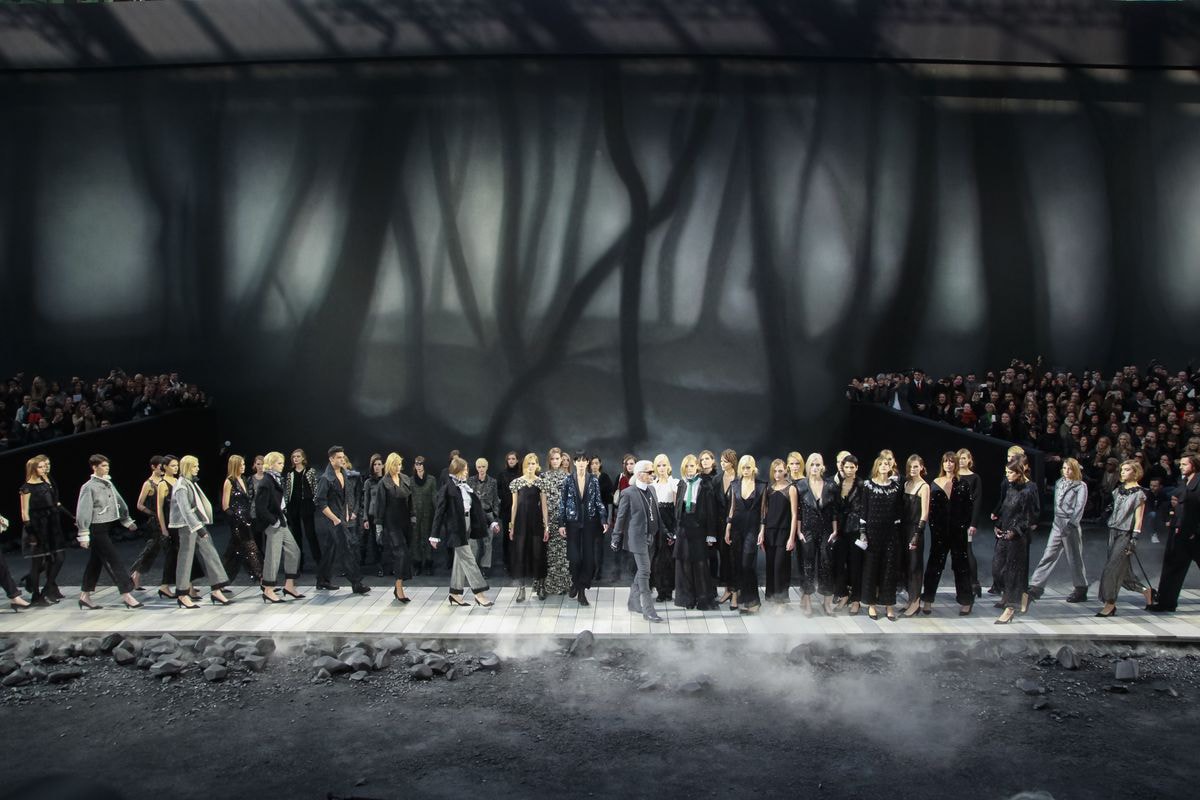 And indeed, it is at Chanel that the world witnessed, to the fullest extent, Lagerfeld's ability to make clothing that simultaneously embodied its time, while pre-empting the consumer's whims and desires. This was the result of his shrewd eye for shifts in pop cultural and social trends. As he famously said, "Fashion is a language that creates itself in clothes to interpret reality." Lagerfeld's visions of reality drew on countless references, from surf culture (Spring/Summer 1990) and hip-hop (Fall/Winter 1991) to – more recently – mass consumerism (think: the amazing, fully stocked Chanel supermarket for Fall/Winter 2014) and luxury travel (à la the Chanel airline of Spring/Summer 2016), without ever taking themselves too seriously. To quote the great man himself: "Fashion without wit is disastrous".
As with the baguette bag at Fendi, Lagerfeld took the classic Chanel staples – tweed skirt suits, little black dresses, pearls, quilted handbags and monochrome shoes, not to mention Coco Chanel's interlocking C logo – and updated them time and time again, with fresh, fun and extremely desirable results. "We created a product nobody needs, but people want," he said of this winning recipe for success. "If you need an ugly old car, it can wait, but if you want a new fashion item, it cannot wait."
Keen to harness the need for speed where trend turnovers were concerned, Lagerfeld produced six ready-to-wear collections a year – showcased as increasingly elaborate runway extravaganzas, involving imported icebergs, entire beachscapes and more, at Paris's Grand Palais – alongside two haute couture offerings and the Métiers d'Art show, first conceived in 2003 to demonstrate the fine craftsmanship of Chanel's various artisanal partners.
"For every inspirational quote the designer uttered, you can undoubtedly find a deeply controversial, sharp-edged one to match it."
As his eternally eye-popping shows and fabulous, frequently self-lensed ad campaigns attest, branding was one of M. Lagerfeld's most accomplished skills – best demonstrated through his work at Chanel, but also apparent in the myriad offerings of his eponymous ready-to-wear brand (founded in 1984 and now owned by investment fund Apax Partner) and indeed the entirely distinct personal style he cultivated; even those without the faintest knowledge of fashion could identify the designer by his black suits, powdered white ponytail, fingerless leather gloves, and omnipresent sunglasses.
One of his boldest individual branding moves was the decision to partner with H&M in 2004 – something that many advised him against. Once again, however, his razor-sharp instincts proved him right and the Karl Lagerfeld x H&M line flew off the shelves at record speed, paving the way for the many influential high-street/high fashion collaborations that have since ensued.
Of course, being a branding wizard did not equate to Lagerfeld's being unproblematic – quite the opposite, in fact. For every inspirational quote the designer uttered, you can undoubtedly find a deeply controversial, sharp-edged one to match it – whether on the subject of women's weight, the virtues of the fur industry or his extremely disturbing remarks on Germany's open-door migration policies.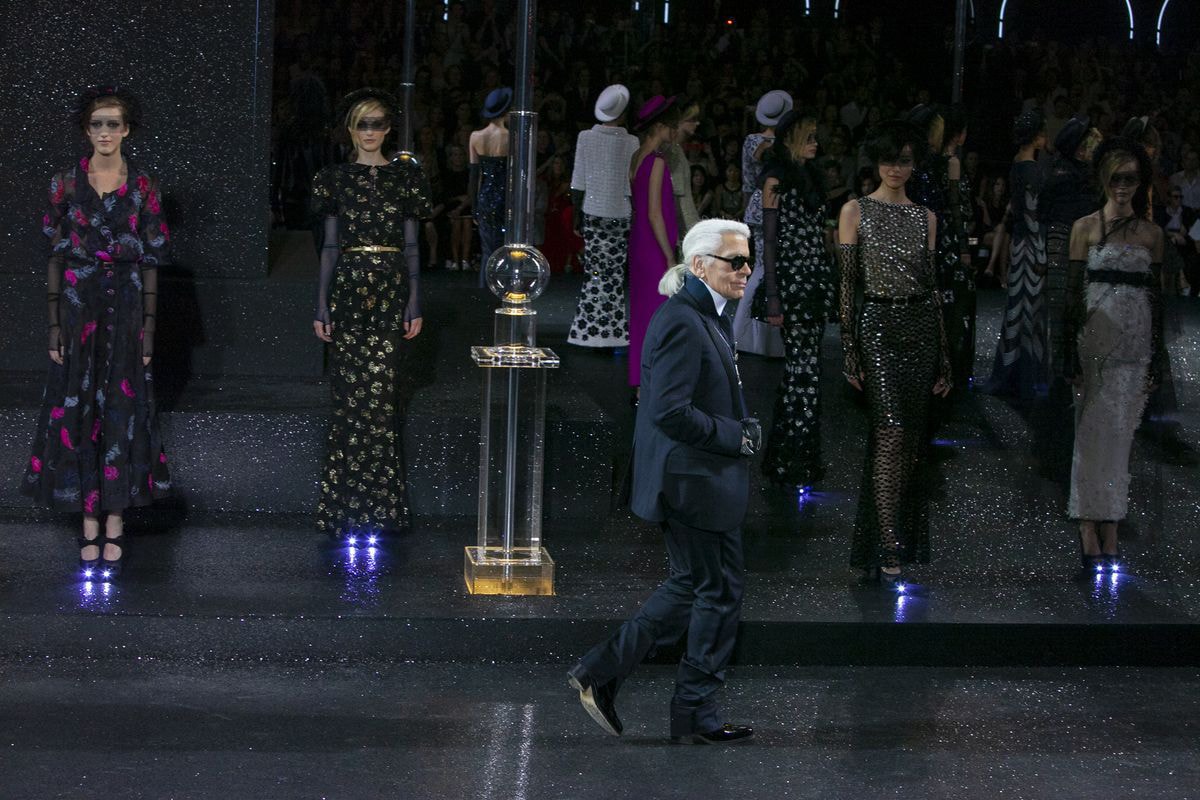 He did take steps towards making more positive changes in his final year – declaring last December that Chanel would stop using furs and exotic skins going forward, and initiating a collaboration between Karl Lagerfeld Paris and Stitch Fix earlier in the year to purvey classic designs in plus-sizes – but whether that was a heartfelt revocation or a contrived PR move is anyone's guess. Regardless, as The Independent's Ariane Laurent-Smith notes, "his actions sent major signals to the fashion world, using his influence for good," and one can only hope that more diversity and better ethical practice will ensue under the direction of his Chanel successor, Virginie Viard.
One of Lagerfeld's best lines on the subject of his own hopes and aspirations was: "I would like to be a one-man multinational fashion phenomenon" –  and there is no doubt that he succeeded. He achieved this through the fine balance of juxtaposing traits: a shrewd head for business combined with a love of pop culture; intellect interjected with a frivolous sense of fun; a respect for tradition merged with a tireless devotion to the new. "When you start to criticize the times you live in, your time is over," he said. Lagerfeld never reached that point, remaining a forward-looking fashion phenomenon until the end.