Snapchat Cameos Puts Your Face Onto GIFs
A Bitmoji upgrade.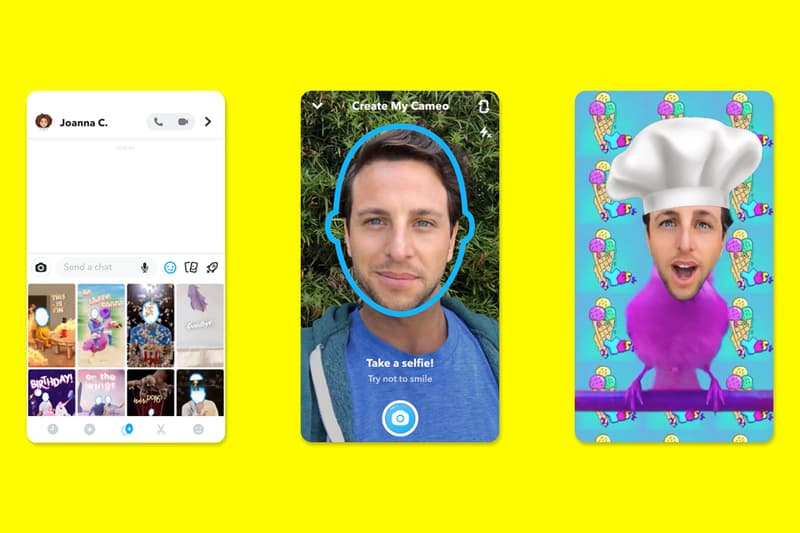 Snapchat has recently announced Cameos, an upcoming feature that allows users to overlay their selfies onto a selection of 150 short looping video clips with sound. Videos include actors doing activities like sleeping, eating and dancing, and the social media company plans to drop a new one each week.
Once a video is selected, Snapchat takes the user's selfie and stretches it so it can carry out a variety of facial expressions. It then overlays the selfie onto the actor's face in the video. Users can then send the completed video via Snapchat messages and can even opt in to create Cameos that include themselves alongside their friends.
Cameos is currently being tested in France, along with a few other international markets as an alternative, more developed way to share emotion in Snapchat messages, alongside the animated Bitmoji feature. Some users were able to test the feature today and shared footage of their experiences via Twitter.
@snapologie Cette fonctionnalité viens d'apparaître sur mon Snap ça s'appelle Caméos pic.twitter.com/F8bIrhbptb

— Arthur ? (@gartr268) December 6, 2019
Vous avez Cameo sur snap ou je suis la seule? Je pleure de rire pic.twitter.com/G7E3ZKAilz

— Aca (•‿•) (@toddflanderrs) December 7, 2019
It is unclear if or how Snap, Inc. plans to monetize this feature, but a natural option would be selling sponsored Cameo clips to brands, a la its augmented reality filters.
Snap has confirmed it will be launching Cameos globally on iOS and Android on December 18.
Elsewhere in tech, Apple's Mac Pro is now available.