Cam'ron's Much-Anticipated LP 'Purple Haze 2' Is Finally Here
15 years in the making.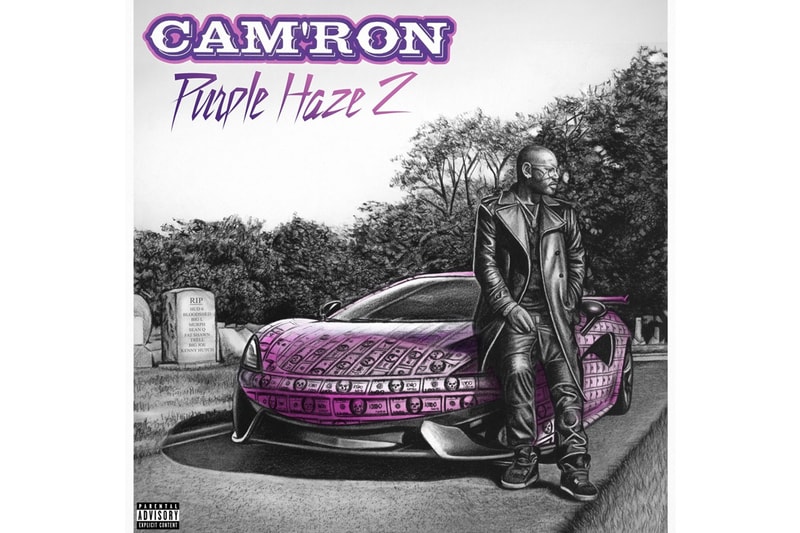 After releasing a series of singles, like "Big Deal," and a grueling five-year-long wait, the much-anticipated follow-up to Purple Haze is finally here: Killa Cam is back with Purple Haze 2. The album's release coincides with a special collaboration with Diamond Supply Co., celebrating Purple Haze's 15th anniversary with a concise range of apparel.
Running at 52 minutes, the album includes 16 tracks and begins with the song "Toast to Me," opening with a mid-tempo arrangement doused in the sound of grand drums, soulful chipmunk vocals and a regal bassline as Cam delivers a set of verses that talk about how he's continued his hustle throughout his life. "Medellin" is the next track, with the first line as "Burn ya lungs, I be steamin' with the Medeas." Killa Cam is back in his element, rapping over a heavy beat laced with ghoulish synths and blaring 808s. "Losin' weight 3" includes notable lyrics like "I was 14, just startin' a dream / All grandma wanted was a washing machine" or "Double down, see I did the Midwest, NC I melted down / Back at Flex car show, I was sellin' pounds" — the hook is a reference to his earlier track "Losin' Weight" from 2002, which includes the infamous line, "you can't get paid on an earth this big, you worthless kid."
Apart from the previously released singles like "I Don't Know," featuring Wale; "This Is My City," with Max B; "Big Deal" and "Believe in Flee," the rest of the album is packed with rich lyricism that teeters between heartfelt self-reflection and braggadocious triumph. Fellow Dipset member Jim Jones is featured in the closing track "Straight Harlem," alongside Shooter and Cam, exchanging verses like "I had to beg the big homie Reg not to rob Steph Marbury / This the same year that he got drafted" or "I'm on 7th Ave with my karats on / Double park with my hazards on" over a pulsating synth-tinged mid-tempo groove. In a recent statement, the rapper mentioned how he felt today (December 20) was the right time to release this album: "it's the 15-year anniversary of Purple Haze this year. So I was like, damn, I have so many dope songs, and I'm still working—why not do a Part 2 around the anniversary of Part 1? People are always asking me for music, so I thought it was time to put some music back out."
Coinciding with the release of Purple Haze 2, Cam'ron has teamed up with Diamond Supply Co. for a series of T-shirts, hoodies, sweatpants and hats tinged in palettes of purple, white, pink and black. Besides the logo-driven pieces, one highlight in the range is a cartoony graphic of Cam driving with sake in his hand. The phrase "drinking sake on a Suzuki" is placed above the image, while "Cam'ron" is emblazoned below. Other noteworthy pieces like "Purple Haze" hoodies, sweatpants, hats and tees round up the assemblage.
The Cam'ron x Diamond Supply Co. capsule will drop at the rapper's upcoming NYC show, ranging from $10 to $80 USD. Attendees will be able to purchase limited quantities at the event from 7 p.m. – 1 a.m. EST at Villain, 307 Kent Ave. in Brooklyn.
Scroll below to listen to Cam'ron's new album Purple Haze 2.