Prosecutors Praise 6ix9ine, Recommend Reduced Sentence
For describing the complex inner workings of the Nine Trey Bloods.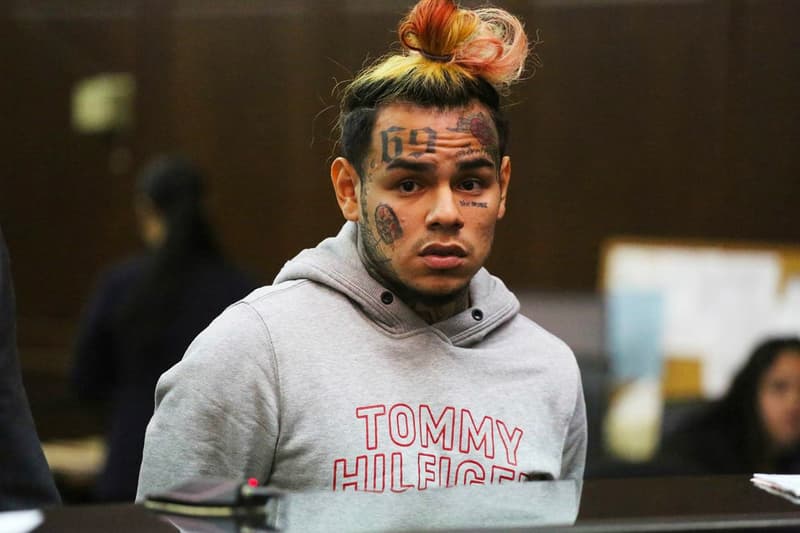 6ix9ine's sentencing in his federal case — which includes racketeering and firearms charges — is set for December 18. Pegged to serve a mandatory minimum of 47 years in prison, his cooperation in detailing and explaining the inner workings of the Nine Trey Bloods have long been assumed to help the rapper in obtaining a reduced sentence. Today, United States Attorney Geoffrey S. Berman, has submitted a letter to the judge recommending leniency regarding his sentence, calling him an "extraordinary" witness.
In an official letter to the judge, Berman noted that "[Daniel] Hernandez provided the Government with critical insight into the structure and organization of Nine Trey, identified the gang's key players, and described acts of violence that he personally witnessed or that he heard about from other Nine Trey members."
6ix9ine is being commended by prosecutors for allowing them to pursue "timely convictions for all defendants," further noting that he "testified in the face of threats of safety to him and his family." Hernandez reportedly identified key members of the gang, described in detail the crimes he had witnessed, participated in, or heard of from fellow members. 
Details regarding these convictions have been listed in the legal document:
Based, in part, on his information, the Government was able to charge additional acts of violence and added the following individuals:

1. Ellison for his involvement in the Nine Trey RICO conspiracy; the July 22, 2018 kidnapping and assault with a dangerous weapon; and, the October 24, 2018 slashing of another individual in Brooklyn;

2. Denard Butler, a/k/a "Drama," for his involvement in the Nine Trey RICO conspiracy and his participation in an April 3, 2018 armed robbery in Manhattan;

3. Kintea McKenzie, a/k/a "Kooda B," for his involvement in a June 2, 2018 shooting at the W Hotel in Times Square; and

4. Aljermiah Mack, a/k/a "Nuke," for his involvement in the Nine Trey RICO conspiracy
The high-profile case has been criticized outright by a majority of the hip-hop community due to the use of music videos and song lyrics have been used as official evidence, opening the doors for future prosecutors to use these cultural products as a means to target other artists.
Let us know your thoughts below.
In related news, the rapper recently signed a $10 million USD record deal.