Supreme Sued over "Copyrighted" Camouflage Pattern
A FW19 tribal camouflage pattern has stirred a lawsuit from an outdoors brand.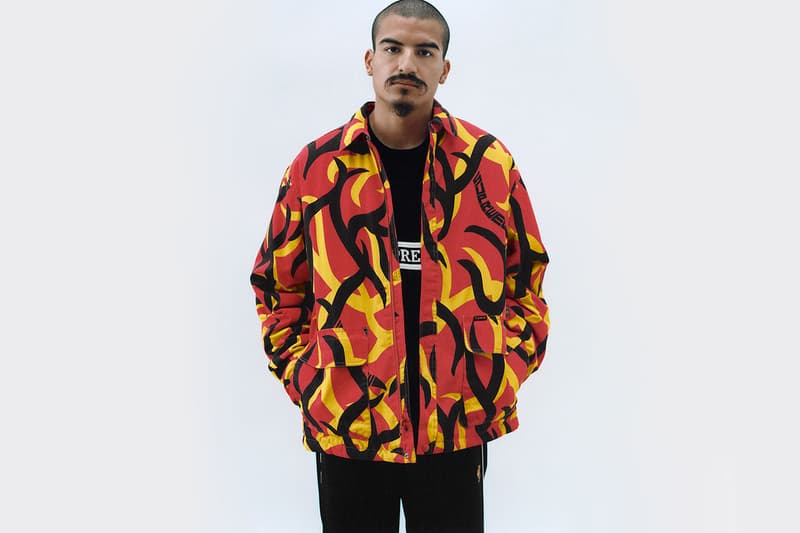 As Kanye West found out last year, outdoors companies are especially protective of their camouflage patterns. Now, Supreme is the subject of a similar lawsuit, wherein a function-focused company is taking the New York streetwear label to court over a camouflage copyright claim, as reported by WWD.
First seen in Supreme's Fall/Winter 2019 lookbook, the bold camouflage pattern that graced a "Reversible Puffy Work Jacket" (dubbed "Tribal Camouflage" by Supreme) is the subject of a lawsuit filed by ASAT Outdoors LLC, which is taking Chapter 4 Corp., which owns Supreme, to court. The Montana-based company, founded in 1986 with a name derived from the acronym of "ALL SEASON ALL TERRAIN," produces a variety of gear for hunters, all emblazoned with its unique camouflage pattern. Its suit claims that Supreme's offerings, which include the aforementioned jacket, a long-sleeved pocket T-shirt, cargo pants and headwear printed with the "Tribal Camouflage," complete with stylized Supreme branding, infringe upon ASAT's original pattern.
Filed November 11 in a New York federal court, ASAT's suit purports that it has held the American copyright for the distinctive pattern — intended to recall barbed leaves and tinted shadows — since 1985 and that Chapter 4 didn't license the design. "Chapter 4 infringed upon plaintiff's copyright in the design by reproducing and publicly displaying the design on its apparel," asserts ASAT's suit. The company is seeking damages up to $150,000 USD.
Neither Supreme nor ASAT's attorney, Richard Liebowitz, have responded to WWD's request for comment. It's worth noting that Liebowitz's specialty is copyright law, though his methods have drawn controversy and ire, even earning Liebowitz the dubious moniker of "Copyright Troll."
Underscoring the suit's intrigue, Supreme itself is reportedly the fashion industry's most common target for knockoffs.