MFnMelo Reflects on Life's Balance on Sophomore Album 'Everybody Eats'
With guest verses from Pivot Gang peers FrshWaters and Saba, plus Qari, Mick Jenkins & more.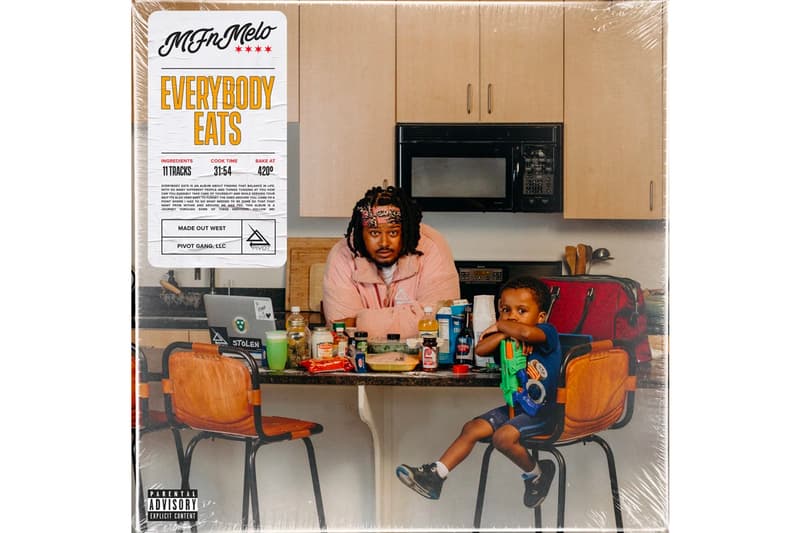 MFnMelo has dropped his latest solo studio album, Everybody Eats. Clocking in at approximately half an hour, the 11-track project features guest appearances from Pivot Gang peers FrshWaters and Saba on "Weight Lift" and "What a Life," along with Qari on "Unsung" and Akenya, Adam Ness and Mick Jenkins for the album closer "Comatose." Contributing producers include Monte Booker for the lead singles "Flow Seats" and "What a Life," daedaePIVOT, Daoud and Vzn to name a few.
Everybody Eats is billed as the followup to Melo's 2017 debut MeloDramatics and his first solo release since Pivot Gang's You Can't Sit With Us from April. "Everybody Eats is an album about finding that balance in life," the rapper said in a message on the album's cover. "With so many different people and things tugging at you, how can you possible take care of yourself? And while serving your self it's also very easy to forget the ones around you. Came to a point where I had to do what needed to be done so that the want from within and around me was fed. This album is a journey through some of these emotions."
Stream MFnMelo's Everybody Eats on Spotify and Apple Music.
In other new music releases, take a look at what went down during Kanye West's Nebuchadnezzar opera.