MFnMelo Enlists Saba for 'Everybody Eats' Lead Single "What A Life"
The Pivot Gang member's sophomore effort drops this November.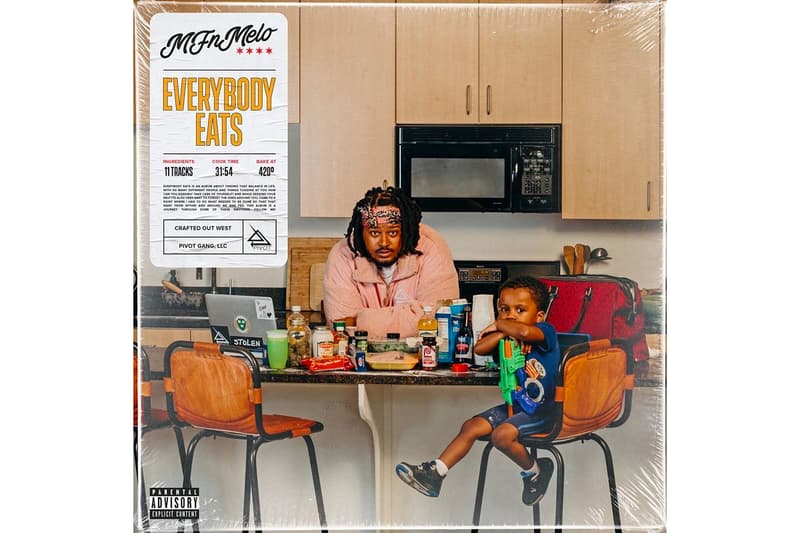 MFnMelo has tagged fellow Pivot Gang member Saba for "What A Life," the lead single off his upcoming album Everybody Eats. A woozy, stripped-down tune, the Monte Booker-produced track sees MFnMelo and Saba mulling over their come-up — an appropriate reflection considering that the group has had an impressive year with the release of You Can't Sit With Us in April and their recently-concluded U.S. tour.
Everybody Eats marks MFnMelo's first solo release since Pivot Gang's project in April and acts as the followup to his 2017 debut effort, MeloDramatics. His forthcoming album arrives with 11 tracks and features additional guest appearances from Mick Jenkins, Qari, Daoud, Akenya and fellow Pivot Gang members Frsh Waters and daedaePIVOT.
Stream MFnMelo and Saba's "What A Life" on Spotify and Apple Music, and take a look at the full tracklist below. Everybody Eats drops November 25.
Elsewhere in music, Freddie Gibbs & Madlib have dropped a visual for "Gat Damn" off Bandana.
MFnMelo – Everybody Eats Tracklist
01 – "Weight Lift" ft. Frsh Waters
02 – "Yallwhadinthere"
03 – "Unsung" ft. Qari
04 – "Flow Seats"
05 – "Qari's Interlude"
06 – "MF DOOM"
07 – "Salsa Verde"
08 – "Notice"
09 – "New York"
10 – "What A Life" ft. Saba
11 – "Comatose" ft. Akenya, Adam Ness, & Mick Jenkins