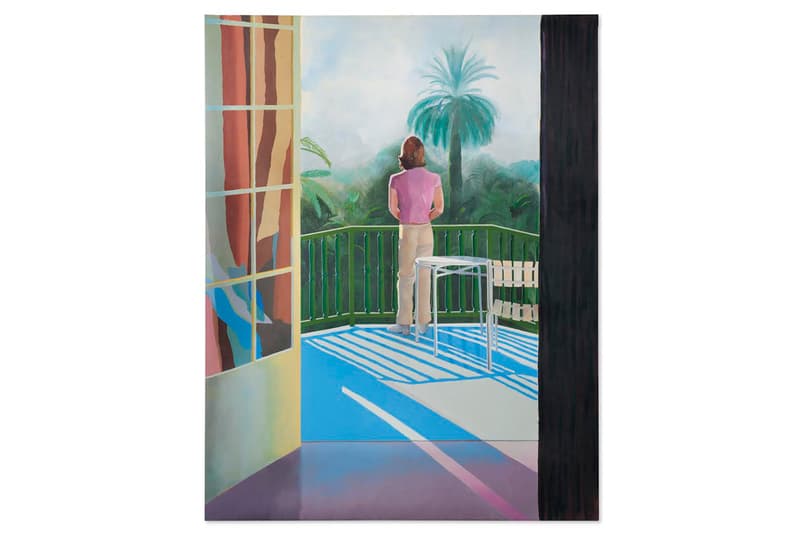 Little-Known David Hockney Painting Expected to Fetch $45 Million USD at Christie's Auction
Depicting Hockney's lover and muse.
---
Christie's will soon launch its postwar and contemporary art evening sale in New York this November. Leading the lots is a little-known painting by the famed British artist, David Hockney. Titled 'Sur la Terrasse,' the piece portrays Hockney's longtime lover Peter Schlesinger. The life-sized piece was made in 1971 by the artist and features Schlesinger standing outside of a hotel balcony during the pair's trip to Marrakech, Morocco. The work is estimated to sell for between $25 million USD and $45 million USD.
"This work marks a momentous turning point in the artist's personal and professional lives," said Ana Maria Celis, Christie's head of the postwar and contemporary art evening sale, in a statement. "We are very pleased to be bringing Sur la Terrasse to market and into the public eye after residing within a private collection for nearly 40 years, where it went unseen by the public for almost as long."
Christie's postwar and contemporary art sale will run through November 25-26 in New York City. Visit Christie's website to check out the lots.
Elsewhere in art, a $20,000 USD print by Salvador Dalî was stolen from a San Francisco gallery this weekend.
Christie's New York
20 Rockefeller Plaza
New York, NY 10020