Best New Tracks: YoungBoy Never Broke Again, Brodinski, Gucci Mane & More
Looking back at another impressive week for music.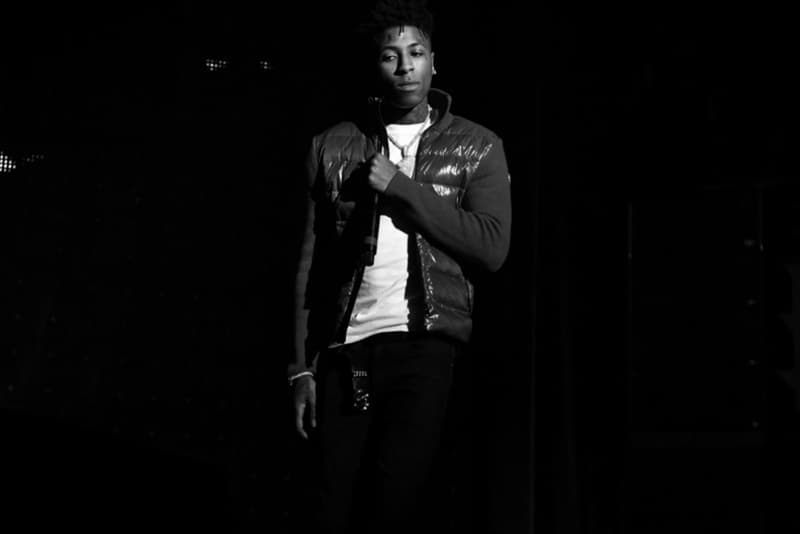 Brodinski & Doe Boy – "Gang"
Over four years after the release of his previous studio album Brava, Brodinski is giving listeners a preview of his upcoming Evil Genius LP by unveiling its Doe Boy-assisted lead single, "Gang."
"I recorded this in Atlanta with Doe Boy a while ago now but I think he's been evolving as one of the most interesting and solid street artists in recent years," Brodinski tells us, revealing the back-story behind his latest single. "He's been affiliated with Freebandz and been cultivating his unique style even more recently. I'm honored to have him on the project, that's also why I wanted to bring him into some new territories and sounds."
According to Brodinski, his forthcoming project is something that he started brainstorming back in November of 2018. "As I was continuing to learn and explore the deep seas of electronic experimentations mixed with trap music, I decided it was time to put another mixtape together," he recalls. "It started with several sounds and a few recordings here and there but as soon as I got 4 tracks that sounded well together I knew I was on the right path."
"I put together 11 tracks including features from some of my favorite rappers at the moment, like Reddo, NgeeYL, Simesito, 645ar and Xanman but also more established figures like Splurge or Doe Boy," Brodinski adds. "With trap extending its frontier days after days, I wanted to go even further in the experimentation on Evil World, and it was based on the principle of having all rappers on very different type of beats/music, pushing through even more and trying to write the future." He also says that Evil World is the ideal soundtrack for late-night drives.
Rucci – "Bong In The Booth 1" & "Break Em Off" with 2Eleven and Ackrite
Swiftly following up the recent release of his studio album Tako's Son, Rucci is delivering a new video for one of the highlights of his June EP Bong In The Booth and reconnecting with 2Eleven and Ackrite for a visual in support of their "Break Em Off" collaboration. The former clip allows viewers a look at Rucci's stoned studio sessions, while the latter vignette gives audiences a brief trip through his hometown of Inglewood.
"I want people to understand: ain't nothing been this big since the 90's," Rucci previously told us. "With my shit, I'm bringing back that original West Coast sound. It's that 90s shit, but still has that swag with it. I'm still talking about the culture and day-to-day shit, but mixed with that gangsta shit. It's like that fly gang-banging shit, but on a whole other level now."
"I feel like I'm giving you multiple things," he added "I'm more musically-inclined than a lot of artists nowadays. I feel like longevity is my key in everything. I don't feel like a 'clout rapper' or none of that … I feel like I can do it all; I can do any type of music."
YoungBoy Never Broke Again – AI YoungBoy 2
YoungBoy Never Broke Again compiles 18 new tracks for a his latest mixtape, AI YoungBoy 2. Notably, the Baton Rouge superstar's latest full-length serves as the follow-up to his December 2018 project Realer, and features two lone guest features from Quando Rondo and NoCap on "Outta Here Safe." YoungBoy Never Broke Again's next major release .38 Baby 2 is also expected to hit streaming services and similar platforms in the very near future.
"I just keep recording. You never know what you'll come up with," YoungBoy told Billboard during a 2018 exchange, breaking down his creative process. "I'm just trying to be myself — make music how I make music."
Babyface Ray & Roley Gang Blue – "Meet Blue"
Another week, another essential release from Detroit hip-hop's current renaissance. This time around, Team Eastside veteran Babyface Ray reconnects with close collaborator Rolex Gang Blue for another entry in their growing list of joint hits. With over a year's worth of material together, this pair's chemistry is getting stronger with each drop.
Rio Da Yung OG – "Can't Fall Off" with Big Fenc, Dink and Sid Dawg & "Inergee" with RMC Mike
Rio Da Yung OG continues to build his case for being street-rap's hardest-working and most prolific new artist. With his current hot streak showing no signs of slowing down anytime soon, the Flint rapper links up with the trio of Big Fenc, Dink and Sid Dawg for "Can't Fall Off," while close collaborator RMC Makes reconnects with Rio for "Inergee." The latter video comes to us courtesy of Shot by Keonta, while the former clip was put together by Kardiak Films.
SSG Splurge – Glen Baby 2
Solidifying his position as one of modern Texas rap's best young rappers, SSG Splurge delivers a new project titled Glen Baby 2. Made up of an 18 new records, the lengthy Glen Baby 2 tape contains production cooked up by YUNG GLIZZY, Beat By Jeff, F*ckEmUpTrap, SHELOVEBASS, NOAHINHISBAG and Six7 and doesn't feature a single guest verse, resulting in a thorough display of SSG Splurge's full range of abilities.
Young Slo-Be – "Hard 2 Kill"
In the past couple of years, up-and-coming northern California artist Young Slo-Be has emerged as one of the rising Stockton street-rap scene's strongest talents. Adding to his impressive, swiftly-developing catalog, the West Coast rapper shares another new visual and single, "Hard 2 Kill." Directed by @skiiimobb, "Hard 2 Kill" is another example of the menacing, gloomy street-rap that Slo-Be does exceptionally well and continues to perfect.
Gucci Mane & Lil Baby – "Tootsies"
With just a week to go until the release of his second studio album of 2019, Gucci Mane debuts another new single in support of Woptober II. For our latest preview of Gucci Mane's next LP, the Atlanta superstar is reconnecting with Lil Baby for a new collaborative single titled "Tootsies." Notably, "Tootsies" serves as the follow-up to the Megan Thee Stallion-assisted "Big Booty" and Guwop's joint track with DaBaby and YoungBoy Never Broke Again, "Richer Than Errybody."
T.F., Trizz & Bale – "Ike & Tina"
West Coast rappers T.F., Trizz and Bale are revealing plans for a forthcoming collaborative project with Dreebo and Y2 and introducing the project by serving up a new single, "Ike & Tina." The second single off T.F., Trizz, Bale, Dreebo and Y2'S We Jus Be Off WERK, the Arza-produced "Ike & Tina" serves as the follow-up to "Solid Gold Thrones" and comes to us alongside a gritty, straightforward visual put together by NewHighFilmz videographer Castro.
"I believe in the afterlife, hell and heaven, demons and angels. The horror in my music comes from a real place including things I've seen as well as nightmares and visions I have had," Trizz previously told us, breaking down the inspirations behind his creative approach and opening up about his lyrical style. "It's gangsta shit, and I make it seem horrific because that's what it is. I document what I see; what I talk about is not fake. What I'm saying is not fabricated, but I'm also a storyteller."
T.F., Trizz, Bale, Dreebo and Y2's joint EP We Jus Be Off WERK will land on streaming services and similar platforms in November.
DamJonBoi & RichGuy Will – "Came Up"
DamJonBoi's past few projects have been criminally slept-on; in a city and scene occupied by plenty of more-than-capable and extraordinary rappers, the Detroit artist stands out as one of the best rappers in his field. For his latest major collaboration, DamJonBoi links up with RichGuy Will for a new single known as "Came Up."