Why Joe Casely-Hayford Mattered
Looking at the legendary designer's pioneering career and impact.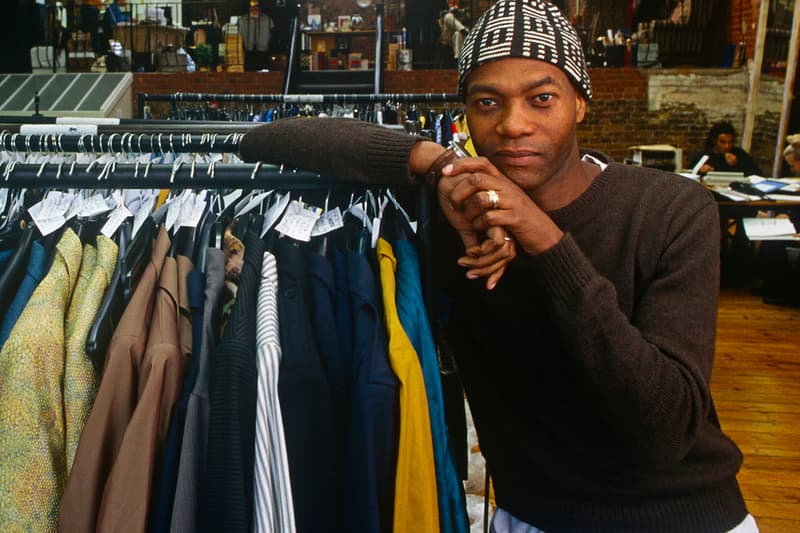 Joe Casely-Hayford OBE, who sadly passed away on January 3rd at the age of 62, perfectly straddled two disparate worlds of design. And, in doing so, made intelligent and desirable clothing that hasn't been seen before or since.
When this writer met Joe Casely-Hayford and his son Charlie in his Islington studio in 2016, the brand was undergoing a renaissance, finding an audience that allowed his design expression to flourish and be understood in a way it never was before. Permanently ahead of his time, the designer worked with Bono, Lou Reed and The Clash — a rarity for any designer, let alone a designer whose skin color meant that most would put them in a very small box. Joe Casely-Hayford had often said he never particularly enjoyed being called a black designer, mostly because of the limitations that came with the label.
When I met him I asked if he'd changed his mind about being called a black designer and, after a thoughtful pause, he noted how the world had changed since he started out. "I've realised that a lot of the things I was doing previously 20 years ago have fallen into place now." For Hayford, fashion was about more than just making product. "I was trying to make a new statement as a man in London and the things that I would see, conveying those things without being put into the very narrow confines of being called a black designer."
When we spoke to Casely-Hayford about Virgil Abloh's hiring to Louis Vuitton, he expanded on this, saying "To date, black designers have only been accepted in very narrow and predetermined roles: street style, sportswear and afro-fetishism are the main, easy to digest categories. Black designers operating outside of these groups would most likely be overlooked."
"It's about the cacophony of being in London." — Joe Casely Hayford on his brand
But he'd been working long enough to see how the world changed over the years — coming round to his viewpoint but not changing completely. "We're in a really different kind of climate, which enables a black designer to appreciate and express a diverse range of interests and influences, whereas previously, or still — I think still there is definitely people who find it easier to compartmentalize and they do find it easier to say a black designer stands for 'this or that.' We're very much about breaking down those myths and stereotypes."
There was an air of relief from him as he said how he could now use both Ian Curtis and Pusha T as influences and have the audience understand both references simultaneously. Now mixing these two influences is taken for granted, but Casely-Hayford was one of those who helped pave the way for this, blending both worlds long before it became popular for rappers to call themselves rockstars.
It's rare to come across someone who can express what his clothes meant so clearly and succinctly — and rarer still for that person to truly have something to say through his garments. Casely-Hayford was a designer's designer and his unique approach was apparent both in how he approached his craft and his openness to learning from his son, Charlie — who worked in mutual admiration with his father. It was an affection shared by the entire industry; Casely-Hayford was one of the few designers we'd hear other designers talk about in hushed revered tones because of his rare ability to combine perfect construction, avant-garde design and a sartorial sensibility.
This ability to combine all these disparate threads into a single collection was Joe Casely-Hayford aimed for and was proud of. During the interview, he said "There was one review that said the Casely-Hayford collection was like a cacophony and they didn't mean that necessarily in a positive light. But that was actually what we tried to convey. It's about the cacophony of being in London. We try to convey a new kind of vision of London style."
And convey a new vision he did, and in doing so, opened doors for other designers to follow in their own path — from the groundbreaking head of house appointments to the young designers who simply want to express themselves without being put into a box. He will be sorely missed.