Three Emerging Designers to Watch Out For at London Fashion Week: Men's
Introducing Robyn Lynch, Bianca Saunders & Bethany Williams.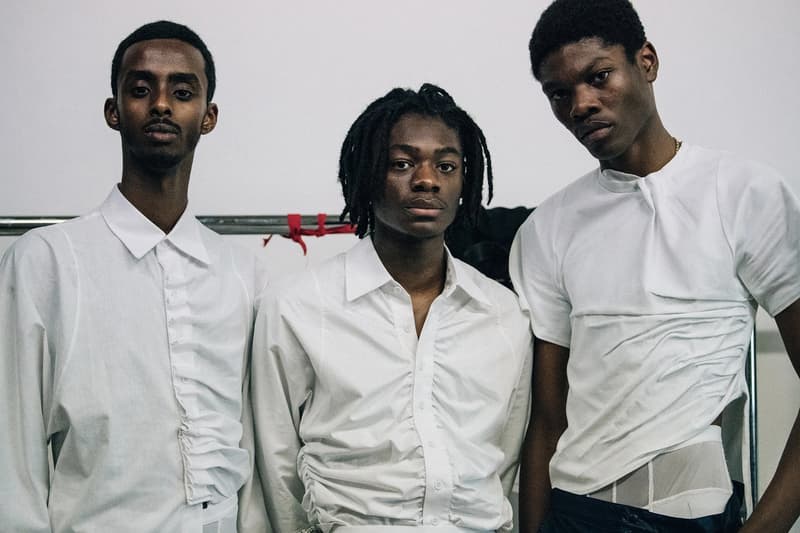 Despite kicking off fashion month every season, London Fashion Week: Men's has come to be seen as a junior relation to Paris and Pitti. There are a few big names who remain on schedule — this season's stand-outs include Craig Green, A-COLD-WALL* and Kiko Kostadinov — but London is now primarily known for the emerging designers given a spotlight. Through Fashion East and the British Fashion Council's own NewGen program, a number of exciting new talents have been given a chance to impress.
Ahead of London Fashion Week: Men's Fall/Winter 2019, we sat down with three names you might not recognise from the upcoming schedule to see what to expect from their upcoming shows.
How did you get started as a designer?
Robyn Lynch: I started on my brand after finishing my Masters in menswear at the University of Westminster. It had never been on the radar for me to work for a big design house, I liked the environment of smaller businesses and I think I just naturally gravitated towards that style of work a-lot. Being able to work on my own designs with the support of Fashion East is just the best case scenario. I am so lucky.
Bianca Saunders: I started off by studying fashion design at Kingston University. Every holiday I would make sure to get hands on experience by interning within the industry. After completing my BA degree, I continued my studies with MA programme at The Royal College of Art, where I specialised in menswear. Since graduating I presented my collections at Pitti Uomo and CIFF Copenhagen, which created exposure for my brand. I showed my Spring-Summer 2019 collection during LFWM's as British Fashion Council's NEWGEN One To Watch.
Bethany Williams: Before studying my Masters at LCF, I studied BA Critical Fine Art Practice at Brighton University, which was amazing. The course started my interest in critical theory, which is the backbone of my work. I've always been interested in fashion and art but as a student I found it very difficult to combine both disciplines. I chose a degree in Fine Art but always felt I had to justify the use of garments within my practice.
"I am committed to exploring social and environmental change within my work and working with marginalised parts of society to bring about positive change." – Bethany Williams
How would you describe your brand?
Robyn Lynch: I would describe my brand as comfortable, relaxed shapes and silhouettes with a sportswear vibe. It is a mixture of technical fabrics with the softens of wools and jersey. Being Irish is a huge inspiration from me and it is the starting point for all my research. With this naturally comes the use of Aran cables and knits. I am trying to give the jumpers a new lease of life in a different sense and perhaps to a different customer that wouldn't normally associate with that piece of clothing.
Bianca Saunders: It is a contemporary menswear brand, focusing on balancing masculinity through clothing.
Bethany Williams: I believe I am committed to exploring social and environmental change within my work and working with marginalised parts of society to bring about positive change and social enterprise. At a time in which socio-politics are at the forefront of many designer's minds I believe my work isn't just protesting but rather offering solutions and call-to-actions.
What can we expect from Fall/Winter 2019?
Robyn Lynch: Fall/Winter 2019 is my first collection that will have the opportunity to go into stores, I didn't want to venture too much away from my Spring/Summer 2019 collection that didn't have the same opportunity. I am continuing with the knitwear shapes and focusing on the silhouettes of the key pieces, block colour will be featured as-well but we are venturing away from the tricolour this season.
Bianca Saunders: This season I continue to develop themes from my previous Personal Politics collection, that of masculinity and male sexuality. I turn to fabrics and silhouettes to express these notions – from contrasting opaque and sheer materials, to introducing new textile techniques to manipulate the fabrics.
Bethany Williams: The new collection will be presented at London City Hall and celebrates lots of collaborations. I feel like this collection is quite different from previous and I've really excited/nervous to see everything come together.
"London is a great place to be as a young designer. There are more opportunities here than anywhere else." – Bianca Saunders
What's the inspiration behind the collection?
Robyn Lynch: The inspiration comes from the same place every time, the RTE archives, endless hours of entertainment.
Bianca Saunders: My inspirations continue to come from people around me. This time I interviewed my male friends in their bedrooms, the places they feel most relaxed and able to self-express, in other words 'unravel'. This research is what inspired my upcoming collection that I titled 'Unravelling'. The interviews will also form a part of my second Personal Politics film that will be presented separately, early in 2019. 
Bethany Williams: I've been working in collaboration with Adelaide House, a women's shelter based in Liverpool, one of only six such facilities in the country. Adelaide House provides a safe place for women fleeing domestic violence, homelessness and leaving prison. I have also worked alongside Giorgia Chiarion, who has illustrated the women of Adelaide House and created abstract painting of scenes in Liverpool. Liverpool was the first city in the UK to have social housing. The city forms inspiration for the collection, as well as the number of female, socially engaged politicians have helped support their community.
How is London for young designers?
Robyn Lynch: London is amazing. It really is the best place in my opinion for young designers starting off. The Fashion East support scheme is an amazing attribute to London, there really is nothing like it in the world. The BFC and the CFE also are vital in providing information and hosting talks and events along with the Sarabande foundation which is another great factor to why London is the best place for young designers. Of course not to mention its close proximity to Ireland. If I went anywhere further a field I wouldn't have my £12.99 flights home.
Bianca Saunders: I think London is a great place to be as a young designer. There are more opportunities here than anywhere else. It is a great environment that gives you a chance to make it in a difficult industry.
Bethany Williams: I feel like London is an amazing place for creativity and inspiration for designers, it's just getting very difficult for designers and creatives with rising rent prices to remain here.