Pro Gamer Ninja Talks 'Fortnite,' His New Merch Line and Travis Scott
The YouTube and Twitch sensation is swiftly becoming the face of gaming.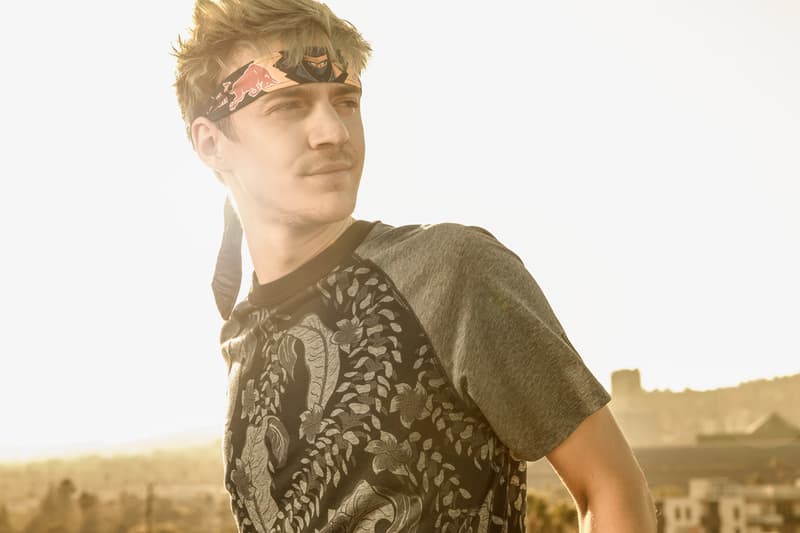 Professional Fortnite player Tyler 'Ninja' Blevins is the biggest name in gaming right now. His name is synonymous with the highly popular free-to-play title from Epic Games, and his reach within pop culture has begun to expand outside of gaming. He's garnered the attention of the sports world for his competitive skill in not only Fortnite, but in other titles like PlayerUnknown's Battleground, Call of Duty: Black Ops 2, and the Halo series, where he began his eSports career. He's even been known to hang around rappers, even playing a game of Fortnite with Drake, subsequently launching his notoriety to the stratosphere.
In HYPEBEAST's exclusive interview with Ninja, we talk about the introduction of his new merchandise, found on his TeamNinja website. He then details his newfound notoriety, hanging out with celebrities like Travis Scott, and, of course, his lucrative career as a professional gamer.
Tell us about this merch line you've just introduced.
Yeah, of course, dude. We've obviously been blowing up the last seven, eight months, pretty much this last year's been crazy. We've been just essentially waiting to land the right essential partner to do the merch stuff. We wanted to make sure that it was good, quality stuff, and stuff that we didn't just kind of rush. We decided to pair it with a nice, clean rebrand.
It's just live right now at TeamNinja, which is also a site that we just recently bought and pretty much just redid the website and everything. It's a couple shirts and sweaters right now, but we already have some amazing stuff in the works.
Did you design these graphics yourself? If so, which ones?
They're all based on my appearance. So obviously the ninja is going to be why everything's ninja based. The hair, we made sure the hair was pretty much exactly how I kind of style mine, just super wavy and big, and spiked up. Me personally, man, I am not … I think that's the only talent … My art man, I don't have it, dude. I can come up with the ideas, but when it comes to drawing and things like that, it's not my forte.
What brands are you looking to for inspiration and why?
No, not really man, we already had a really cool logo to go off of. We were just like, "Hey, we love it. It's friendly, it's not super aggressive." And obviously just throw in the mix of me, my personal look to it and they just kind of went with it. That was what they came up with, and I loved it.
If there's a collaboration on a sneaker you would do, what brand comes to mind?
I don't know if I can actually answer that question but I think we're already kind of working on something. You always see people with these crazy sneaker deals and that's something that I would absolutely love. I'm just recently starting, I would say the last five months, I've been getting into just really cool shoes. I have four or five Louis Vuitton shoes now, which are actually super difficult to purchase in my size because I have big feet, I guess.
WORLDSTARHIPHOP posts some clips of your impressive kills in Fortnite, clearing entire areas in a matter of seconds. Is that all muscle memory or is there a meta to the game you've figured out where minuscule details in the mechanics can be taken advantage of?
Dude, it's a combination of both. The game constantly is adding new guns, and new weapons, and interesting bouncy grenades. Just so much new crazy stuff that they add, it's just about thinking outside the box. A lot of people are basic gamers, and they just know one way to play.
But when you have that artillery, man, and all those crazy pieces of utility on the map, you can just do some nutty things and just take so many enemies by surprise. I feel like a lot of those clips are after something new comes out and they don't really know how to grasp it yet and how to use it, and I can just run circles around them.
You were recently at Lollapalooza and got to party with Travis Scott, what was it like playing with him?
Dude, that was pretty sick, man. We had got invited to the after party, or not the after party but the launch party, and was super stoked about it. I was really, really, really excited to hear his new album. He started performing, and I was just like, "Dude, it would be sick to get up there.", and the person I was with was just like, "Okay, one second." They just basically pulled me up there and we started rocking out, it was lit. Didn't expect it at all.
There was actually this moment when we were playing, it was me and Drake, and JuJu Smith-Schuster, and Travis, and Travis called the bandages, he called them Band-Aids. It was just super … from a rapper calling them Band-Aids, I thought it was really kiddy. So I made a joke when we played that night, and then when we met again the first time we met in person, I was like, "Hey man, you got any Band-Aids?" He just started laughing his ass off, it was hilarious.
Which artist you've played with is the best at Fortnite?
I haven't played with a bunch of people, I've only played with ones where it was kind of their first time. I think that Marshmello and Dillon Francis I think have the game down the most. 'Cause I also think they play the most. Yeah, probably those two. I've played with artists who are only like okay. Yeah, they can be improving.
The great thing about entertainment this generation is other being able to make money off a company product. There are YouTubers who get paid to talk about their favorite shows, people who earn money live streaming their favorite games, and make bank. Do you think certain rappers and artists should get paid for some of the emotes that Fortnite uses?
It's a legal thing. If it wasn't choreographed, a professional choreographic legal move it can't be copyrighted. Legally, it's technically not theirs. But for me as an outsider looking in, I mean, of course, you always want to take credit for something that is your dance and something that you created. And they definitely deserve credit or a little piece of the pie.
People want to buy that dance, dance is a sick dance, the dance wouldn't exist without that rapper or whoever created it, right?
You were on the sidelines with the Lions this week, what was it like having Barry Sanders give you a shout out?
Oh, dude, dude. You have no idea. They got us on the field, obviously to meet the players and they were like, "Eminem's coming out." So the goal was to eventually hopefully meet him, and that would have been dope. But no one knew that Barry was even coming, but he just walked out on the field. Me and my brothers, who have been die-hard Lions fans forever and Barry Sanders fans since the very beginning, we were shitting ourselves. It was ridiculous.
He was so kind, he took pictures with all of us. He didn't even know who I was until afterward, which is something that says a lot. There are a lot of people who are kind of at that status and if they don't know who someone is, they'll decline pics. But that was incredible, man.
I loved Halo: Reach, especially SWAT Mode. And Halo is when you first began your career as a pro gamer. Out of all the games you've played professionally, Halo 3, Reach, CoD: Black Ops II, H1Z1, PUBG, and Fortnite, which do you prefer to play recreationally and professionally?
I think Fortnite recreationally because it's really relaxing. You know what I mean? You can kind of kill, do your own thing, build, play how you wanna play, and you can pretty much win and have a bunch of laughs and shenanigans. I think I definitely enjoy, I wanna say … I love Halo, man. That love continues. But I think if I had to choose, it would be PUBG. I think competing in PUBG with my teammates that I was playing with at that time and the game. I think that it was my favorite for sure.
What's the difference you think between the competitive aspects of PUBG and the recreational kind of approach of Fortnite?
I think it was just the teammates that I had made it really fun. 'Cause they wanted to be the best team and we were at the beginning. I think just shit like the hardcore, you know what I mean? You can take Fortnite serious, and you definitely should if you want to compete in it, but it is definitely a very kid friendly, fun game. PUBG, for me, kind of brought out way more competitiveness in me than Fortnite did, in terms of how intense I got into it, I would say.